Cancel Your Cosmetic Injections: There's a New Sheriff in Town!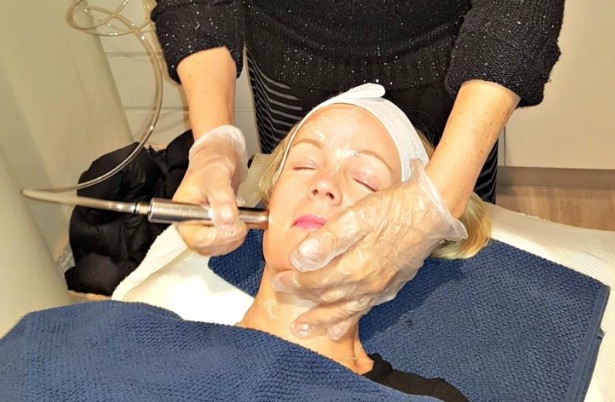 Cancel Your Cosmetic Injections: There's a New Sheriff in Town!
You are speaking to the newly converted. This morning I had a treatment that was non-invasive, pleasant, completely free of any discomfort, with no down-time, no redness, no irritation, and delivers long-lasting results for a minimal cost. And let me tell you – I was in NO hurry to put before and after photos of myself on the internet, with no makeup on and this was really, really, really hard for me to do but so convinced am I of the results, I caved in, put my vanity on the shelf and did it anyway. I took one for the team.
And I am converted because I was convinced that the only thing available on the market to combat ageing is either cosmetic injections or surgery. And I have tried everything. New miracle face cream? Add to cart. Facials? Makes my skin temporarily plumped and then it's back to normal by the next day. And then there were the fat cavitation treatments which were also guaranteed to mimic the effects of injections (but of course for best results 12 treatments were required at around $250 pop). For no visible changes. Waste. Of. Money.
And I have been told to my face by doctors (and have done extensive research myself) that unless you are prepared to go under the knife or line up every few months for painful injections that there really is no alternative.
I've been getting cosmetic injections for around 10 years now; first just for my crow's feet, then under my eyes, then on my forehead, then I was told I needed it for my frown line, in my chin (to prevent that orange-peel look when you talk), and one woman even tried to convince me to do the tendons in my neck to prevent that old-lady neck thing that happens over time.
And it costs an absolute freaking fortune. Not once have I walked out of the salon or clinic without having forked out around $600. And it really, really hurts. And the results are not instant. It can take up to a week before the lines finally start to soften and then with virtually no warning, it wears off when you're least expecting it so you feel the need to hide for a week until the effects kick in again.
Not only that, but over time you need it more and more often. When I first started getting it, the results would last for four or five months. At last count, I was down to six weeks.
All of that is bad enough, but recent evidence has surfaced (and this is something no one wants to talk about or is highly publicised) that some cosmetic injections can cause horrific side effects like blindness if it makes its' way into one of the many arteries on your face. It's also been reported that they can migrate around the body with one autopsy revealing the presence in a cadaver's toes…..
Enter my sceptical self for this latest treatment from Diamond Natural Beauty.
I met the lovely Helen who was demonstrating the techniques and treatment to the staff of Ella Bache, Camberwell using their Diamond Oxypeel and Sculpt Machine.
After a quick cleanse and the application of some moisturiser, a wand blasting out oxygen was moved in gentle, sweeping motions over every area of my face. Then, more oxygen combined with a moisturiser was swept over my face with a different attachment. Finally a third attachment was used for the cupping. A super gentle sucking motion was again done over my face.
The results? Under-eye bags? Gone. Looseness around my jawline and neck? Gone. My face was firm and tight, my cheeks were lifted and plumper and I was blown away by the instantaneous results. And the best news? I can expect it to last up to 6 months. With just ONE treatment required. Expect to pay around $280 for the lot – as far as I'm concerned it is an absolute bargain.
I was listening to what the therapists were saying to each other while they were watching (this was the first time the ladies in Camberwell had seen this done) and hand on my heart, they were all super impressed – no bull.
I for one, am sold and will be back in 6 months time thank you very much xx
Available at selected salons and clinics nationally:
SA
Diamond House of Beauty: contact: 0430469308
Sydney
Ella Bache Castle Hill
Ella Bache Springwood
Ella Bache Glenbrook
Douglas Pereira Clinical Skin Therapy
Melbourne
Ella Bache Cranbourne
Pure Beauty Beaconsfield
Ella Bache Emporium CBD
Queensland
Ella Bache Newfarm
Ella Bache Springfield
Ella Bache Mackay
Perth
Beyond Skin Face and Body
If you are a beauty therapist and interested in becoming a practitioner using this state of the art techniques and equipment check out their site here.
Disclosure: I received this treatment free of charge for the purpose of an honest review. All thoughts and opinions expressed here are my own.