10 Amazing Trolls Party Ideas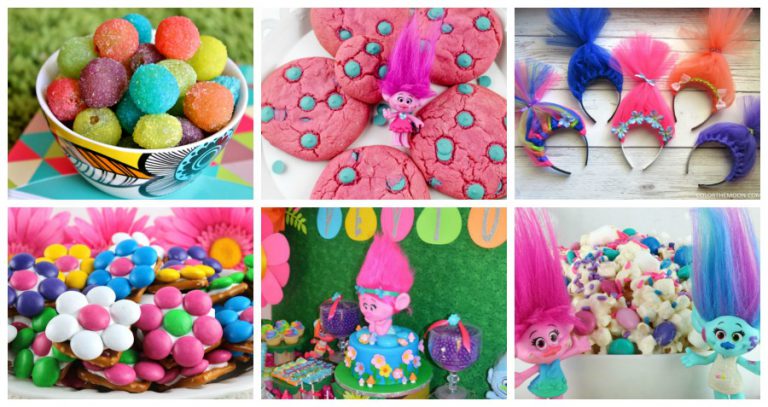 My daughter recently turned 3 and she is obsessed with Trolls. She loved the movie and adores Princess Poppy. It was a no brainer to put on a Trolls themed party for her 3rd Birthday.
It was a relatively easy theme to create a party around and Pinterest was my go-to place for inspiration. Think bright colours, rainbows, flowers and clouds. And hair. BIG hair!
If you want a party theme that is colourful and fun, Trolls will have you covered. Even better, the music soundtrack is the perfect background noise for the party or when playing party games like pass the parcel and musical statues. You can't help but not feel happy when listening to the dance tunes from the movie. It's the ultimate kids party de-stresser!
10 Amazing Trolls Party Ideas
For a table that entices kids to sit and eat, you can't go past fake turf, flowers and bright cups and plates. Love this table set up from Catch my Party. Set an alternate food table so kids can help themselves.
2. Flower pretzels are an easy party food to create and the kids will love them.
3. How cute are these 'hair raising' meringues?
4. These rainbow cupcakes are too adorable and easy to create.
5. How sweet do these rainbow grapes look?
6. These Trolls cookies will delight the kids. They look easy to bake too.
7. This Trolls Popcorn looks fun and is a budget friendly snack to make for the party.
8. Entertain kids by getting them to make their own Trolls Headband. Sure to be a hair raising experience. 🙂
9. Looking for an easy party favour? Wrap some tulle around lollypops, add a bow to make Trolls Hair. Kids will love them.
10. This Princess Poppy pull apart cake uses cupcakes for hair which is really clever! It's fairly simple to recreate. The tutorial shows step-by-step on how to make the cake.
Would your kids love a Trolls themed party? Which ideas could you recreate?