Use Your Leftovers and Make These Mini Cottage Pies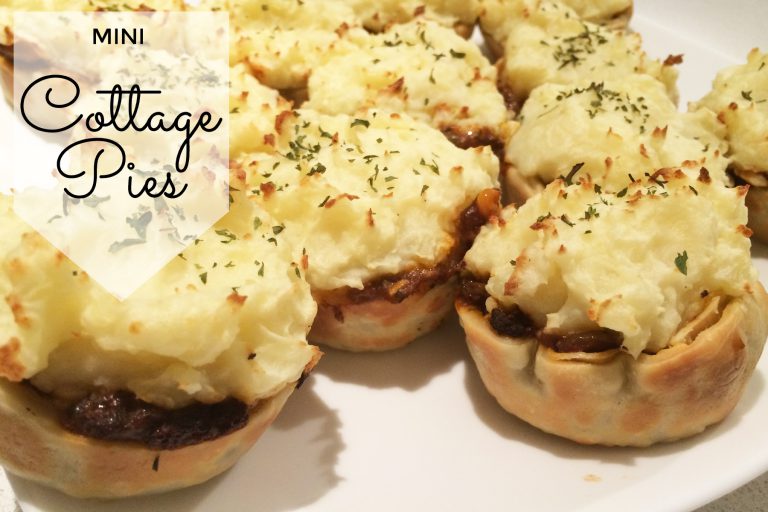 Use Your Leftovers and Make These Mini Cottage Pies
What better way to use up some leftover savoury mince than to make some mini cottage pies! Crisp shortcrust pastry for the base, rich beefy mince and vegetables in the filling and creamy mashed potato on top – the perfect meal in one little pie!
These mini cottage pies are so simple to make, especially if you have leftover mashed potato too.
All you'll need is some leftover savoury mince, three sheets of frozen shortcrust pastry and enough mashed potato to form the topping, plus some dried parsley to sprinkle on top.
First, cut some rounds out of the thawed shortcrust pastry and place into a large muffin tin. Prick the pastry with a fork and blind bake in a hot oven for ten minutes.

They might still puff up a little bit but just press the cases back down gently and you're good to go. Now heat the savoury mince filling in the microwave for a couple of minutes until just hot. 
Spoon the savoury mince into the pastry cases – a heaped tablespoon in each case does the job nicely.
Now top with another heaped tablespoon of mashed potato and use your fingers to press it gently into place. Dust with dried parsley and pop the tray back into the oven for another 13 minutes.
Serve these lovely little cottage pies immediately for a terrifically economic and tasty meal.
This recipe makes 12 mini cottage pies. Enjoy!
Ingredients
Leftover savoury mince
3 sheets of shortcrust pastry, thawed
Canola oil spray
500g potatoes, peeled
Milk and butter to mash
1 tsp dried parsley
Instructions
Preheat oven to 210 degrees Using a 9cm round cutter, cut 12 circles in the pastry and place into a large muffin tray sprayed with oil. Prick each pastry case with a fork several times and blind bake for 10 minutes then remove from oven.
Meanwhile, boil potatoes in a large pot of salted water until tender. Drain and mash with milk and butter until creamy.
Gently heat the leftover savoury mince in the microwave for a couple of minutes until it is just hot. Using a tablespoon, spoon the savoury mince filling into the pastry cases, then top with mashed potato and dried parsley.
Place the tray back into the oven for another 13 minutes and serve immediately.
https://mumslounge.com.au/lifestyle/food/use-leftovers-make-mini-cottage-pies/