Create Food Art With Your Kids With These Awesome Animal Themed Recipes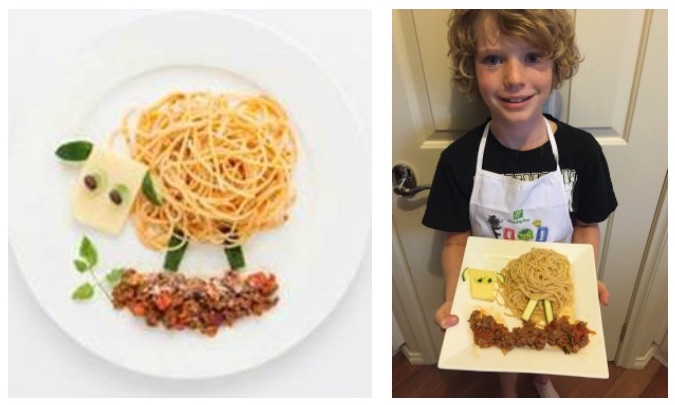 Create Food Art With Your Kids With These Awesome Animal Themed Recipes  
Sponsored post
Some days it seems parenting, largely consists of repeating yourself over and over until even you are sick of the sound of your own voice. At least, that is my experience! If you have mastered the art of saying things only once and having your wishes met, PLEASE, share your secrets with the rest of us!
"Wash your hands after you've been to the toilet"
"Chew with your mouth closed please"
"Darling, please don't pick your nose"
"Go and blow your nose…NO! Not on your sleeve!"
"GET BACK INTO BED!"
I could go on and on with the list of things I say approximately 27,000 times a week (and I'll bet you say them too!) But amongst the things I repeat daily like a broken record is "Please, stop playing with your food!" So, this morning, when my kids got up and asked what we were doing this weekend, and I casually relied, "Well, I thought we might play with some food today," they eyed me suspiciously.
Was mum abducted by aliens last night and replaced with a way-cooler substitute? Has she finally lost her mind like she keeps threatening to? Quite frankly, they didn't care! It sounded like fun and they were in!
So, why the change of heart? Well, this week I was sent a fun food art package from Holiday Inn.
You see, they have recently partnered with international food artist Samantha Lee. Using dishes from the Holiday Inn's new nutritious Kids Menu, Samantha has transformed five dishes from the nutritionally balanced new menu into kid-friendly works of art.
Now, if you are the type of mum that looks at this and thinks, who on earth has time for that? JUST EAT IT! I'm going to step up right behind you and whisper in your ear "HELL YEAH!" (I'm not great at whispering!) BUT…what if you spent that time that you'd presumably take making these works of art, actually teaching your kids to appreciate food and make something they can be proud of (and then scoff?)
To me, that is time well spent! So I was only too happy to take the Holiday Inn Food Art challenge!
Our mission (which we chose to accept) was to recreate this squiggly sheep. Spaghetti Bolognese is a firm family favourite in my house (if you discount hubby – I swear I can actually hear his eyes roll in his head when he walks in and sees it's a spag night). And it's always a great way of packing in those extra veggies too, which I am a massive fan of.
But first…we jazzed up their gifted aprons with some fabric pastels!
As the kids coloured we talked about all of our favourite foods and where they come from. As he was drawing Foghorn marvelled at how many of his favourite fruit and vegetables have the colour green in them "because they are like plants that grow in the ground Mum, isn't it?"
After more excited discussion, I agreed that we can start our own veggie patch when we move to our new house next month. (What have I got myself into?)
After ironing our designs to seal the fabric pastels, I started chopping and cooking the food, all ready for my little food-inspired chefs to create some food art with. (I actually love that this recipe includes lentils). If you asked my kids what a lentil was they would have no idea – little do they know that I use them often in our family meals for a bit of added nutrition. If you are yet to give them a try – I wholeheartedly recommend them as a fantastic nutritional extra that is super budget-friendly! Legumes are so under-rated and I love that the Holiday Inn are incorporating really nutritious food into their menu. One of the only things that bothers me about being away from home on a break is the kind of food that seems to be available for kids. After eating hot chips at every evening meal I'm usually dying to get home from the weekend away and get some veggies into them! So to be able to go to a kid-friendly hotel and also feel like they were still eating well would really improve my own travelling experience.
Anyhoo, when everything was ready, The Woo, Foghorn and Bubble donned their freshly decorated aprons and put their game faces on! Plate up time – time to get artistic!
Using the recipe card as a reference my kids had a ball recreating the squiggly sheep! Just look at how proud they look!
And the verdict?
Clean plates all round! (Of course!)
They absolutely relished the opportunity to have some quality time with me in the kitchen, and also have some ownership over what was going onto their plate.
Whether you have fussy eaters, or kids that wolf down pretty much everything you put in front of them, this is a great way to spend an afternoon and create a positive learning experience about the benefits of healthy eating.
You can check out and download the other animal-portrait themed recipe cards that Samantha Lee created for Holiday Inn for yourself. They include all the tips you need to recreate your own food art at home using the original Holiday Inn Kids menu recipes.
Download the Holiday Inn Food Art- Grabby Crabby Recipe
Download the Holiday Inn Food Art Pittafish Recipe
Download the Holiday Inn Food Art Squiggly Sheep Recipe
Download Holiday Inn Food Art_Crawly Caterpillar Recipe
Download the Holiday Inn Food Art Roly-Poly Pandas Recipe
International food artist Samantha Lee explains:
I started off creating food art for my daughter to encourage her to be more adventurous with food, so a partnership with Holiday Inn to help inspire thousands of children and their parents, helping them discover new and exciting flavours is a cause that I knew I had to be a part of. Not only do we want kids to get excited about balanced eating, we want parents to see how to make food fun for their little ones.
It's great that a brand is really getting behind proper eating for children and the food art that I've created as part of the Holiday Inn Kids Menu will take them on a cultural, as well as taste, adventure using some of the great Kids Menu recipes designed with Nutrition Australia.
For their part, Holiday Inn recognise that food is a big part of the travelling experience. In fact, they were the first brand to launch a 'Kids Eat & Stay Free' programme. Their aim is to make sure that families are making the most of their quality time together, by making it possible for kids to enjoy colourful, tasty meals, whilst enabling parents to relax knowing that all the dishes have been created with nutrition at their core. Such a refreshing change from the usual kids' menus that seen to consist of chicken nuggets, pizzas and burgers, all served with chips, right?
Other dishes on offer as part of the Holiday Inn Kids Menu include: DIY Lettuce Cups, Lamb Skewers, Chicken and Pea Risotto, Rice Paper Rolls, lentil Curry and for dessert kids can choose from favourites such as Apple Crumble, Fruit Popsicles and Banana Split (made with yogurt instead of ice-cream).
If you are planning on travelling with your family, you can take advantage of the 'Kids Stay & Eat Free' programme by booking via the Holiday Inn website.
The Holiday Inn Kids menu was created in partnership with Nutrition Australia. All recipes are based on criteria developed by the organisations Accredited Practising Dietitians, ensuring that all dishes are nutritionally balanced and good for growing little ones.