Endless Days of Play – Win $150 Kmart Gift Voucher


Whilst many parents are beginning to limber up, in anticipation of scoring some mid-year bargains in the upcoming toy sales, one of the major retailers has made the bold decision to change the rules of the game.
Kmart is bowing out of the annual toy war, in favour of promising their customers the very best low prices everyday. The changes come in response to independent research commissioned by Kmart which found that:
94% of Australians said they would prefer it if retailers offered low prices each and every day rather than inflated prices to allow for discounts and sales periods
Three quarters of Australians have said value for money is still the most important factor when shopping
64% of Aussies expect better value from bricks and mortar retailers because of the value now available online
Not only does Kmart promise to match the price if you find it cheaper elsewhere, they are giving customers the freedom to shop when they need to, to allow them to budget for Christmas, and to buy the toys that they see in the newly released toy catalogue at these low prices anytime in the next six months…which is great news for those of us whose offspring seem to attend a birthday party every second weekend!
So whilst they have removed their Christmas layby service, Kmart are confident that their commitment to low prices every day helps to relieve the budgeting stress that parents can experience during the toy sale period.
Interestingly, their research also revealed that 30% of Christmas 6 monthly lay-bys were returned by customers following Christmas.
"Feedback from parents…told us kids change their minds. Buying toys six months in advance and guessing what they will want in the future was becoming harder and harder. So we have listened, and committed to prices in a catalogue that will run for over six months," said Nicole Szuida, Kmart Head of Toys.
And, there is no denying that the new catalogue boasts many gorgeous and competitively priced toys, both from their own exclusive line, and the branded toys that children love as my youngest two, Foghorn and Bubble and I discovered when we attended a Kmart hosted event late last month.
Imagine two small children let loose in a toy store to pick out two toys of their choice! It was exciting and eye-opening, (as the toys they made a bee-line for were not necessarily those that I would have thought to pick for them!) So maybe the chance of me actually picking out the right toys for six months from now, are probably non-existent!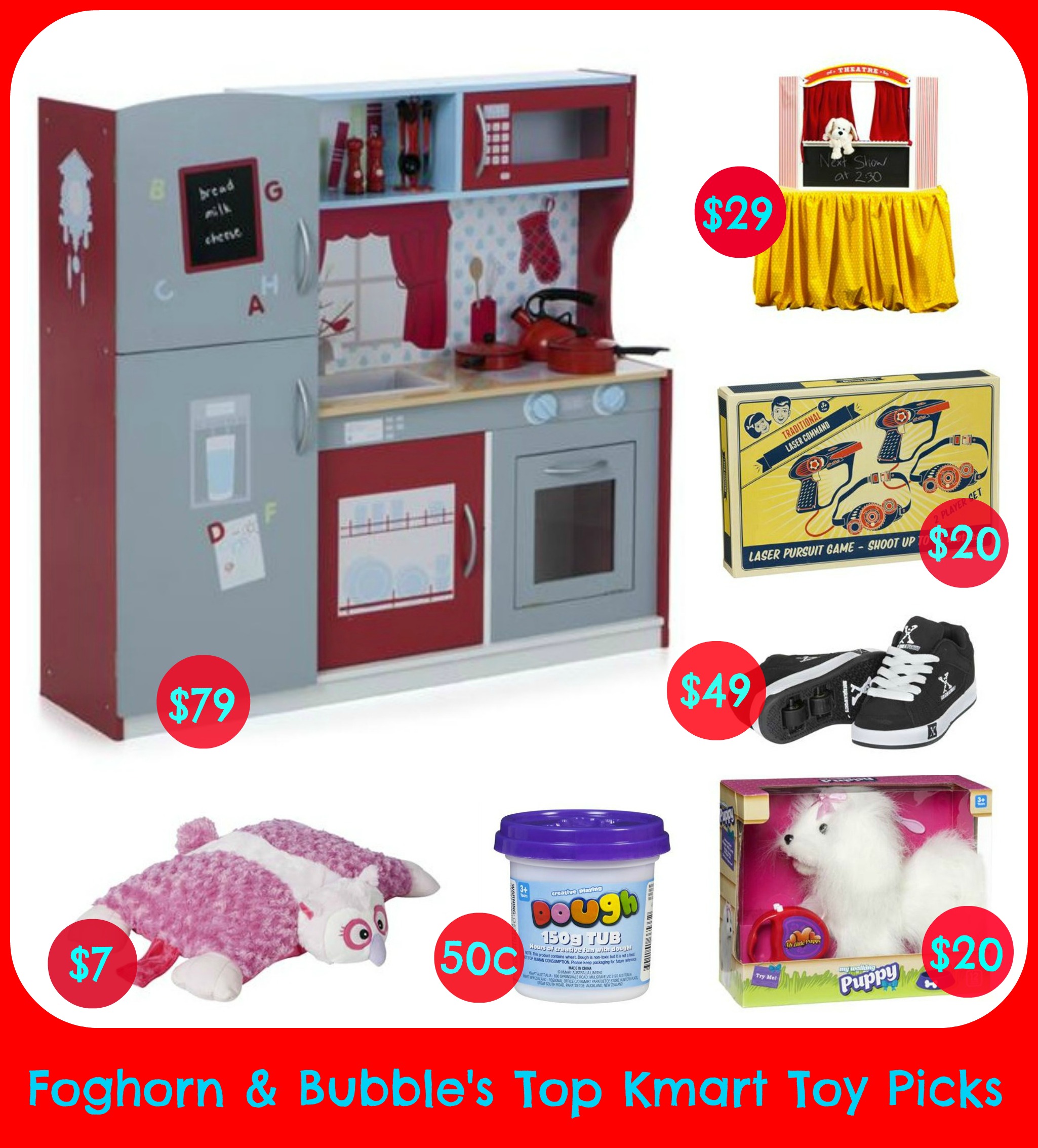 *For those of you who are interested, you can read more about Kmart's commitment to only working with factories that comply with a strict standards of safety and social compliance and The Accord on Fire and Building Safety in Bangladesh
Giveaway
Kmart are giving Mums Lounge readers the chance to win a $150 gift voucher towards their toy shopping. For your chance to win simply follow the instructions on the rafflecopter widget below. Good luck!