GIVEAWAY: Learn Online How to Take Better Photographs of Your Kids with Mum the Photographer


As soon as my first child, The Woo was born, I made a very swift and permanent transformation into a 'paparazzi parent.' I was keen to take photographs to capture the memories, document milestones and to preserve as much as I could of his precious babydom and childhood. Now, with another two children, Foghorn and Bubble under my maternal wings I am still as snap-happy as I always was and it is very rare for me not to have my camera, or at the very least the iPad or iPhone within easy reach to record a moment, activity or event.
18 months ago, Hubbster got himself some extra large brownie points when he presented me with a digital SLR camera for my birthday…and suddenly our collection of photographs grew tenfold. It takes the most beautiful photos, but one of my regrets is that I still haven't found the time to do a short course to teach me to use it better. You know, all those other buttons, besides the auto one that I use, I know they do some really cool stuff I just have no idea what or how!
So when I was recently asked to review Mum the Photographer I was more than just a little bit excited – it is the perfect solution for a time-poor camera-wielding mum like me who would love to learn to take great photos of my own kids, with my own camera, in my own time.
Mum the Photographer is an online program sharing tips and tricks with parents on how to achieve better shots no matter what kind of camera they are using. The course is structured into 10 easy to follow modules that allow parents to approach their learning in a way that suits them. Those who want to adopt a more casual approach are able to browse, picking up hints and tricks at their leisure. Others may wish to tackle each of the 10 modules in order, completing tutorials and assignments as they progress. The beauty of it is that for a very reasonable one-off payment members have lifetime access to the website – so you can use it as you please and entirely at your own pace.
Mum the Photographer has been created with the time-poor parent in mind so there are a number of very interesting features aimed at helping parents learn quickly such as Browse the Galleries. This feature allows you to quickly identify the kind of image/s you like and would like to recreate by allowing you to search their comprehensive gallery. Each image has a link, which directs the user straight to the area in the module that explains how to achieve this effect or style.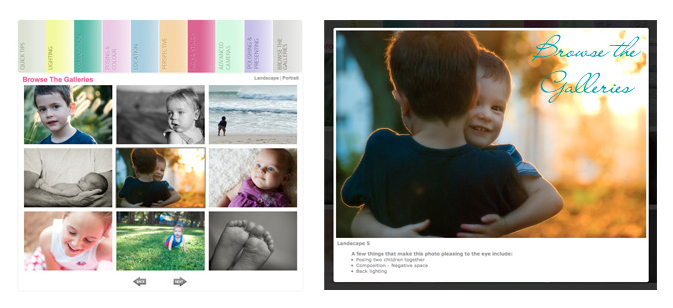 The site is very easy to use and navigate, and the information is delivered in a very easy to follow format with lots of images to help aid understanding.
The great news is that Mum the Photographer is offering FREE ACCESS to one of their modules, so you don't have to take my word for it, you can experience this product first hand.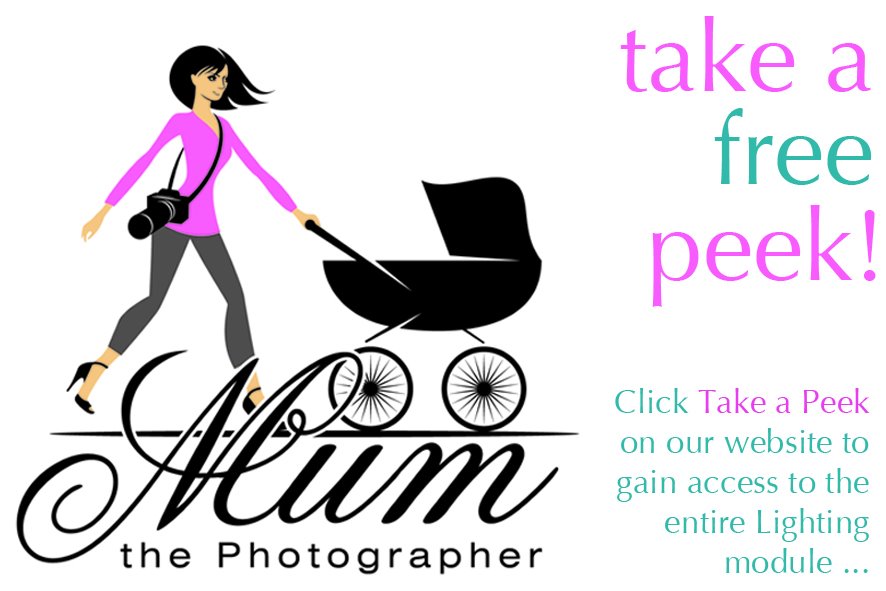 Since lighting is the single most important thing that you can use to really improve your shots, this is a great place to start. You can follow this link to get your instant free access to this entire module packed full of information, tips, and tricks that you can start using straight away to improve the photographs you take of your kids.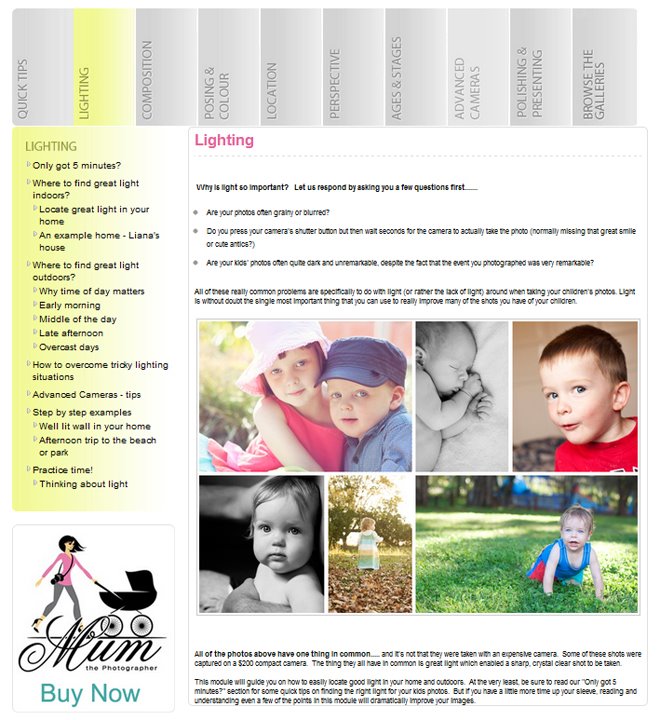 But that's not all. Mum the Photographer would like to give two Mums Lounge members lifetime access to all 10 modules
plus one free image polish in their Finishing Room!
For your chance to win simply follow the instructions on the widget below and good luck!