L'Oreal Infallible 2 Step Longwear Lip Colour Review – Win 1 of 20!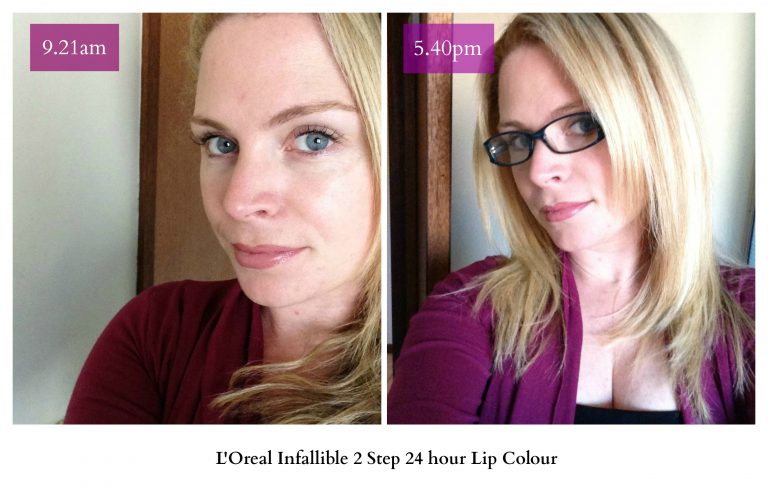 Sponsored post
I'll admit, I am a big fan of lipstick, and have been known to add a splash of colour to my lips just to do the school run, because…well, you don't need an excuse to wear lipstick as far as I'm concerned. I can be a bit fussy about the lipsticks I buy though, and once I find a good one I do tend to stick with it, and buy it in a few shades.
So, when L'Oreal recently sent me the entire range of Infallible 2 Step Longwear Lip Colours (in 14 shades) to review, I was in my element. The claim that it lasts for 24 hours intrigued me. I spend a large portion of my days drinking, eating, talking, and planting big smoochy kisses on whichever one of my children is in closest proximity at any given moment, and I'm not adverse to a sneaky pash in the kitchen when Hubbster gets home from work either.
My only reservation was whether these lipsticks, like so many other long wear ones I had tried before, would leave my lips feeling dry and the lipstick cracked and caked on as the day progressed.
The lip colours come in really lovely vibrant shades, and are double ended – the liquid colour on one end and the balm that seal in the colour and moisturises your lips on the other end. Application of the colour is easy with the help of the nicely pointed angled applicator. It does feel a little sticky on first application but dries in less than 30 seconds – then it is time for step 2 – the gloss coat.
I am not a fan of the glossy lip look personally, so I was very pleased that the balm gave my lips a soft shiny finish without the greasy look and could be reapplied throughout the day to revive the lip colour without having to reapply the liquid lip colour.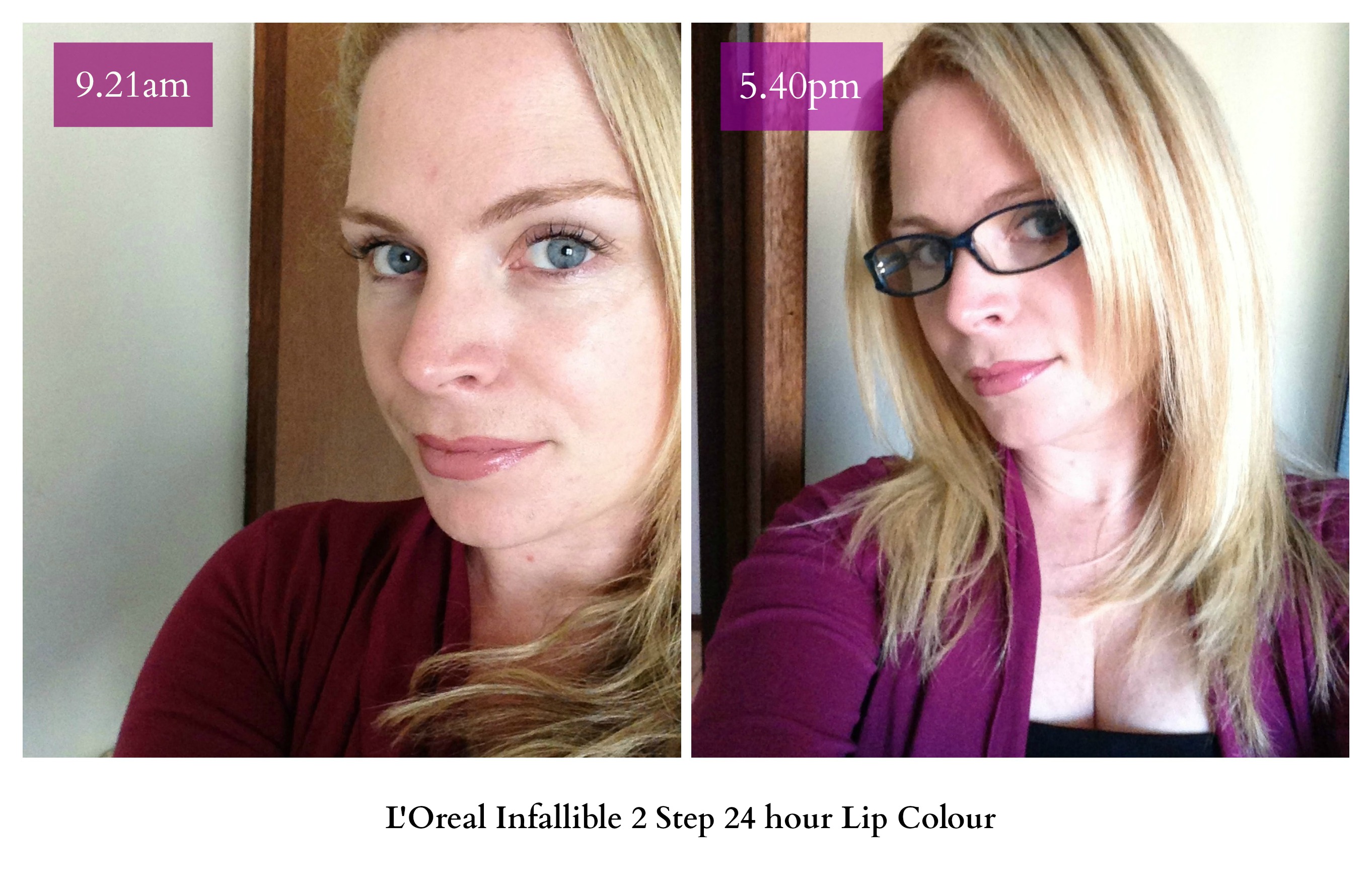 This is me, last Saturday morning (looking tired thanks to the kids and their early morning wake-up call! Urgh!) wearing 111 Permanent Blush. That evening Hubbster and I took the children out for dinner. Before leaving I went over my lips with the lip gloss end and voila – it looked as though I had freshly applied lipstick on, even though I had been wearing it for over 8 hours!
My only warning with regards to this lipstick would be to be very sure you have the right shade before you commit to applying it, as you WILL be wearing ALL day. Having said that I haven't experienced any problems removing it (I use the ENJO face off pads with water and they work a treat!)
The L'Oreal Infallible 2 Step Lip Colour may have just taken the lead to nudge the L'Oreal Colour Caresse Lip stain off the top of my favourite lipstick list, and trust me, that's a big call!
L'Oreal Infallible 2 Step Lip Colour is available from Priceline, and other selected variety and department stores RRP $29.95
L'Oreal Paris Australia are giving Mums Lounge readers the chance to WIN 1 of 20 Infallible 2 Step Longwear Lip Colour – 506 Red Infallible.
To enter follow the instructions on the rafflecopter widget. Good luck!