MOD Cold Press Juicer Review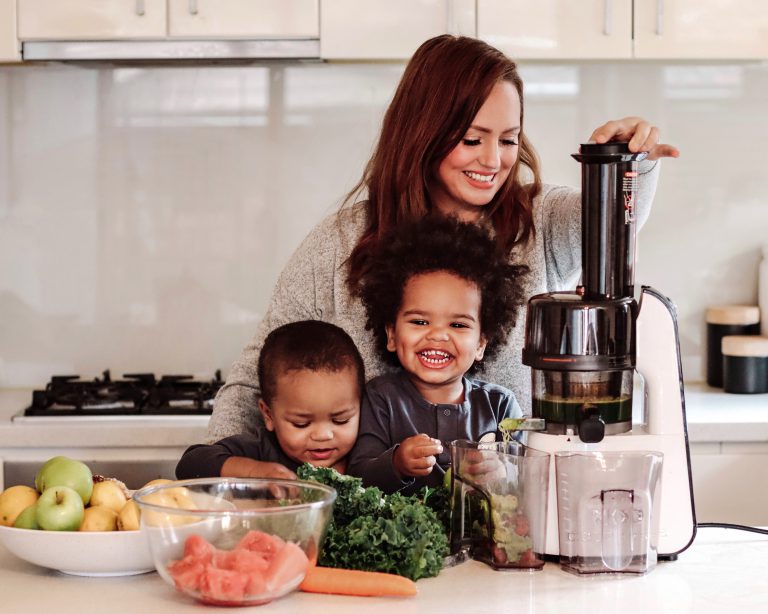 MOD Cold Press Juicer Review
You know when something, is so popular that everyone is talking about it? It could be a book, or a TV show or a new fitness craze, and just the fact that everyone else can't stop talking about it makes you just a wee bit resistant to the idea. Then one day, you cave, and dip your toe in the water to see what all the fuss is about, and before you know it you are also one of the people (possibly annoying other yet-to-be-converted people), by raving on about it! Yeah, well that's kind of (exactly) what has happened to me when it comes to juicing!
I'll be honest and admit that I'd always been at a loss as to why you'd bother. My attitude was, 'Why not just grab a piece of fruit and eat it? Can't you just add more veggies to your dinner plate?' That was until I was giving the opportunity to review the MOD Cold Pressed Juicer and had a chance to incorporate juicing into my family's daily routine and diet.
What is Cold Pressed Juice?
Before we get into the specifics and functionality of the MOD Cold Pressed Juicer itself, it's worth noting how cold pressed juice differs from traditional juice. Unlike centrifugal juicers, which work at high speeds and extract juice from ingredients by tearing them apart, the MOD's juicing process is called 'cold press,' meaning juice is extracted without heat friction or blades, thereby reducing oxidisation and retaining more vitamins and minerals in your juice.
Why Bother Juicing When You Can Have a Smoothie?
So, I'll raise my hand and admit, this was my also my theory prior to owning a juicer. My family love a good smoothie. They are a great way to get some extra fruit and fibre into your kids before school or sports practice, and a great way to increase your protein intake after a workout. So why, I asked myself, would I need to bother with juicing if I had the option of making smoothies? But, it didn't take a genius to work out just a couple of days into using the MOD juicer, exactly why.
Have you ever enjoyed a vegetable smoothie? Sure, you've probably added in a handful of green leafy spinach, or the like, but you've never thrown in a cucumber, or some carrots or a beetroot have you? No, because it would just be gross! But…(you see where I'm going with this?)…extract the juice and all the goodness out of those same veggies, and that's a whole different taste and texture.
Besides, I can easily drink 3 celery stalks, a pear, half a lemon and a knob of turmeric before a workout in the morning in the form of a cold pressed juice – whereas if I attempted to eat all that I'd not only be late for my fitness class, I'd also probably feel too full or sick to move around too much! That's because cold pressed juice allows you to flood your body with nutrients without having to digest all of that insoluble fibre too – which hopefully you are getting enough of at mealtimes.
If you have kids who are fussy eaters, cold pressed juice is a great way to get more of the good stuff into them. You'd be surprised how delicious, juiced green veg can taste especially if it's sweetened with fruit such as pineapple!

What about the Parts of the Fruit and Veg That is Wasted?
As you'll see, the MOD Cold Press Juicer produces juice out of one spout, and 'pulp' from the other. The cool thing is that there is absolutely no reason why this has to be thrown in the bin. It can either be used straight away, or frozen, and used later in a range of ways – think muffins, cookies, pasta sauce, soups and stocks etc, or can be added to your garden compost or used as chicken feed!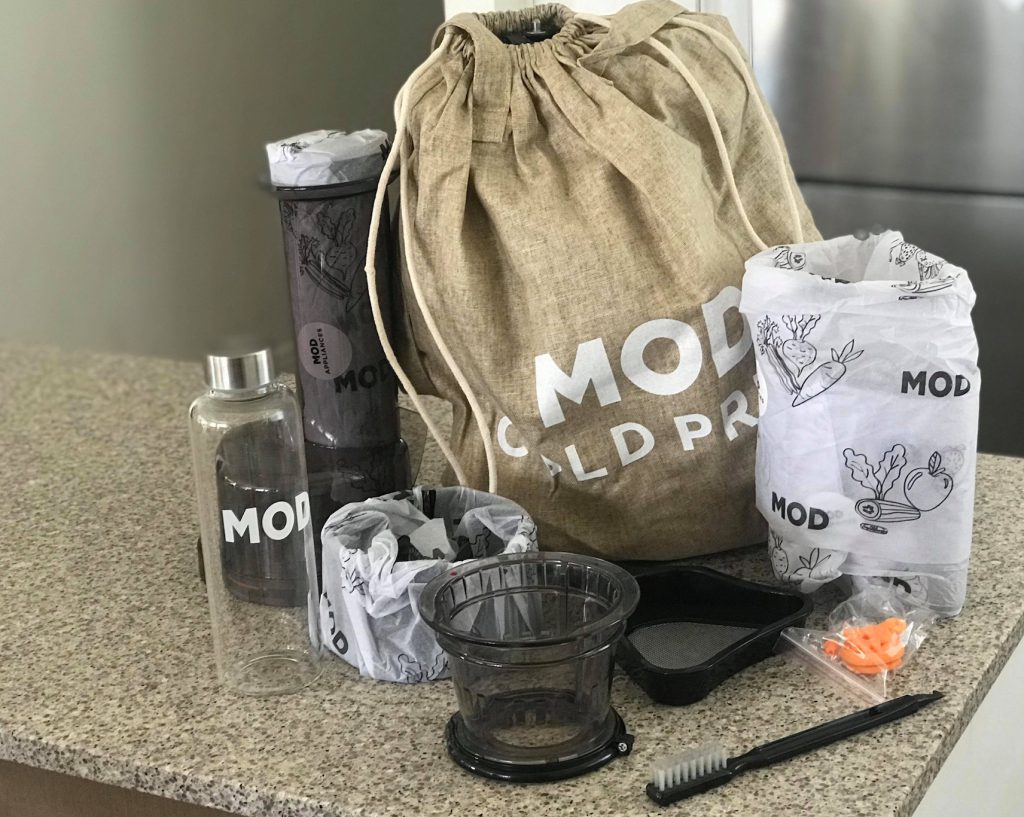 What is Included with the MOD Cold Press Juicer?
Included in the box that the MOD Cold Press Juicer arrived in was:
The juicer
2 Juicing jugs
Strainer
Cleaning brush
Instruction manual
Recipe cards
Sorbet attachment
Glass juice storage flask
Produce bag
My Thoughts On & Experience Using the MOD Cold Press Juicer
Set Up
On unpacking the juicer initially, it seemed as though there were a lot of pieces to assemble! However, the instruction manual with its clear instructions and illustrations proved that it was much easier to set up than I had first imagined. Each piece features an easy to see dot, that you line up with the next piece, so once you've done it the first time, putting it together quickly and easily without the instructions is a piece of cake.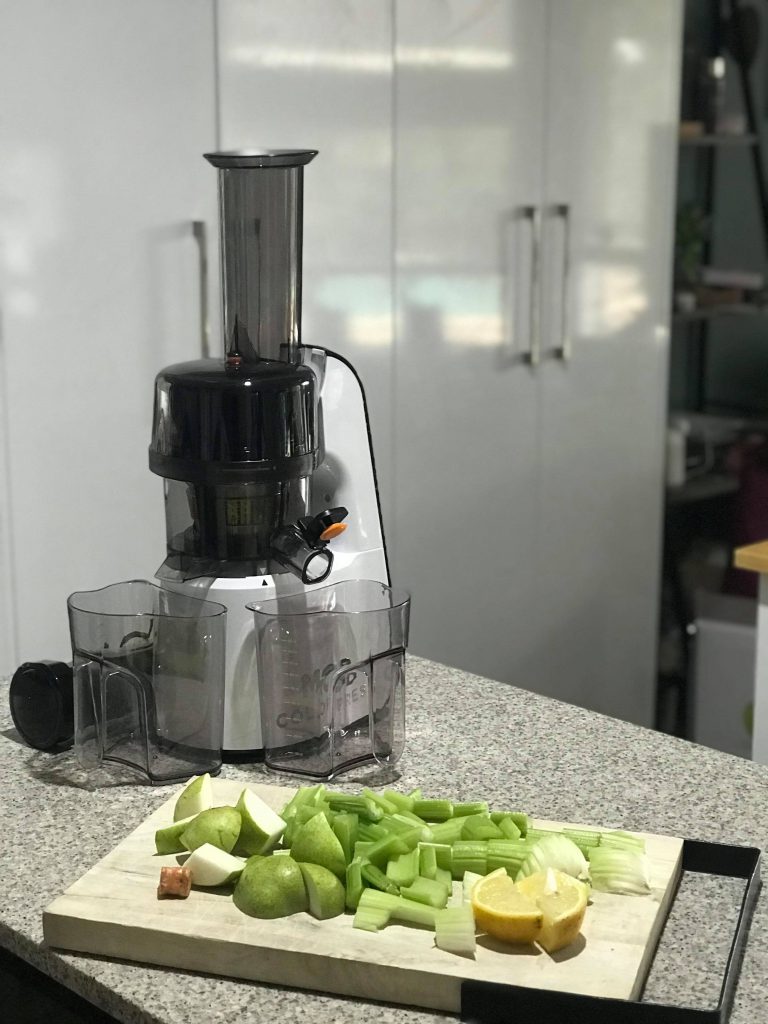 The Juicing Function
Having only had experience with a blender previously (and a somewhat cheap one at that), I was surprised how quiet the juicer is! I can whip up enough juice for my family to enjoy with breakfast without even waking them up!
The juicer is easy to use, and the large spout means prepping fruit and veg is easy too. There is no need to spend a great deal of time cutting things up especially small – and it makes light work of even tough vegetables. In the event the produce gets caught in the chute, a little prod with the purpose-made plunger helps it to move along the chamber.
I am loving experimenting with different fruit and vegetable combinations, and my children have been quick to suggest other fruits and vegetables they'd like me to pick up at my next visit to the market for them to try. They've also got plans to make some DIY juice mocktail slushies at an upcoming family party, by adding crushed ice to their juice creations, and my daughter wants to try making her all-natural, additive and sugar-free icy poles!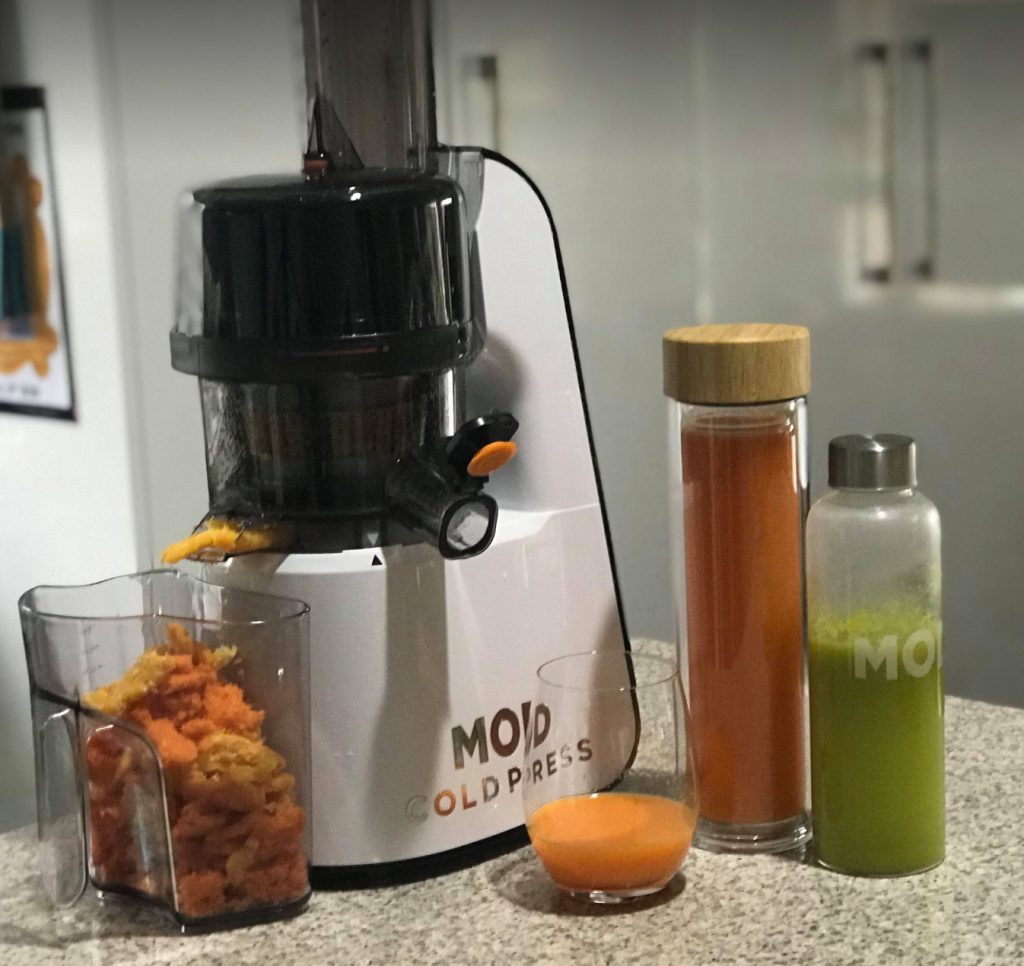 The Sorbet Function
Talking of tasty icy treats, the MOD Cold Press Juicer also comes with a sorbet accessory. All you have to do is assemble the machine with the sorbet attachment instead of the juicing basket and filter. You'll notice that the sorbet attachment only has one spout for the produce to exit, because the whole fruit is used in the sorbet. There is no pulp. Place one of the juicing jugs below the spout.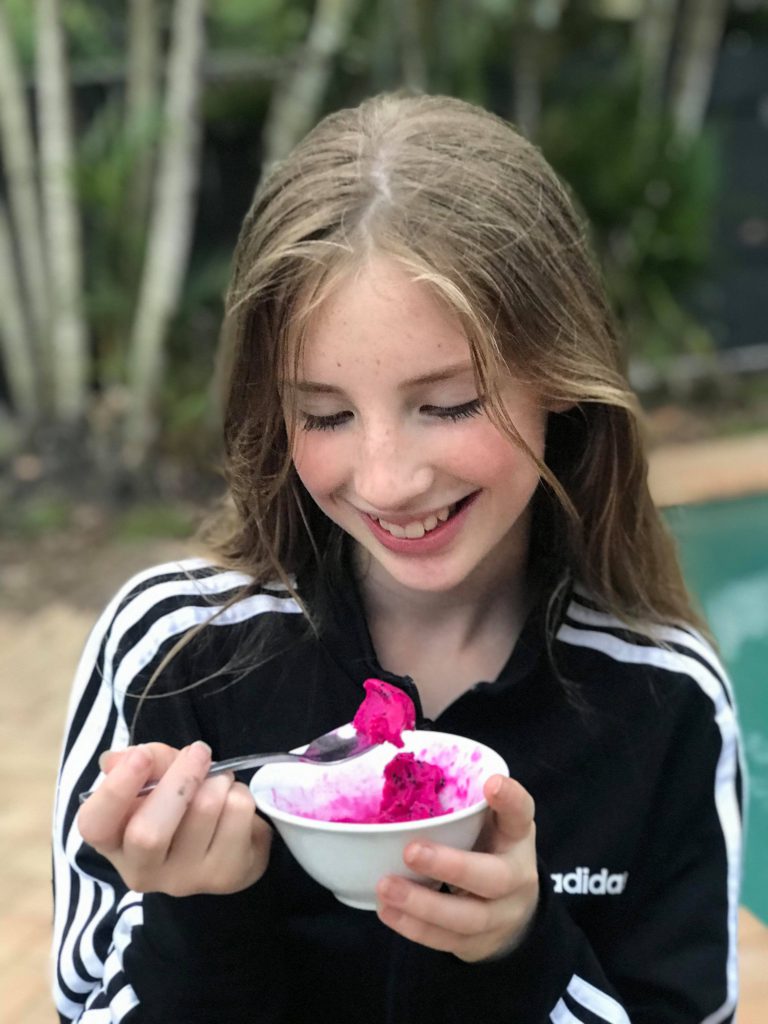 Take your frozen fruit and allow to thaw for approximately 10 minutes.  (You can use fresh fruit, just prep and freeze overnight or use ready-frozen).
Turn on your MOD appliance and feed the frozen fruit into the chute, and watch the sorbet appear in the jug! It is ridiculously easy, and the perfect alternative to heavy desserts or sugar-laden iced treats from the supermarket. And you can always add a swirl of organic honey for extra sweetness if you are craving something sweeter.
Clean Up
Cleaning the MOD juicer is also far easier than I had envisioned – which is excellent, because as much as I love the juice, I think I'd use it far less frequently if the clean-up was too laborious. As part of the prepping to make juice, I will my sink with hot soapy water so that as soon as the process is complete, I can dismantle the juicer and rinse the individual parts. Most parts are clean after a rinse or soak in soapy water, and the scrubbing brush with its handy hook to get to any difficult to reach places, makes light work of the chute where the pulp comes out. The cleaning side of things usually takes less than 3 minutes, and I leave them to dry on my draining board, ready to be put away on my lunchbreak.
Conclusion
Hey, I did warn you at the start that I was going to have a lot to say! Don't worry, I'm nearly done though, I promise!
As I've explained previously, this is my first experience using a juicer, so although I don't have anything to compare it with, it is worth noting that it has been awarded 'best juicer' 5 years in a row by productreview.com.au. All I know is that it is great fun to use, and is proving to be a fantastic and delicious way to get more fruit and vegetables into my family's diet.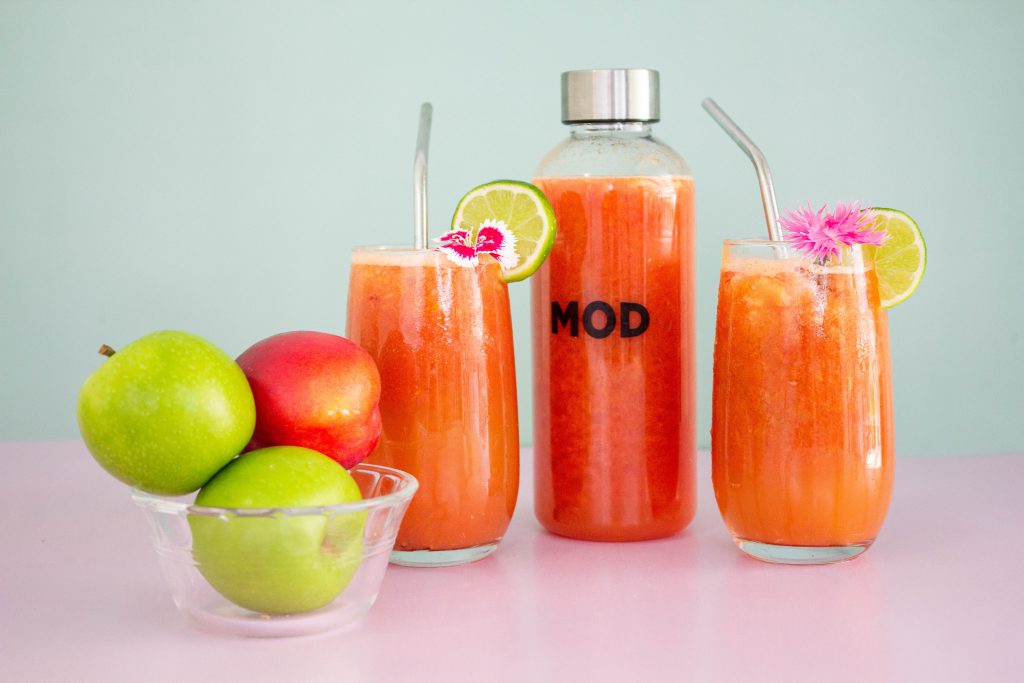 Having now done my research into juicing, I believe the cold press process is superior. Not only does the MOD Cold Press Juicer extract double the juice compared to a traditional juicer, it typically contains twice the nutrients of standard juices. The benefit of making it at home is knowing that it's 100% natural – no additives, no added sugars and no added water.
Not only does the MOD Juicer look sleek and stylish, it's also built to last. With a 5-year parts and a 20-year motor warranty, you can confidently make the purchase knowing you're going to get what you've paid for, and be able to enjoy your appliance for many years to come!

For more information or to purchase one for yourself, head to the MOD appliances website here. Happy juicing!
Disclaimer: I was gifted the MOD Cold Press Juicer for the purpose of writing an honest and accurate review. All thoughts and opinions shared here are my own.