Monster Health Food Company Launches Convenient, Tasty Breakfast in a Bag (PLUS Giveaway)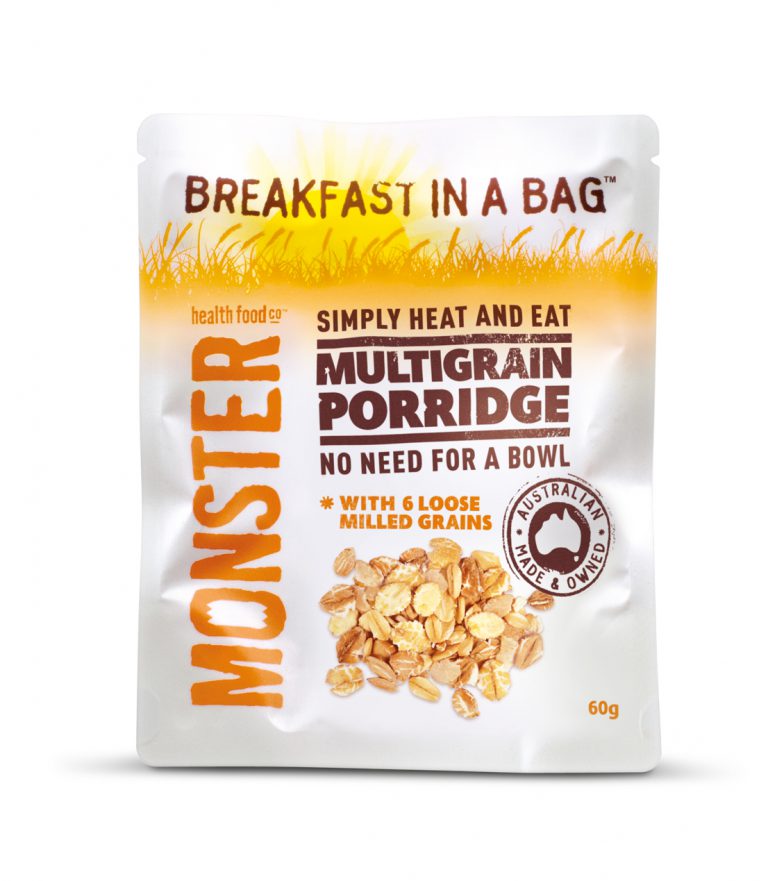 Sponsored post
Monster Health Food Company Launches Breakfast in a Bag
Okay, 'fess up. Are you guilty of skipping breakfast because you just don't have the time?
I have lost track of the number of times that I have buzzed around in the morning getting the children ready for school and kinder, then headed out to work or grocery shopping, or running errands, only to get to 11am and feel as though there is a big gaping hole where my stomach should be. When that kind of hunger hits, I'll be honest, there is no consideration of healthy options, I just want to eat something…anything, and I am much more likely to make bad food choices.
They say breakfast is the most important meal of the day, and yet many of us are still too time-poor to make it a priority. Fuelling your body with food in the morning not only gives you the energy to take on the day, it also revs up your metabolism and regulates your blood sugar levels. A good breakfast can also be instrumental in helping you to maintain good mood and a positive outlook, and will make you less likely to binge eat through the day.
But besides grabbing a piece of fruit, is there really a convenient breakfast food that you can grab on the go that is both tasty and healthy?
Well, thanks to 100% Australian made and owned food brand Monster Health Food Company, who identified this gap in the market, it is now possible to grab a portion-controlled, easy to eat, nutritious breakfast straight off the shelf.
The newly launched 'Breakfast in a Bag' range come in a pre packaged 60 gm single serve, and allows for milk or yogurt to be poured into the package making it a big breakfast in a little bag!
The 'Breakfast in a Bag' range comes in a large variety of flavours the whole family will love: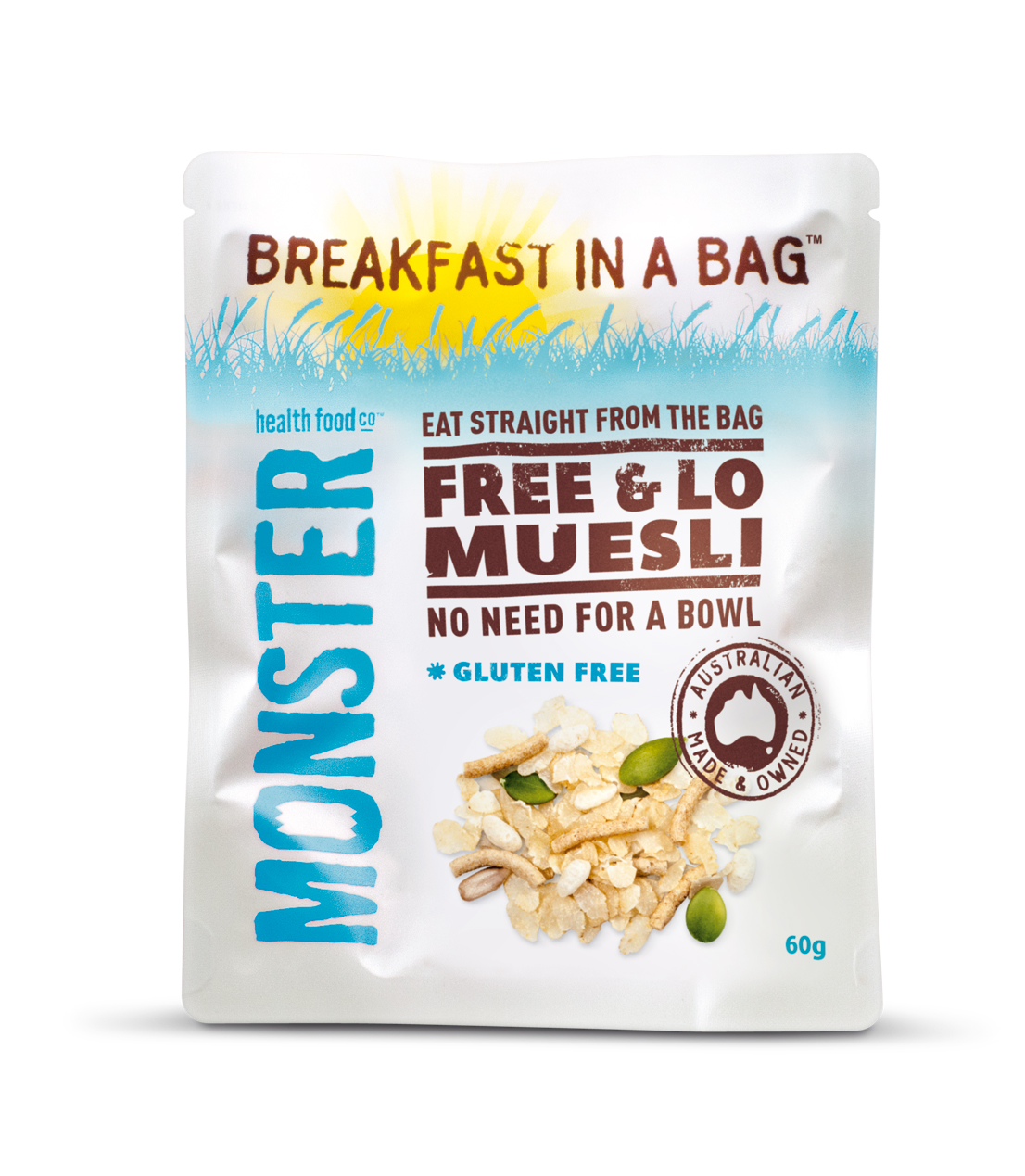 Free & Lo
Contains pear. Gluten free, Wheat free, Dairy free, Soy free, Nut free, Preservative free and 97% Fat Free. Also Available in 500g bags.
Free & Fruity
Contains cranberries, blueberries and strawberries. Gluten free, nut free wheat free, dairy free, soy free preservative and free, 97% fat free. Also available in 500g bags.
Berry Muesli
Contains freeze-dried blueberries, strawberries & cranberries. Nut free, wheat free, dairy free, soy free, preservative free and 92% fat free. Also available in 600g bags.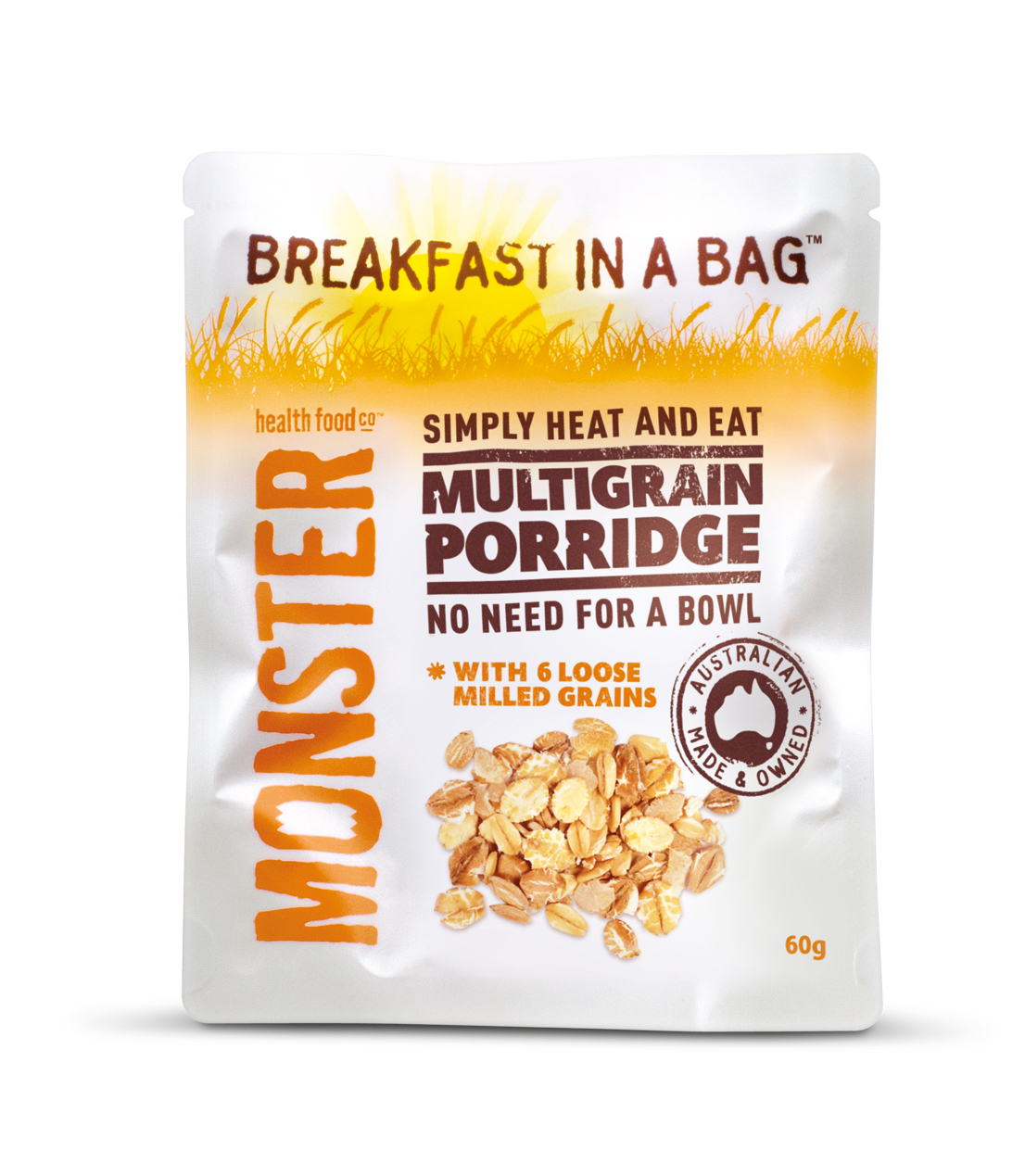 Sports Muesli
Contains quinoa and papaya. Nut free. Also available in 700g bags.
High Fibre Muesli
More than 24% fruit and nuts. Low in salt. Also available in 700g bags.
Tropical Muesli
Contains mango, macadamia, coconut, banana and paw paw. Dairy free and 91% fat free. Also available in 700g bags.
Multi-grain porridge
Low GI, 40% less fat, 6 whole grains and nut free. Also available in 700g bags.
Monster Health Food Company carries an extensive range, and are specialists in a range of 'free from' products, with gluten, dairy, soy, nut, preservative and wheat-free alternatives available, as well as being Halal and Kosher certified.
With 20 years in the industry, what sets Monster Health Foods apart from competitors is their drying method.
"We pride ourselves on being able to deliver muesli that is both low in fat and low in salt content", said Kim Lauman, one half of the husband-and-wife team and owners of Monster Health Food Company. "While other brands are frying their muesli in oils to get the golden look, we are air drying our grains in golden syrup, making it healthier and tastier."
The Breakfast In A Bag range is available online at www.mhfco.com.au for around $2 each. Full size bags are also available from Woolworths, Coles, Harris Farm Markets, Amway, Independents and the Monster Health Food Company website.
The Giveaway
Monster Health Food Company are offering Mums Lounge readers the chance to win 1 of 2 Monster Health Food Prize Packs. Each pack includes:
1 x full size Multigrain porridge; RRP $4.35
1 x full sizeTropical; RRP $5.50
1 x full size Hi-Fibre; RRP $5.50
1 x full size Berri; RRP $6.35
1 x full size Sports Muesli; RRP $5.50
1 x full size Free & Lo; RRP $5.35
1 x full size Free & Fruity; RRP $6.35
1 x Monster Singlet; RRP $20
1 x Monster Bag shoulder bag
To enter, simply follow the instructions on the entry form below. Good luck!