Ninja Foodi Grill Review: The Kitchen Appliance That Can Grill, Roast, Bake, Air Fry & Dehydrate!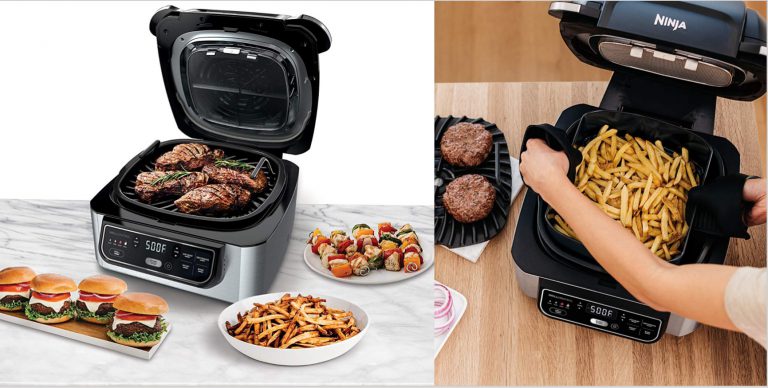 Ninja Foodi Grill Review: The Kitchen Appliance That Can Grill, Roast, Bake, Air Fry & Dehydrate!
As a mother of 3 growing children, some days, just feeding my family, feels like a full-time job…especially during school holidays! So, I am always keen to try out kitchen appliances that promise to make my life easier…at least when it comes to meal prep. This past month, I have been fortunate enough to put the Ninja Foodi Grill through its paces with my family. Although my initial feeling about appliances that claim to have multiple purposes, is that they often over-promise and under-deliver, I'll admit that at least in this case, this generalisation didn't hold up. In fact, barely a day has gone by since we unpacked the Ninja Foodi Grill, that it hasn't been used – which cannot be said for the myriad of other kitchen appliances that now lay gathering dust in dark cupboards.
Anyway, I'm getting ahead of myself. For those of you who haven't heard of the Ninja Foodi Grill, let's rewind and go back to the basics.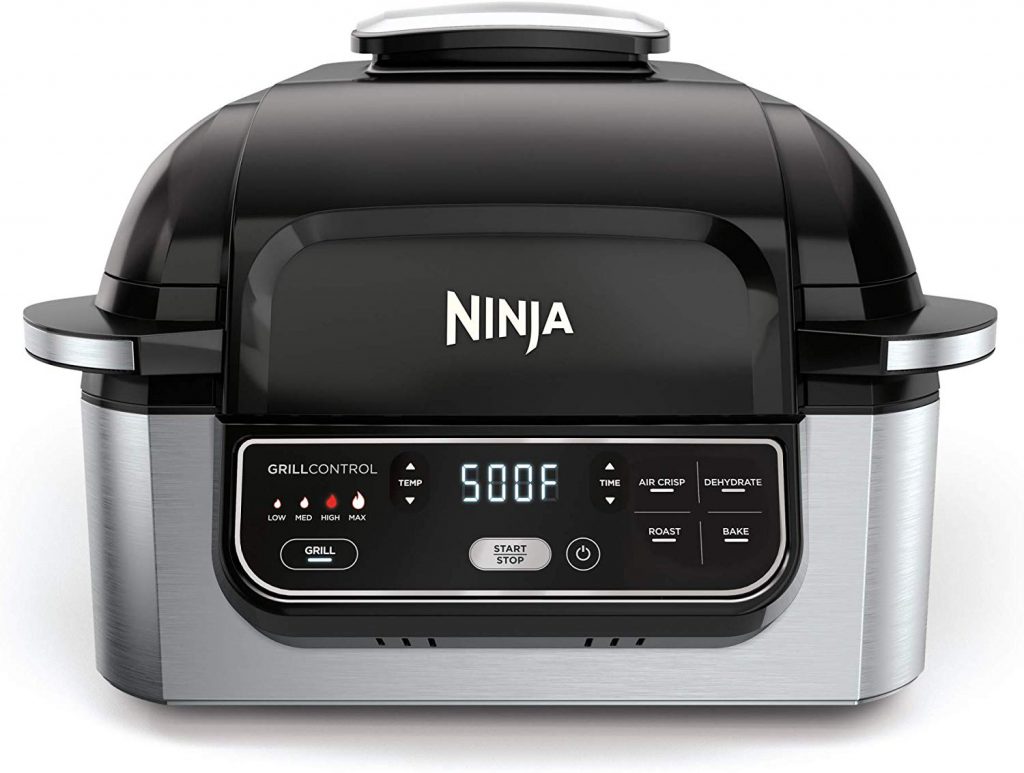 What is the Ninja Foodi Grill?
The Ninja Foodi Grill in a 5-in-1 smokeless indoor grill that can also bake, roast, air fry and dehydrate! I know! It sounds like a lot for one unit to accomplish, doesn't it? But I truly have not used it yet and been disappointed.
Disclosure: I haven't put the dehydrate function to the test yet, so I can't comment on that function. Although Hubby may attempt to make some jerky over the Christmas holiday in it, so I'll give you an update on how that turn out.
It comes with:
The Ninja Food Grill Unit
The Ninja Food Grill Unit can be set up on the kitchen counter or table. The hood lifts so that you can insert different cooking accessories depending on which function you are using. So, you will need to ensure that there is ample room to open the lid easily.
The Cooking Pot
Regardless of which function (e.g. grill, roast, bake etc) you will need to insert the cooking pot into the Ninja Foodi Grill. It can be used alone, such as when you are roasting or baking, or can accommodate other accessories such as the grill grate and the crisper basket, when you choose to grill or air fry your food. It is dishwasher safe and easy to clean.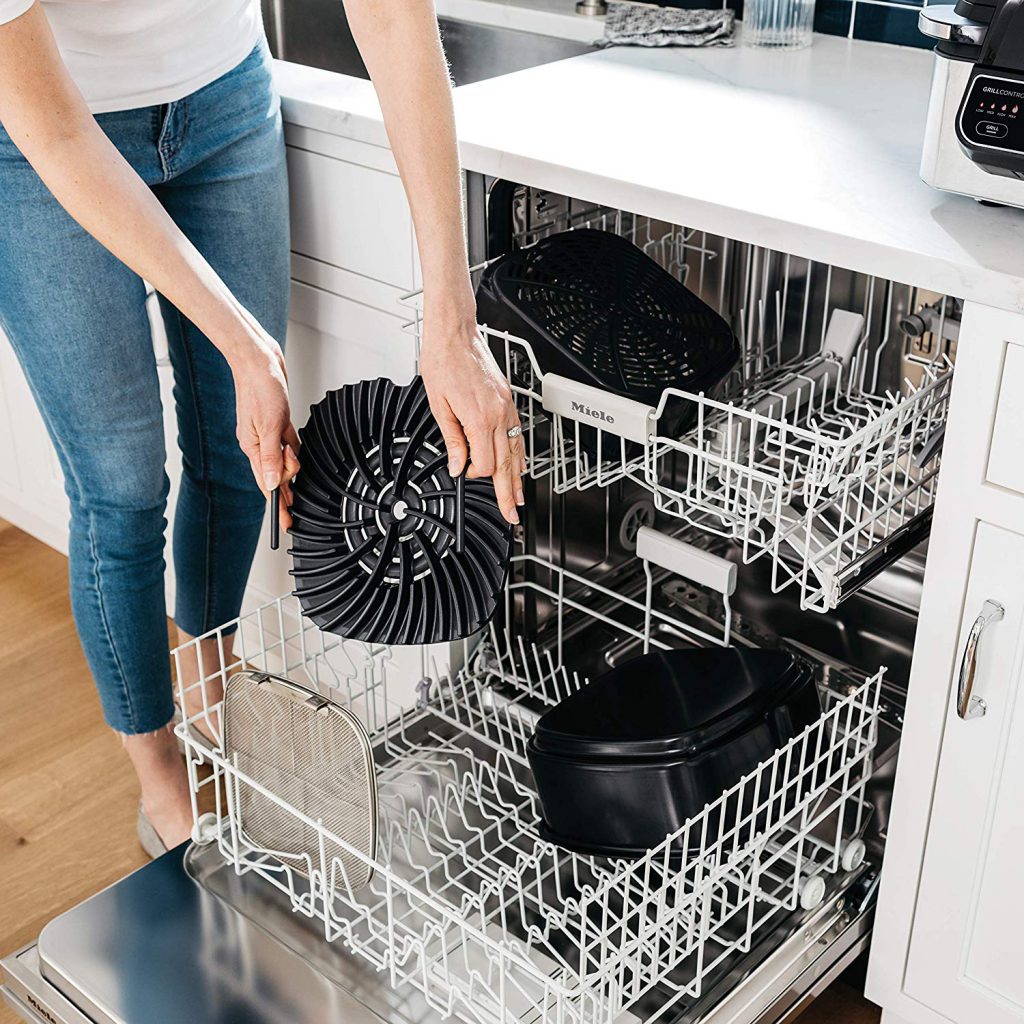 The Grill Grate
The ceramic coated grill grate features two handles for ease of use and slots neatly into the cooking pot. Unlike my oven grill or our outdoor barbeque, it is ridiculously easy to clean with hot soapy water or in the dishwasher, which explains partly why I am such a huge fan of it. The main reason I keep coming back to cook with it day after day though is the amazing flavour and those magical sear marks it achieves. It's like cooking on the outdoor barbeque, only quicker, easier and I'm going to call it and say…tastier!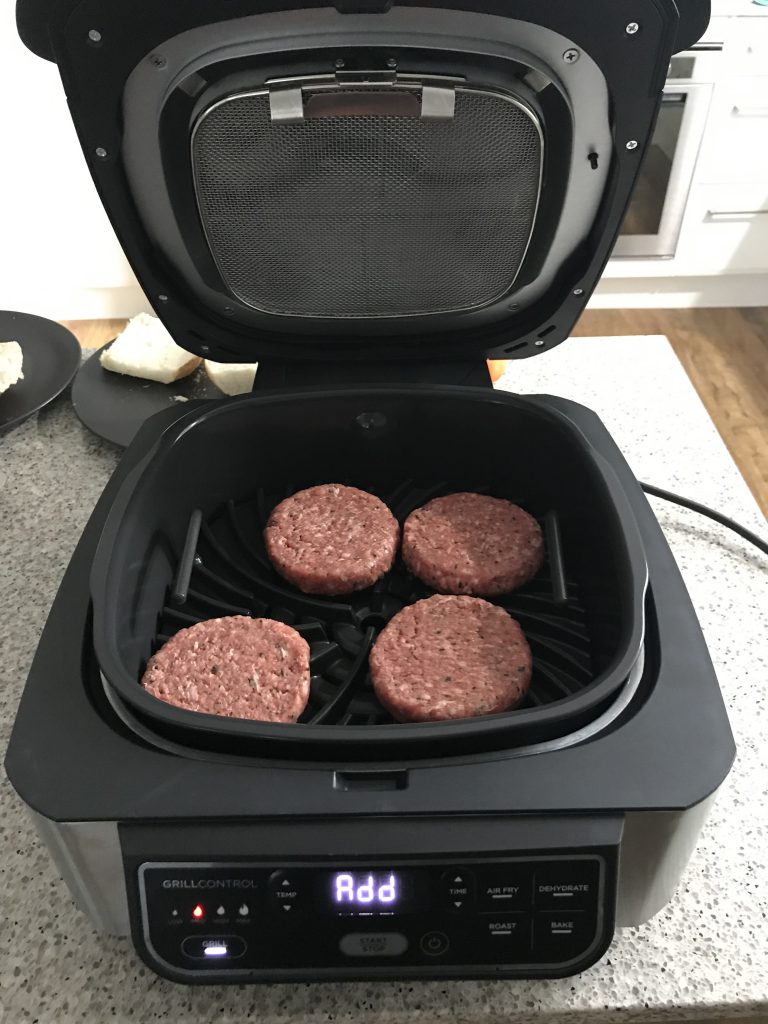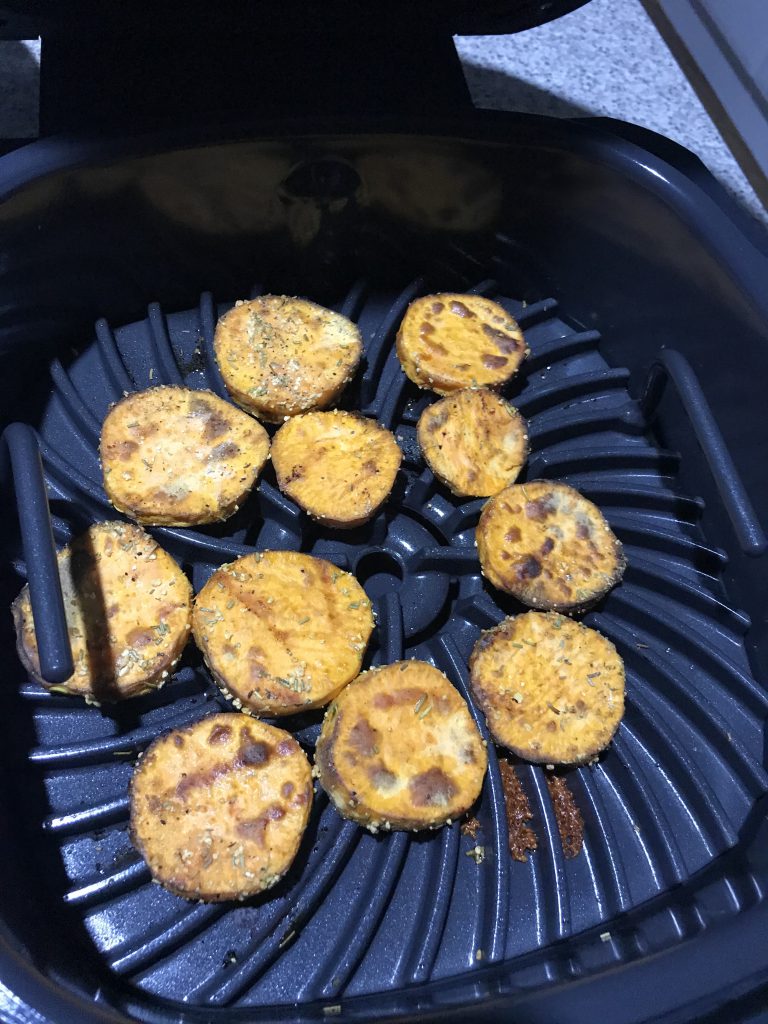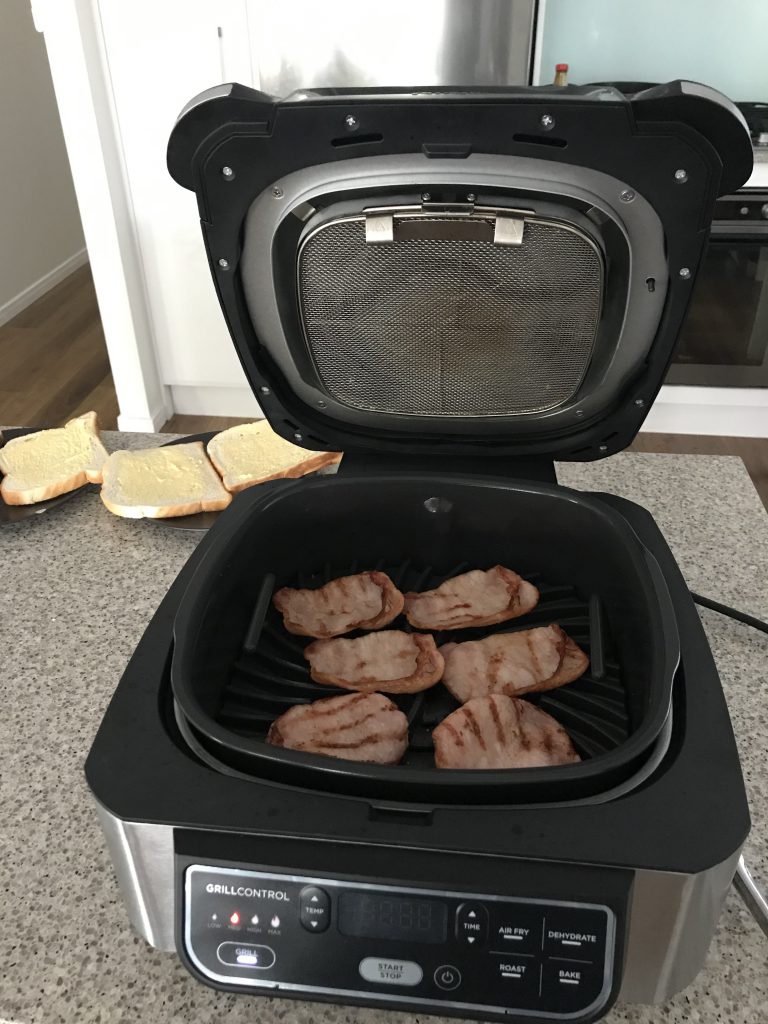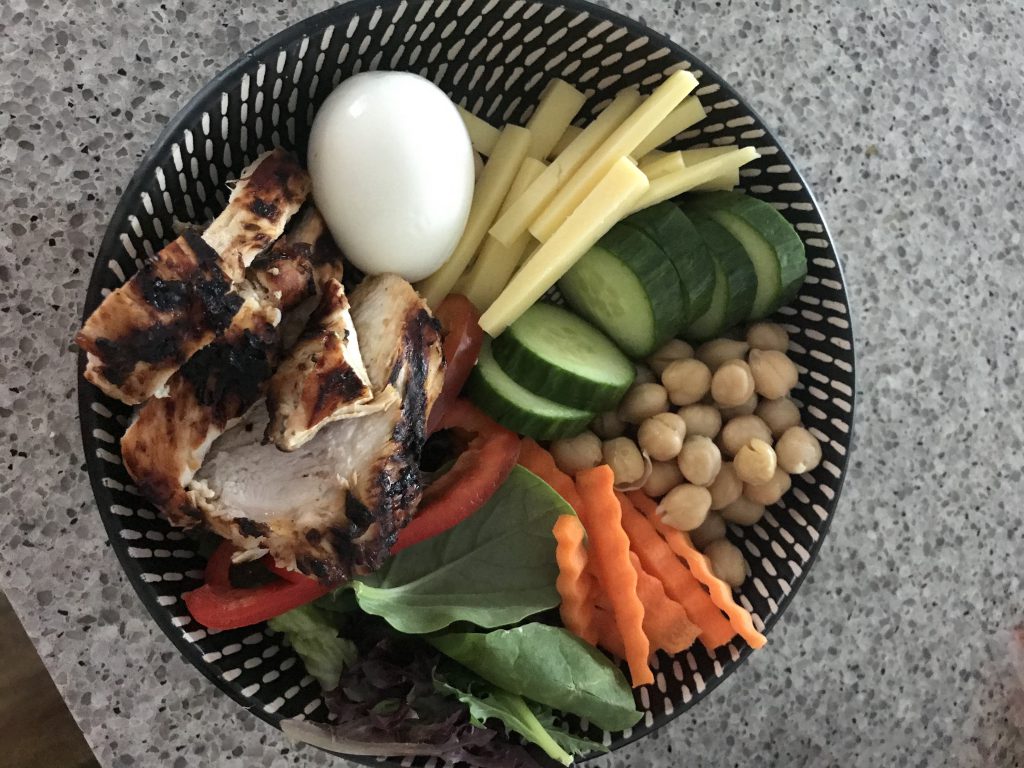 The Crisper Basket
As with the previous two inserts, the crisper basket is also dishwasher safe and easy to wash after each use. Insert the Crisper basket into the cooking pot when you are using as an air fryer or dehydrator.
Using the air fryer means that you can cook meals that would ordinarily be deep fried, with up to 75% less fat, which can only be a good thing, right? I've cooked frozen chips, popcorn chicken, homemade potato wedges, and sweet potato fries in the crisper basket so far, and they have all come out perfectly and cook in less time than it would take to cook in the oven. (I don't own a deep fryer, so can only compare to cooking in the oven).
Food just needed to be tossed midway through cooking, and came out lovely and crisp on the outside and tasty on the inside.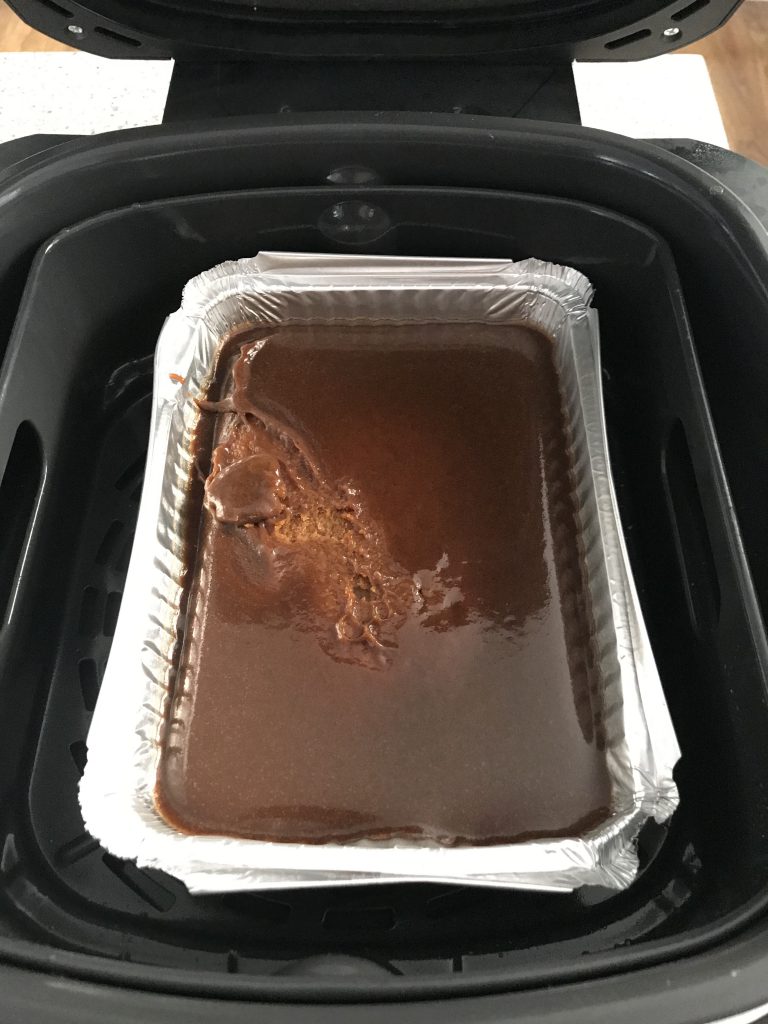 Cleaning Brush
The cleaning brush included comes in very handy for a quick and easy clean up – especially on the grate and the removable splatter guard that is located inside the Ninja Foodi Grill's lid.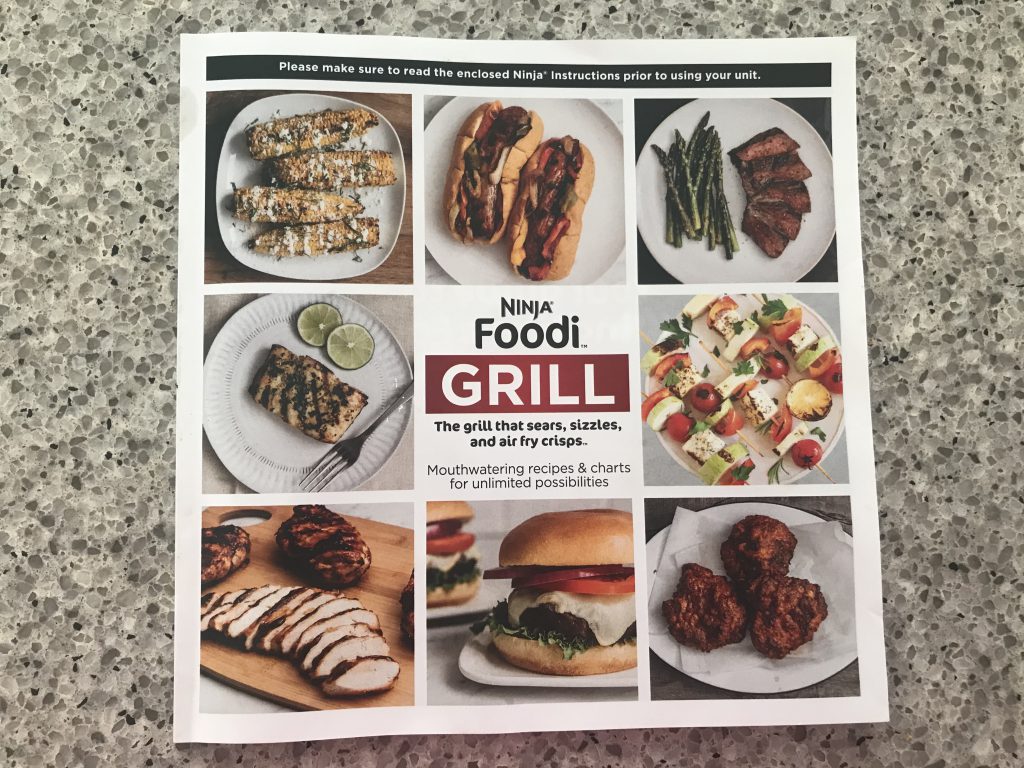 Recipe Book
The recipe book that is included in with the Ninja Foodi Grill features over 20 recipes to get you started. There are also charts at the back of the book that give you cooking temps and times for just about anything you'd be likely to cook in the Ninja Foodi Grill.  I have kept this recipe book handy when trying something new in the appliance, although I have personally found that the cooking times suggested are sometimes a little too long. So, I'd recommend experimenting for yourself, and using the recipe booklet as a guide only (unless you like your meat etc really well done of course).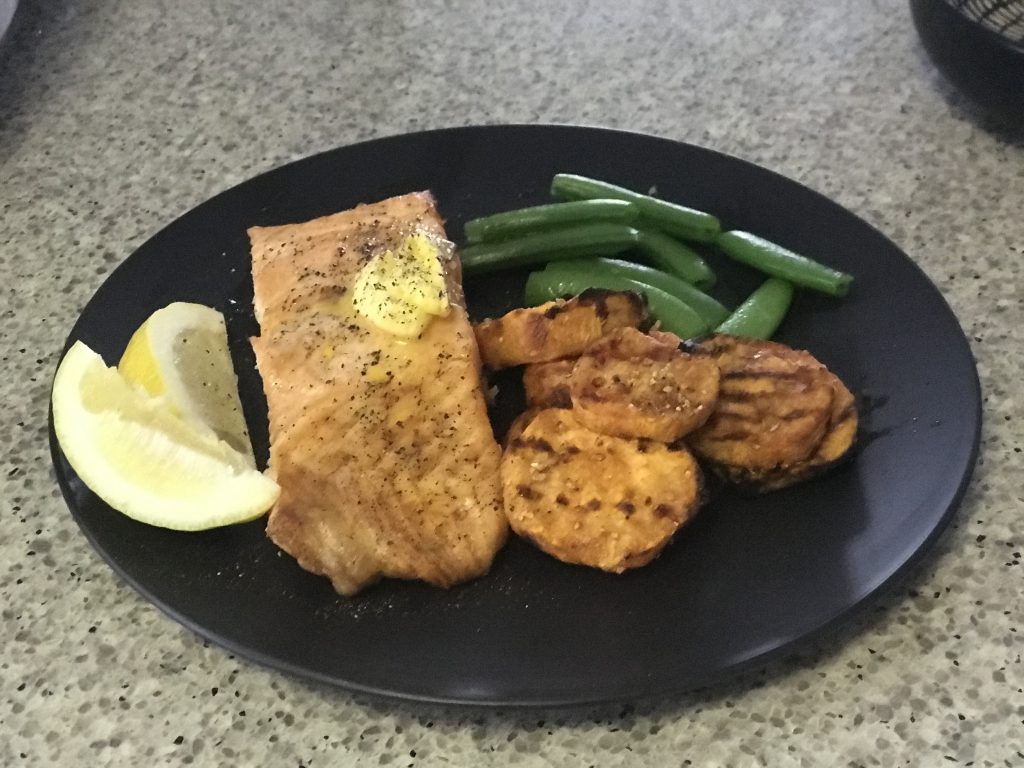 The Verdict
Cons
There really aren't too many negatives about this kitchen appliance at all. But, if I was to get super nit-picky, and in the interest of providing an authentic ,well-rounded review, I would mention that as it is quite bulky you will either need to have sufficient storage space for it when it is not in use, or leave it permanently on your kitchen counter. As you can see, it's definitely not a bad looking unit, so it certainly won't look untidy if you do end up assigning a permanent position for it in the kitchen. The other thing to note is that it isn't possible to store all three of the inserts (cooking pot, grill grate and crisper basket) inside the unit, at the same time. So either the grill grate or crisper basket will need to be stored somewhere else.
The only other thing, which I have already briefly mentioned, is to use the timings in the recipe book quite loosely, unless you like your food very well done. A friend suggested that maybe the manufacturers lean towards the well-cooked timings to avoid customers making and consuming under-cooked food and getting food poisoning. Which is possible. I'd recommend using a temperature probe if you have one and trialling your own cooking times, as I personally found that the meat and fish was better when cooked for less time than suggested, usually by a few minutes. But again, it comes down to personal preference, so the suggested cooking times may be perfect for you.
Pros
The Grill Grate really is the bomb! It takes around 8 minutes to preheat the grill plate, then this, combined with the convection system that circulates the air, means that the food cooks quickly and to perfection! The outside of the meat is nicely browned with those distinct grill marks that I love, and the inside is juicy!
Providing you've washed it adequately, and steer clear of olive oil and use oils with a high smoke point such a canola, grapeseed, avocado etc, the Ninja Foodi Grill is virtually smoke free!
The Ninja Foodi Grill allows you to cook meat from frozen! So, if like me, you forget to drag the meat out of the freezer in the morning before work, you can whack it in the Ninja Foodi Grill frozen and it'll cook it to perfection! Now that is a game-changer, right there!
The digital control panel is easy and intuitive to use. The more you use it, the more confident you will become in using it. But really – there will always be something new you'll want to cook in it! I'm going to attempt to cook banana bread and an apple crumble in it this weekend, so stay tuned for that!
You can enjoy guilt free fried food, without the fat of deep frying.
If you don't have the room for an outdoor barbeque, or its too cold or too hot to stand outside to cook, the Ninja Foodi Grill let's you cook all your favourite BBQ foods in the comfort of your own home.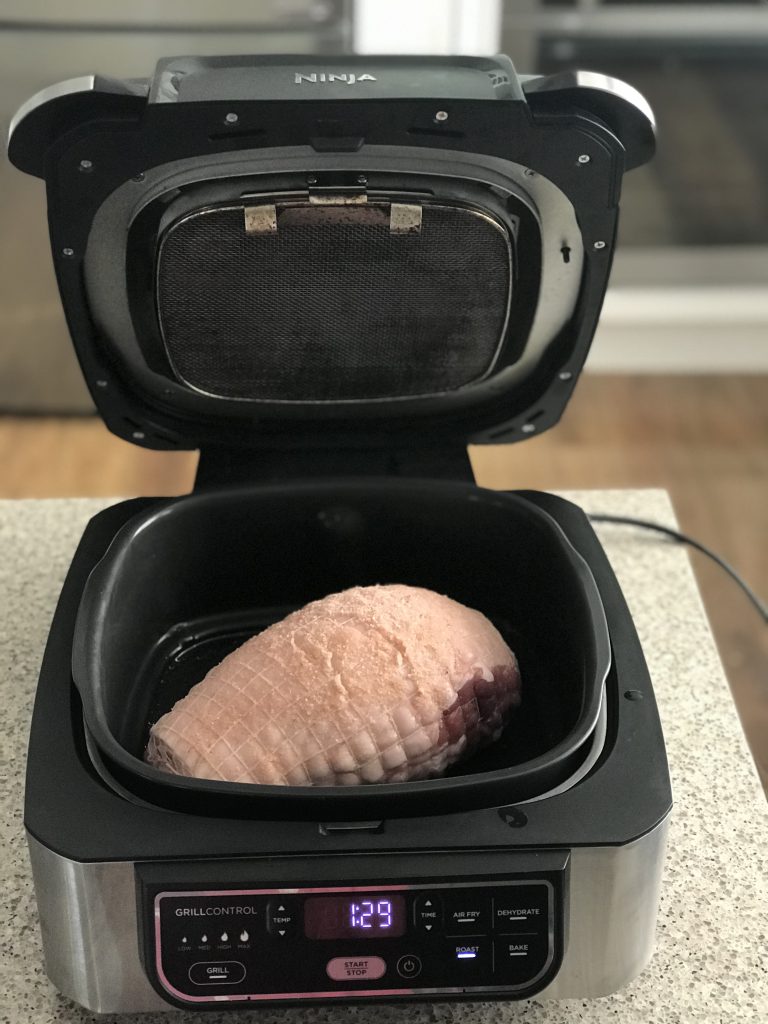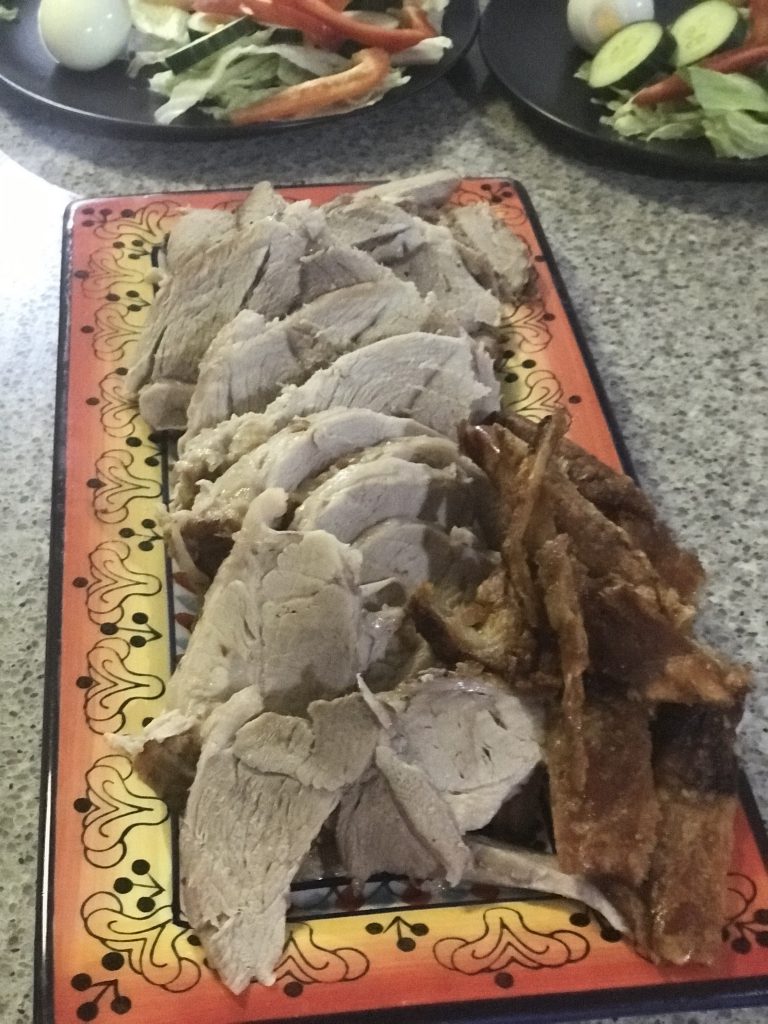 Cleaning the appliance and the inserts is super quick and easy. This is a huge consideration for me. After the effort of shopping for, paying for food, then preparing and cooking it, I cannot stand wasting more time, scrubbing the remains of it off kitchen utensils and appliances.
So, the Ninja Foodi Grill really ticks all the boxes for me. Cooking fresh, healthy meals is not only quick, amazingly tasty and convenient, cleaning the unit and inserts is a breeze. Honestly, I haven't stopped raving about this appliance and everything that it can do. I'm having fun trying out new recipes and my family have been very willing guinea pigs. If you are looking for a kitchen appliance that not only has multiple purposes, but actually excels at them, and can honestly claim to make cooking an easier and more pleasant experience, I highly recommend the Ninja Foodi Grill.
You can purchase the Ninja Foodi Grill via the Ninja website, or through one of their selected retailers. 
Do you have a Ninja Foodi Grill? I'd love to hear what you've been making in yours!
Did you know that there is a Ninja Foodi Family Fresh and Healthy Meals Facebook group that you can join, for meal inspiration?!
Disclaimer: I was gifted a Ninja Foodi Grill for the purpose of providing a honest review. All thoughts and opinions expressed here are my own.
Disclosure: This article may contain affiliate links. this means that should you make a purchase, we may recieve a small commission at no extra cost to you.