Win the Ultimate Twists and Twirls Pyjama Party Prize Pack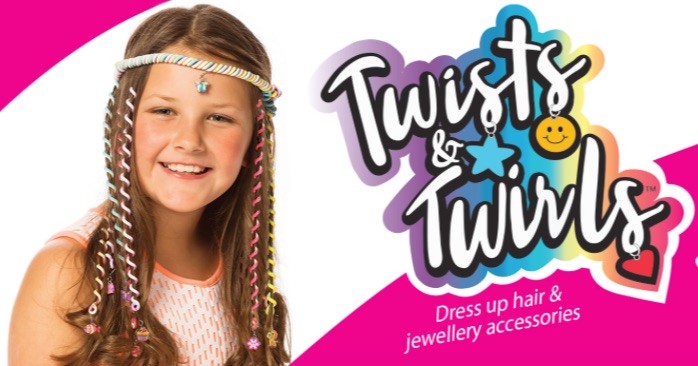 Twists and Twirls Toy Tester Review
Do you know a little girl who loves to be creative and express themselves?
Twists & Twirls is the unique hair twist and charm range from Loumet perfect for creating colourful dress up jewellery and fun hair styles! Made from eco-friendly polymer clay, Twists & Twirls are soft and easily manipulated, comfortable to wear and lightweight.
Watch the Kids Lounge Toy Testers put Twists & Twirls to the test in this short video review.
The beauty of Twists & Twirls is that they provide never-ending fun – each time you play with them you can create something new and exciting! With 53 different charms to collect they also present kids with the opportunity to engage in swapping with friends to build a complete set. (And who didn't love a good swapping session as a kid?)
The opening collection of charms comes in four themes: adventure, yummies, creatures, and expressions
As you can tell the Twists & Twirls were a huge hit with our Kids Lounge Toy Testers, who have continued to have hours of fun with them since filming.
Giveaway
Do you know someone who would love a Twists and Twirls pyjama party?
You can download Twists and Twirls party invitations, a birthday banner, party hats, cake toppers and more. Plus you'll automatically go into the draw to win the ultimate Twists and Twirls prize pack  which includes everything you'll need for your next pyjama party:
Bed linen for the birthday girl (double size)
Cotton On summer PJ packs
A popcorn maker
A nail kit and make-up kit for the party
Mad Mia socks for each party girl
A set of five DVDs
$150 Woolworth's Wish Card
A set of Twists & Twirls for each party girl