JULY – Jill Slater – STUNTgirls


WAHM of the Month -JULY
STUNTgirls
This month I had the pleasure of interviewing the fabulous Jill Slater ~ Owner of 'STUNTgirls,' self-confessed Powderfinger fanatic, Buddhist and mother of four under the age of six!  Yeah, that's what I thought too…Wow!
So Jill, who does the Slater family consist of?
I am married to an electrician/coal miner – we met on a blind date and were engaged after 6 weeks!  
We have three Cavalier King Charles Spaniels – one older dog (Piper is 11) and two pups (Archie and Daisy, nearly 2).
We have four beautiful children together.  Our latest addition is Miranda Helen, born on the 27th April 2011.  She weighed a very healthy 8lb 10oz and has been the most sleepy, quiet and placid baby ever!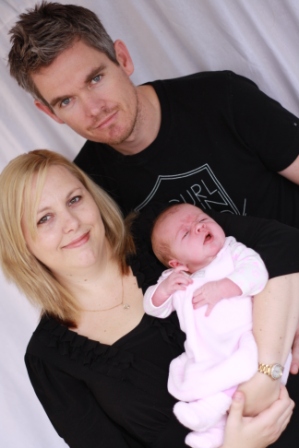 She is beautiful Jill.  I expect that between the four of them they keep you very busy?
It never ever stops. Someone always wants something and it's always me that has to do it. I don't know how my husband trained them to do that!
But as difficult as things may seem some days, motherhood is also very rewarding isn't it?  (Otherwise we wouldn't keep going back for more!) 
I love watching them gain their independence and interact with others without me – our eldest started school this year and is catching the bus. Seeing her happily jump on and choose a seat (preferably her favourite behind the driver) and wave as it goes around the corner is somewhat emotional but seeing her confidence is so uplifting! I love that she has a life outside the home that I'm not a very big part of – I don't know where her desk is in her class, I don't know where she sits to have her lunch. That's her little world and she can show me when the time comes for me to visit the school.
So, amazingly, not only do you run a household, a family of six (and three dogs) but you also run your own business.  How did STUNTgirls come about?
It all started with my husband.  His nickname was the Tequila Stuntman years and years ago on trips to the snow with his mates.  Google it!  I did not know him then. *sigh*  So anyway, when it came time for him to sign up to eBay, he chose tequila_stuntman as his user ID. Then I commandeered it and started selling things from around the house. And I opened a store called "The Stuntman's Shop". Then I started my business and imported women's clothing and wanted a girlier sounding name. So STUNTgirls it was.
I started selling in 2006 and changed over to STUNTgirls in early 2008. My motivation is because I always enjoyed selling in my 'previous life' and I needed something to keep me sane after having children and not working outside the home. It was one of the best things I ever did because I have met soooo many friends as a direct result of my involvement on eBay (both through the eBay forums which then led me to Facebook). I would not be who I am without my business.
 What do you consider to be the pro's of being a WAHM (Work at home mum)?
The Pros are definitely the friendships and networking, the feeling of contributing to the family savings, keeping my business skills up to date, helping others with their businesses
And what do you find are the drawbacks?
Dealing with the odd rude customer and keeping up to date with the rules and regulations of eBay and Facebook.
I am already a huge fan of your website and products, but for those readers, who may not have had the pleasure, explain a bit about your business.
I sell women's clothing, imported from the US in Australian sizes ranging from 4 to 24. My most popular items are the fun, younger-looking items in the 14-18 size bracket. Clearly young plus sized women don't want to shop at Millers.
I love the big range of dresses that I have in stock – there is something there for everyone for any occasion; weddings, cocktail parties, the races. And they're all gorgeous!
If my buyers are having trouble selecting the correct size, I offer to help them by using their measurements to advice on which size would suit them best.
And that is what is so fabulous and personable about your service, Jill.  You provide the convenience of online shopping, but maintain the level of interaction and customer service that we usually associate with shopping at retail outlets.  What else can our members expect?
Mums Lounge members receive 30% off all purchases through the website only by entering this code in the checkout:  ML630 (Not available on Sale items).
We know that you never take your customers for granted Jill, and value their support.  Is there anything you'd like to say to them?
You are helping a WAHM stay sane! This is important! Without you I'd be sitting quietly in a corner rocking back and forth while small children and puppies pester me for drinks and biscuits. And I adore you all for it! ♥
Oh, did someone mention drinks and biscuits?  Time to wrap this interview up Jill, and join the kids and puppies in pestering you for some light refreshments!  It is great to have had the chance to get to know another face and personality behind a business.
The Mums Lounge Team would like to congratulate you on the safe birth of your newest daughter and wish you all the best for the future of STUNTgirls.
You heard her girls!
~30% OFF ALL PURCHASES ON THE WEBSITE ~
(Except sale items)­
CODE: ML630
What are you still doing here?  Go and check it out!