Spooky Spider Peanut Butter Cookies Recipe (Gluten Free)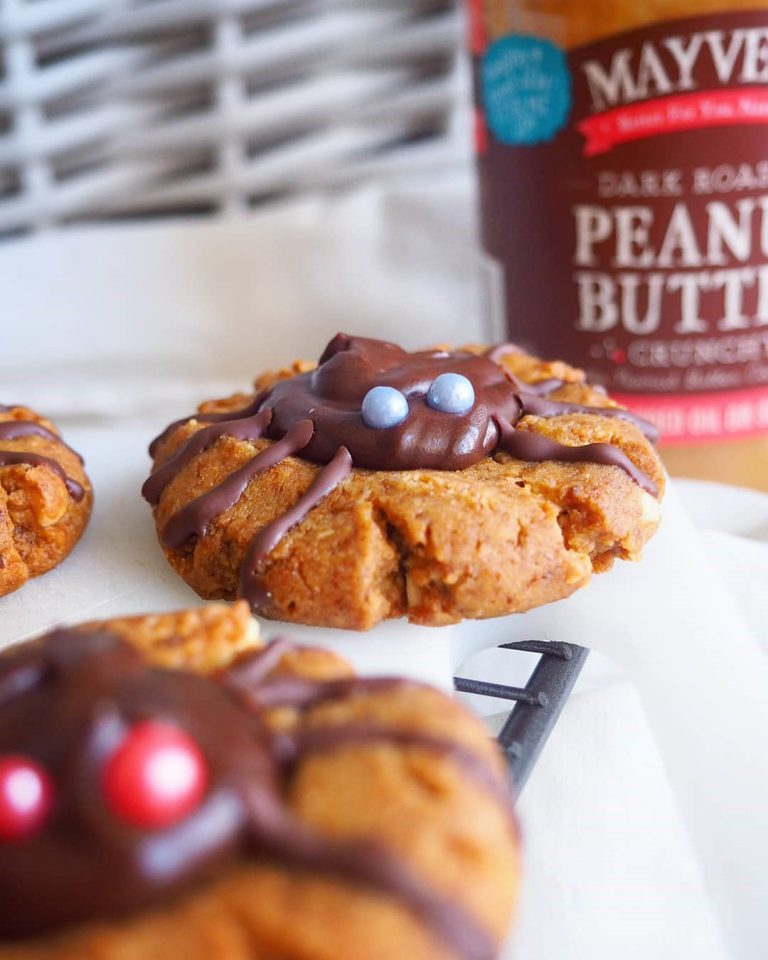 Spooky Spider Peanut Butter Cookies Recipe (Gluten Free)
Serve: 12
With Halloween just around the corner, these deliciously Spooky Spider Peanut Butter Cookies created by the talented Ashleigh Jane of Inner Pickle, are the perfect low-sugar treat. But, why wait until Halloween? These cookies make a great healthier alternative to sugary treats. They are made with Mayver's all-natural peanut butter, which are vegan and contain absolutely no added oil, sugar, gluten, dairy, cholesterol or hardened fats and are a great source of good fats, protein and key nutrients including potassium and magnesium.
That sounds like the perfect excuse to enjoy them all year round to us!
Cookie Ingredients
1⁄2 cup spelt flour
1 tsp baking powder
Pinch of salt
1⁄4 cup Nuttelex (or other vegan margarine/butter), melted
1⁄4 cupup Mayver's Dark Roasted Crunchy Peanut Butter
1⁄2 cup coconut sugar, heaped 2 tsp vanilla essence
Chocolate ganache ingredients
1⁄2 cup light coconut milk 125g quality dark chocolate 3 tbsp coconut oil
1 tbsp rice malt syrup
1 tsp vanilla essence
Bonus ingredients
20g quality dark chocolate
24 cachous (ensure this is vegan friendly, ie. no shellac or gelatine)
Method
Begin with the chocolate ganache. On the stovetop, gently heat all the ganache ingredients until the chocolate has melted and the mixture is smooth. Remove from heat and cool, before putting the mix in the fridge to set completely.
To make the cookies, first pre-heat the oven to 180C and line a baking tray with paper. In a mixing bowl, sift together the flour, baking powder, and a touch of salt.
Separately, whisk the coconut sugar with the melted vegan margarine (or alternative) and vanilla essence. Stir through the peanut butter until combined.
Mix the wet mix into the dry until a dough is formed – you may need to use your hands! Divide into 12 equal balls and flatten onto the prepared tray. Press your thumb into the centre of each cookies to create an indent. Bake the cookies for 10 minutes.
After 10 minutes, check the cookies – they may need to be gently indented again. Be careful!They'll be hot. Turn the tray around and bake the cookies for another 8 minutes. Remove from the oven and cool completely, before transferring to a wire rack.
Creating the spiders!
Once the cookies have completely cooled, it's time to decorate! Gently scoop small portionsof ganache into each cookie indent. This is the head! Now, press 2 cachous into one side of the ganache to create eyes.
Next, melt the remaining 20g of chocolate, and, using a butter knife, drizzle 4 lines ofchocolate onto each side of the ganache "head" to create legs. Put the cookies in the fridge to set the chocolate legs, before serving!
This delish recipe was provided by the talented Ashleigh Jane of Inner Pickle