The Lowdown on Parental Control Apps, and How to Use Them to Keep Kids Safe Online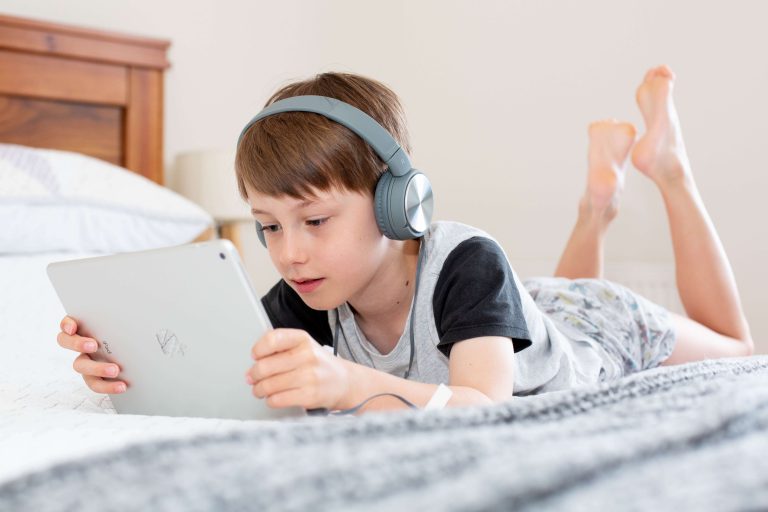 The Lowdown on Parental Control Apps, and How to Use Them to Keep Kids Safe Online
It's no secret that kids are spending more time online now than ever, with many of their everyday activities like school and extra-curricular classes moving to the virtual world. As parents, we're naturally concerned about all that screen time, as well as the content our children are exposed to.
That's where parental controls come in. These tools help you set boundaries for your kids online and manage the way they use the internet.
We asked ESET to give us the lowdown on the best parental control apps, and explain how parents can protect kids online.
How does parental control work?
All parental control software has the same goal: to help parents to monitor their kids' online behaviour and stop children from accessing inappropriate content. Each app has its own scope in terms of the devices it can be installed on and what it can and can't do. While there are free versions available, paid, premium options offer more protection.
For example, ESET's Parental Control for Android is compatible with smartphones, tablets, laptops and computers, and can communicate in 30 languages. You can set up these controls, depending on your child's age and maturity:
Limit screen time. Thanks to the App Guard feature, you can manage the amount of time your kids can spend on apps or playing games, making it one of the best apps to limit screen time. You can also stop them from hopping on at night or during school hours, which is especially handy if your kids are remote learning. Plus, the software automatically scans apps and only allows access to age-appropriate ones.
Blocks inappropriate content and unsafe searches. Anyone can publish anything on the internet, which means your kids might come across offensive, violent or adult content while they're browsing. The Web Guard feature filters out those types of pages and prevents kids from running inappropriate searches, giving you more peace of mind as a parent.
View their browsing history. Speaking of searches, if you're curious about what your kid is doing or looking up online, you can scan their browsing history and communications.
Allows you to temporarily ban certain sites or apps. If your kids are easily distracted, you can help them focus with Instant Block, which blocks access to games or other entertainment sites and apps. And on the flip side, if your kids are on school holidays, you can remove the time limit rule with Vacation Mode.
Find out how much time your kids spend online. The app can provide a report with details on the types of content or activities your kids are interested in, as well as their overall screen time.
Check your child's location. Generally, kids spend a lot of time out of the house, whether they're at school, playing sports or enjoying playdates. The Child Locator feature helps you track your kid's phone, while Geofencing alerts you if your little one steps out of a mapped area you drew up. You can also monitor your kids' devices and check if they're offline.
As a parent, you can change the settings at any time. And as your kids grow up, they can ask for exceptions to the rules you've set, and you can approve or deny them. When you're shopping for a parental control app, make sure you choose one your children can't uninstall without your knowledge.

7 More Ways to Boost Cyber Safety for Kids
Besides investing in reliable parental control software, there are a few things you can do to optimise the security of your kids' devices. Here's a checklist:
Switch on security settings. Unfortunately, kids might share personal identifiable information (PII) online without realising it. To prevent your children from sharing too much, log into every app, social media site, messaging and video conferencing software they use and choose the strictest security settings. If the site or app requests access to the camera, think about whether that's necessary — if it's not, you can turn that off too.
Keep their location private. A lot of apps, devices and social media platforms have geotagging features, which makes it easier for cybercriminals to find out where your kids are. Turn off location services in the settings menu, and instruct your kids not to tag their location in photos and check-ins.
Make their social media accounts private. There's no need for your kids to have a public Instagram or Facebook account. Explain to them that if they want to continue posting photos and scrolling through their favourite feeds, they must maintain a private profile.
Block sensitive content online you don't want your kids to see. This might involve filtering sites with explicit, violent or sexual content, such as YouTube or pornography sites.
Use safe search for kids. While parental controls do a great job of blocking inappropriate search results, they're not 100% accurate. Luckily, the main search engines allow you to set up filters that prevent adult content from showing up in results. A good example is Google SafeSearch.
Create a separate account on streaming services like Netflix. That way, they'll only be able to watch shows and movies that are deemed suitable for children.
Install antivirus software. With kids spending so much time online at the moment, there's a higher risk of them clicking on a malicious link that downloads malware or ransomware onto their device. Sophisticated antivirus software like ESET Internet Security or ESET Mobile Security offers a multi-layered defence against a range of cyberattacks, helping to protect your devices and data. They stop your children from accessing harmful or offensive content online and prevent hackers from accessing your system, router or webcam. They also scan attachments and images for viruses.
Learn More About Internet Safety for Kids
We can't monitor everything our kids do, but we can keep tabs on their online activities with the help of parental control apps.
Sign up for a 30-day free trial of ESET's Parental Control for Android here, and check out ESET's Safer Kids Online Initiative while you're at it. Designed for parents, it's packed with guides to help you keep your kids safe and secure online.