The Toys from Your Childhood You'd Forgotten About Until Now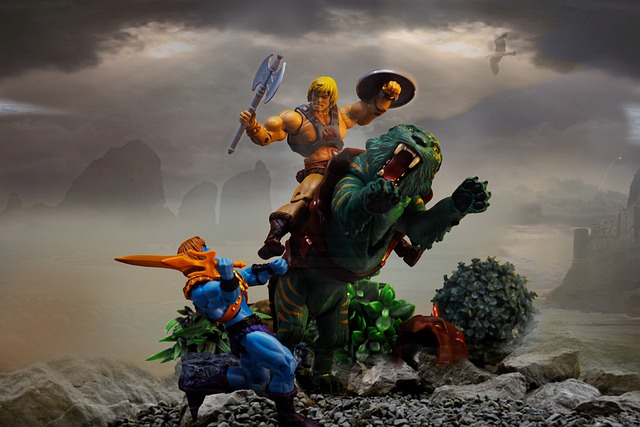 The Toys from Your Childhood You'd Forgotten About Until Now
In partnership with eBay
Whether you are looking to buy or sell vintage toys, or just fancy a nostalgic cyber-trip down memory lane, eBay is the perfect place for to find vintage toys from your childhood. There's just something magical about setting eyes on a toy that you remember playing with, or wishing for, from your youth that transports you back in time.
We've made a list of some of the most popular toys from the 70's, and 80's that we think you might remember! We've taken the images from eBay's 'sold listings,' so you can get a better idea of how much they might sell for these days too!

The Fisher Price School Days Desk
The Fisher Price School Days Desk is a classic, and considering it came with coloured letter and number magnets and trace cards, having the complete set would no doubt make it considerably more valuable. But even the desks alone are selling on eBay, and still make a cute display piece in a collection or toy for a child to play with. Just add magnets and chalk!

Magna Doodle
In the mid-70's, Japanese toy makers created the 'dustless chalkboard.' Since then, 40 million have sold worldwide, with an updated, modern version still available. Still….there's just something special about an original though, isn't there?

Spirograph
If you didn't own a Spirograph yourself, you knew a friend who did, right?

Care Bears
Saturday mornings were made for watching the Care Bears cartoons on that giant boxed object in the corner of the living room that we called a TV. And just to be clear, the screen wasn't huge…it just had an enormous back to it!

Speak and Spell
According to MoneyInc 'these days, a working Speak & Spell can be found on eBay for anywhere from $30 to well over $100 if it's in really good shape. There's even a market for Speak & Spell parts, and broken models can even bring in $10 or $15.' 

Lite-Brite
The Lite-Brite is a classic toy that has stood the test of time. Originally released in 1967, Hasbro still sells an updated modernised version of the popular toy.

He-Man
I personally used to love going to my cousin's house when I was a kid so that I could play with all of his He-Man action figures. Okay, he made me be Skeletor a little too often, but I didn't care. He-Man was the bomb!
According to 7News, 'The original He-Man with all his accessories, sword and shield have a standard selling price of $2000, even more if it is in mint condition and in the original packaging.'
I wonder if my cousin would mind me poking around in his attic!

She-Ra
She-Ra was He-Man's equally awesome cousin, and part of the Masters of the Universe range. As you can see, not only are incomplete sets still fetching a pretty penny, some people will even buy the original packaging, WITHOUT the toy in it!

Crazy, huh?

Rainbow Brite
Out of all of the Rainbow Brite characters, Stormy and Moonglow are the most difficult to find. According to Metro 'Moonglow was a test market doll and only ever sold in Germany. Only one mint in box has ever appeared on eBay and sold for 1,004.99 Euros – approximately $1589 AUD!

View Master
According to 3dstereo, 'more than one billion View-Master reels have been issued since this unique stereophotographic format was invented and first commercially released in 1939.' Since November 2019, the View-Master™ VR Starter Pack & Deluxe VR viewer , and various apps and services associated with the toy have been discontinued, so we imagine that the value of these toys and the reels will continue to grow in coming years.

Game Boy
Nintendo Game Boy is a handheld video game system that was released in 1989 and was discontinued in 2003, after the sale of 118.69 million units. If you've got one gathering dust somewhere, it might be worth some money – particularly if you still have the original packaging. Due to this console's continued popularity however, people will still buy Game Boys that no longer work, for parts.

Garbage Pail Kids Collectors Cards
Garbage Pail Kids were a collection of trading cards from 1985 released by Topps. They were a parody of the hugely successful Cabbage Patch Kids leading to lawsuits, bans, a movie, and many future releases. According to Business Insider one huge collection of the cards was listed on eBay for US$5,000!
Feeling inspired to sell your old toys on eBay? Visit eBay.com.au to get started today.
Related articles: