First Day of School Photo Ideas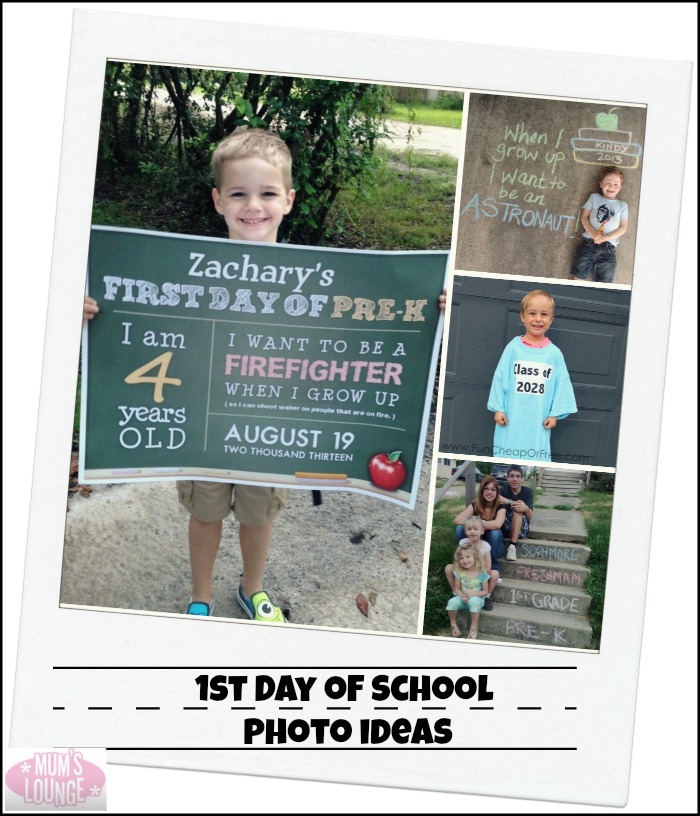 From next week, thousands of little ones across the country will start returning to school or starting school or kinder for the first time.  Naturally as parents we want to capture this momentous occasion, while we are also secretly breathing a huge sigh of relief that holidays are over!  To help make your photos that little bit extra special, we've put together 10 fun first day of school photograph ideas to help give you some inspiration.
Using your computer, it's easy to create a fun sign for your kids to hold as they pose for those all important first day photos.
There are loads of free photo editing websites around now (try pic monkey or canva) which makes re-creating this cute idea so easy! Simply take a photo of your little one on their first day of school or kindy, upload it to the photo editing site of your choice and have fun creating a special keepsake you will look back on with fond memories in the years to come.
This is such a simple and great idea from Paging Fun Mums!  All you need is some chalk and a piece of pavement to create this lovely first day photo.

A simple chalkboard is also a great prop for your child's first day of school photo.  We love how this Mum has also had a little fun with the words – she is certainly not the only one who shed a few tears on their child's first day of school!
Create your very own home Photo Booth to capture the excitement (and tears) in the lead up to your little one's first day of school.
As parents we are all too often the ones behind the camera and miss out on having photos taken with our kids.  This is such a beautiful way to get Mum or Dad involved in such a special day.
This is such a simple but beautiful idea – why not use a balloon in your child's favourite colour?
Do you have more than one child heading off to school this year? Why not try this cute family school portrait idea?
This is a great way to see how much your child has grown during the year.  Take a photo of your child holding a picture of them the year before to see just how grown up they have become.
While I certainly don't want to think about my child finishing their school years just as they are about to start them, this is such a clever idea! You could put this 'graduation' shirt on your child each year to create a series of adorable first day of school photos.
Do you have kids starting school or kinder this year?