Australian Fashion Designers Ginger & Smart Share Their Top Tips on Caring for Your Clothing PLUS WIN a $500 Shopping Spree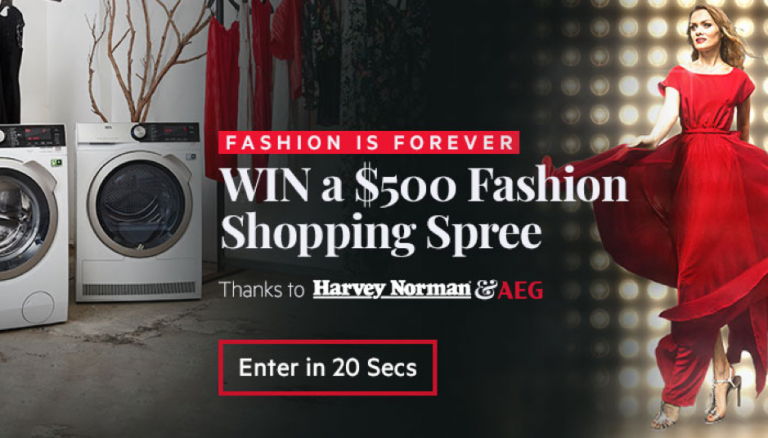 Australian Fashion Designers Ginger & Smart Share Their Top Tips on Caring for Your Clothing
PLUS WIN a $500 Shopping Spree
Enter for your chance to Win a $500 Fashion Shopping Spree thanks to Harvey Norman & AEG. Entry takes just 20 seconds!
When you hear people talking about sustainability and environmental waste, you no doubt think about plastics and household waste that isn't easily biodegradable, or chemical waste produced as bi-product of manufacturing. But do you ever think about the environmental waste that is produced by the clothing industry? So called 'fast-fashion' may give buyers the opportunity to get their hands on a cheap version of the latest trend of celebrity inspired outfit, but it also creates a mindset that fashion is disposable. Whilst many of us consider fast fashion to represent good value for money in a world where the latest new trend is always just around the corner, what we often don't understand is that it has a very significant and negative environmental impact, including water pollution, the use of toxic chemicals and increasing levels of textile waste.
Internationally renowned Australian designers Alexandria and Genevieve Smart of Ginger & Smart are passionate about sustainability and have partnered with AEG to further their quest to ensure customers are taking care of their loved garments and choosing quality over quantity when it comes to fashion.
Ginger & Smart Tips for Taking Care of Your Garments
Smarter Choices
'Rather than fast fashion, pick timeless pieces, made from more durable fabrics that will stand the test of time in fashion and longevity. We source quality, sustainable fabric that we hope will be in your wardrobe for years to come. They are investment pieces that are designed to be relevant and wearable for as long as they are well looked after.'

Wash Less
'Every wash strains garments as well as the environment. Most items of clothing don't need to be washed after one wear. Silk is a great example of a natural fibre that can be steamed and refreshed without having to be dry cleaned. A Steam Refresh program [on AEG washers] removes odours and reduces creases without washing with detergent and water meaning less wear and tear so clothes last for longer.'
Tailor Your Load
'When you are doing a wash do full loads to make the most of the energy and water consumption. Or harness the capabilities of a modern washing machine such as AEG's ProSense technology which uses sensors to weigh the load and adjust the wash time to make sure the whole load is cleaned in the gentlest and most sustainable way.'
Lower Temperatures
'The temperature symbol on care labels represents the highest temperature you should use for that fabric, not the optimum. Reducing the temperature can not only better care for clothes, but also save energy. AEG advanced OKOMix technology blends detergents, then softeners with water before they enter the drum, making sure the exact mix of detergent is added so your garments are cared for.'
Gentle Care
'Hand washing can do more harm than good as vigorous rubbing can lead to damage. Instead, choose a gentle cycle and wash in a low temperature.'
Is it time to change the way you shop for and care for your clothing?
If you tend to steer clear of high quality garments as you dread having to get them dry cleaned, it might be time to upgrade your washing machine to one that makes it simple and saves you money too.
AEG are the only endorsed and trusted washing machines and dryers by fashion designers Ginger & Smart. In addition to the Steam Refresh, OKOMix and Prosense technology they're also Woolmark certified, meaning you can trust them to be gentle on woollens and cashmere clothing. There's no need to worry about buying fine knits, expensive lace or silks, or delicate bejeweled garments – an AEG washing machine can take care of them all.
Visit your local Harvey Norman instore or online to check out the range of AEG washing machines and dryers.
Win a $500 Shopping Spree Thanks to Harvey Norman & AEG
Don't miss out on your chance to win a $500 shopping spree!
Enter NOW. It only takes 20 seconds!
Good luck!