Win LEGO Friends Collection – Keepin' It Real & Roomies on DVD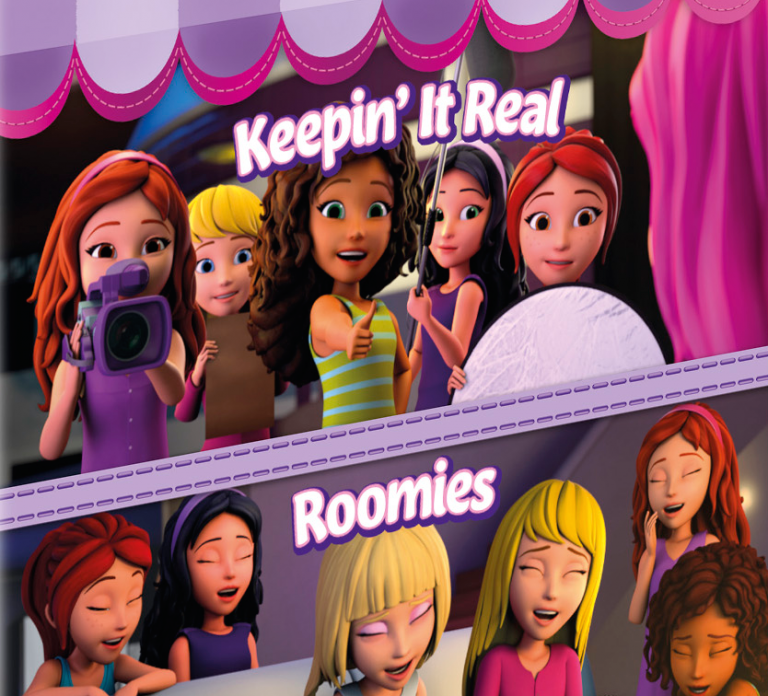 LEGO Friends Collection – Keepin' It Real & Roomies DVD
The fun continues as our favourite LEGO® Friends, Andrea, Emma, Mia, Olivia and Stephanie return to their beloved Heartlake City. This time, the girls learn about honesty and the power of friendship in LEGO® Friends – Keepin' It Real & Roomies, available to own on DVD from June 16, 2016.
Keepin' It Real
Back home, the LEGO® Friends find out that in order to save their 'What's At Heart' webcast from being cancelled, they need something spectacular. The girls hit on an awesome idea – they'll make a rock documentary for viewers about the life of Heartlake City's own mega-pop star, Livi. However, things don't go as smoothly as planned, and their antics nearly bring about the end of Livi's career, threatening to split up the friends forever. Can they put their differences aside to salvage Livi's reputation, and ultimately, the webcast?
Roomies
Sleepovers can be fun – unless they're with your arch-rival. Stephanie knows the whole of it as she's forced to share her room for a week with frenemy Tanya! When she plans to get rid of her unwanted roomie, it backfires, injuring Tanya. Stephanie finds herself guilty and plays nursemaid to Tanya, waiting hand and foot on the demanding diva who's enjoying every minute of it. After Stephanie slowly begins to suspect that her houseguest is faking the whole thing, her friends come to the rescue with a brilliant idea to expose Tanya and send her packing.
Featuring over 40 minutes of LEGO® Friends fun, LEGO® Friends – Keepin' It Real & Roomies is available to own on DVD from June 16, 2016.
Giveaway
Mums lounge have 10 x LEGO® Friends Collection – Keepin' It Real & Roomies DVDs up for grabs. To enter complete the entry form below.  Good luck!