WIN 1 of 2 Fantastic Original Fly Tot 2.0's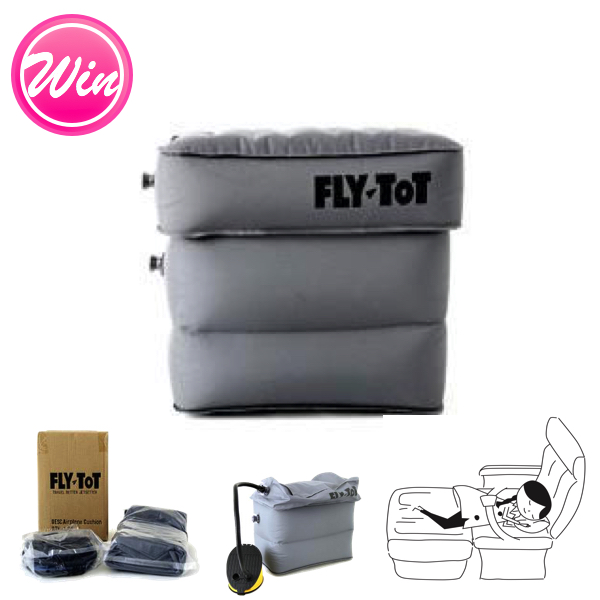 WIN 1 of 2 Fantastic Original Fly Tot 2.0's
Introducing The Original Fly Tot 2.0, the safest airplane comfort device on the market.
With the rise in popularity of "airplane comfort devices", products that help passengers make the most of the space in front of their seat for maximum comfort, airlines have raised concerns about the safety of these products. Our Fly Tot team has been working closely with international airline regulators to determine and address their safety concerns and incorporated these improvements into The Original Fly Tot 2.0.
The Original Fly Tot 2.0 Features:
Safety valve – Our new patented design features a safety release valve. This safety valve will automatically deflate your Fly Tot inflatable cushion when the cabin pressure changes. In the event that there is a sudden change in cabin pressure, an ordinary inflatable cushion can suddenly pop mid-air. This is a major concern for airlines. The Original Fly Tot 2.0 is the only inflatable cushion that will automatically release the air and deflate.
Tapered edges – To prevent blocking the electronics ventilation under the seat, we have tapered the edges of The Original Fly Tot 2.0 so that there is no risk of blocking the on-board systems.
Pump – The new Fly Tot 2.0 features a brand new Quiet Pump and tie. This new pump can quietly inflate your cushion and allows you to easily tie up your pump and keep it compact after use. No loose strings or bands to mess around with.
Carrying bag – Includes a new, high-quality nylon bag to store your Fly Tot cushion and pump. The bag features a handle to hook to your carry-on as well as a cross body strap to easily sling it on your back when you're eager to get out of the plane.
Thanks to our friends at FlyComfortMomNTot we have 2 of these fantastic products to GIVE AWAY to 2 of our lucky readers! If you know someone that would love one of these, simply enter below and good luck x