Your Dream Load: Win a $500 Fashion Shopping Spree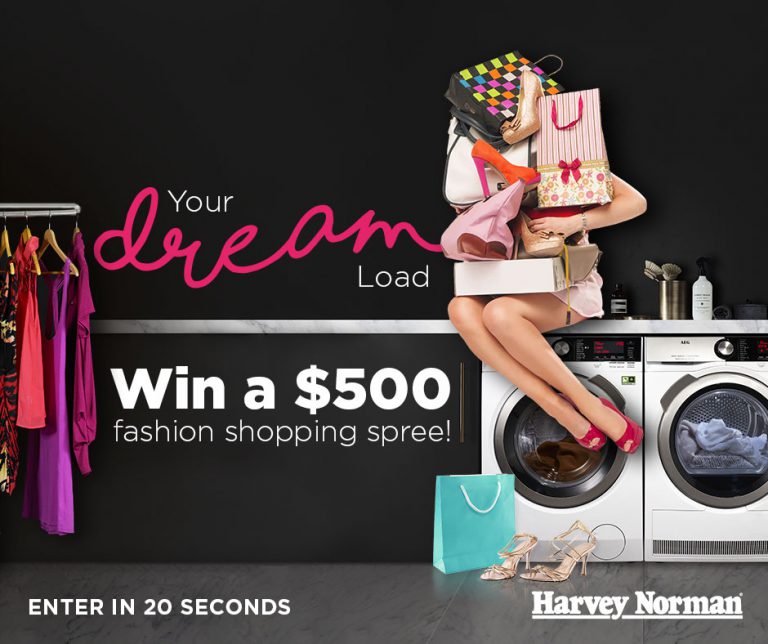 Your Dream Load: Win a $500 Fashion Shopping Spree – Enter in 20 Seconds
Sponsored post
If there is one thing that most parents can agree on, it's that when you have kids trying to keep up with the laundry is a never-ending battle!  Whether you have a large family, or just one teeny-tiny newborn, we'll bet your washing basket is never empty for long…if at all!
Fortunately, there is a secret for making light work of big mountains of dirty clothes. Stores like Harvey Norman now offer washing machines bigger and better than ever, with washing machines designed to take 10kg's and more…and of course larger loads mean less time spent in the laundry!
If you only have limited space in your laundry, don't rule out the possibility of upgrading to a bigger machine either. Surprisingly, 10kg washing machines don't take up more space. The insides are just much larger, so you can fit more in without taking up much more laundry space.
If you've been using the same old washing machine for years, you might still be washing delicate items by hand…or avoid buying them altogether because they are such a pain to take care of! Washing machines are much more advanced now though, and can be trusted to clean your cashmere, delicates, bejewelled clothing, and active wear etc. In fact, Harvey Norman has machines that are Woolmark certified and trusted – so you could even save money on your dry cleaning bills by washing at home.
For families that suffer from allergies, there are now antibacterial washing machines offered exclusively from Harvey Norman. Using a tumble dryer can also help as clothing can pick up dust and pollen and other irritants when drying outside on the washing line that trigger allergies. Replacing an old dryer with a new more energy-efficient one could actually save you up to $300 per year on energy bills too! Win, win!
We'll let you in on another secret too. It won't be advertised in-store, and it isn't available to the general public…but YOU can get an extra 10% off the lowest ticketed price of 10kg or larger washing machines at any* Harvey Norman store during November 2017 simply by mentioning the "Harvey Norman offer from Head Office to receive 10% off lowest ticketed prices of 10kg or more washers this November"
Now that's a secret worth sharing!
*Offer includes – LG, Samsung, Bosch, Electrolux, Simpson, Hisense and all other brands.
*Offer excludes Miele, AEG, Asko & Speedqueen.
Giveaway
Harvey Norman are also giving you the chance to win a $500 shopping spree – so you can update your wardrobe with lots of lovely new clothes (to add to your wash pile!)
Click here to enter – it takes just 20 seconds and you could be shopping up a storm in no time!  Good luck!