Win 1 of 4 Sesame Street's Tickle and Roll Elmo's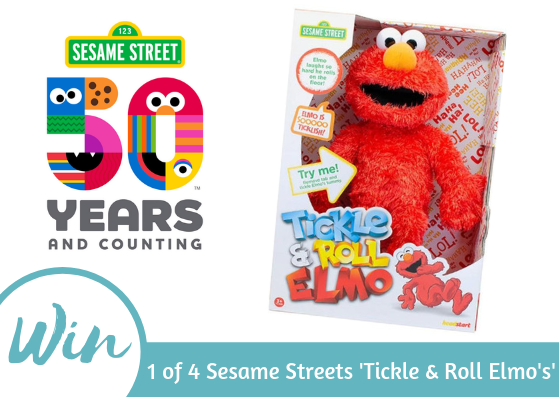 DANCE, TICKLE, SKATE AND ROLL WITH MONSTER FUN FROM SESAME STREET AND HEAD-START
Monster fun is guaranteed as kids get ready to dance, tickle and roll with Elmo, Cookie Monster and Abby Cadabby, as Headstart release their new range of Sesame Street toys in celebration of the iconic brand's 50thanniversary.
Commemorating 50 years of helping kids grow smarter, stronger and kinder, with plenty of laughs and smiles thrown in, kids young and old will love the new toy range that features Sesame Street's lovable cast of characters. The toys include:
Tickle and Roll Elmo
In a style reminiscent of Tickle Me Elmo, Tickle and Roll Elmo laughs so hard that he rolls on the floor! Tickle Elmo's tummy to hear him giggle and wiggle! Elmo says phrases such as "Elmo's toes are too ticklish for that!" and "Oh boy, Elmo loved that!", and then watch as his monster laughs see him roll on the floor.
Tickle and Roll Elmo is available from Big W, Mr Toys, Toymate and Toyworld for RRP $39.00.

Skate Abby
Skate Abby features Abby Cadabby having fun on her skateboard.  Kids can pose her into different positions on her skateboard so that she can do tricks, and the skateboard is remote controlled so you can watch her actually skate! Abby's helmut, knee and elbow pads are removable when she isn't on her skateboard.
Available from Big W, RRP $59.00
Elmo's Got the Moves
Start the party and feel the beat when Elmo takes to the dance floor!  Elmo's Got the Moves will have kids up dancing in no time.  Squeeze Elmo's hands to watch him dance and hear him sing! Elmo sings the song 'Elmo's Got the Moves' from Sesame Street!
Elmo's Got the Moves is available from Big W, Mr Toys, Toymate and Toyworld for RRP $59.00.
50th Anniversary Plush
Featuring Elmo and Cookie Monster in dazzling gold top hat and bow-tie, and Abby Cadabby in a gold dress, these 50thanniversary plush, exclusive to Big W, are part of the Sesame Street 50thAnniversary Gold collection.
Big W, RRP $39.00.
In July, two products, exclusive to Australia Post, will be added to the new toy collection, including:
Retro Tickle Me Elmo
With a retro feel and look, everybody's favourite monster will laugh uncontrollably when you press his tummy with this 50th Anniversary Special Edition Tickle Me Elmo!
Australia Post, RRP $39.00

Limited Edition Abby
With her magical wand and fairy dress, this Limited Edition Abby includes an authenticity certificate.
Australia Post, RRP $39.00
About Sesame Workshop
Sesame Workshop is the nonprofit media and educational organisation behind Sesame Street, the pioneering television show that has been reaching and teaching children since 1969. Today, Sesame Workshop is an innovative force for change, with a mission to help kids everywhere grow smarter, stronger, and kinder. We're active in more than 150 countries, serving vulnerable children through a wide range of media, formal education, and philanthropically-funded social impact programs, each grounded in rigorous research and tailored to the needs and cultures of the communities we serve. For more information, please visit sesameworkshop.org. 
Thanks to our friends at Sesame Street, we have 4 x 'Tickle and Roll Elmo's' to GIVE AWAY to 4 of our lucky readers! If you know someone that would love one of these, simply complete the entry form below for your chance to WIN and good luck x