Woman Throws Tantrum in Coles After Being Denied Extra Little Shop 2 Toy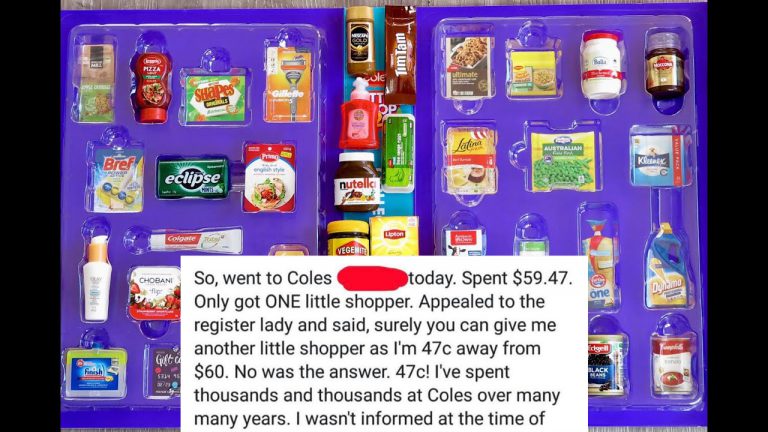 Woman Throws Tantrum in Coles After Being Denied Extra Little Shop 2 Toy
We've all seen tantrums at the supermarket checkout after someone has been denied something they want, but usually it is a red-faced screaming toddler throwing a hissy fit over a plastic toy, not a grown-arse woman.
The national craze that is accumulating Coles' much-coveted Little Shop collectables has taken an embarrassing turn as it comes to light that a woman has chucked a wobbly over not reaching the required total in order to earn a second Little Shopper. She had only spent $59.47, and needed to spend more than $60 to reach the cap for a second toy.

Why she didn't grab a Chuppa Chup or take the opportunity to purchase a new reusable shopping bag is beyond me, but it certainly would have ensured she didn't make national news.
The anonymous woman posted her rant to her own Facebook where one of her amazing friends saw it, screengrabbed the ridiculousness for posterity, and shared it with the fun group Kmart Unhacks and Roasts, who displayed it for all to see.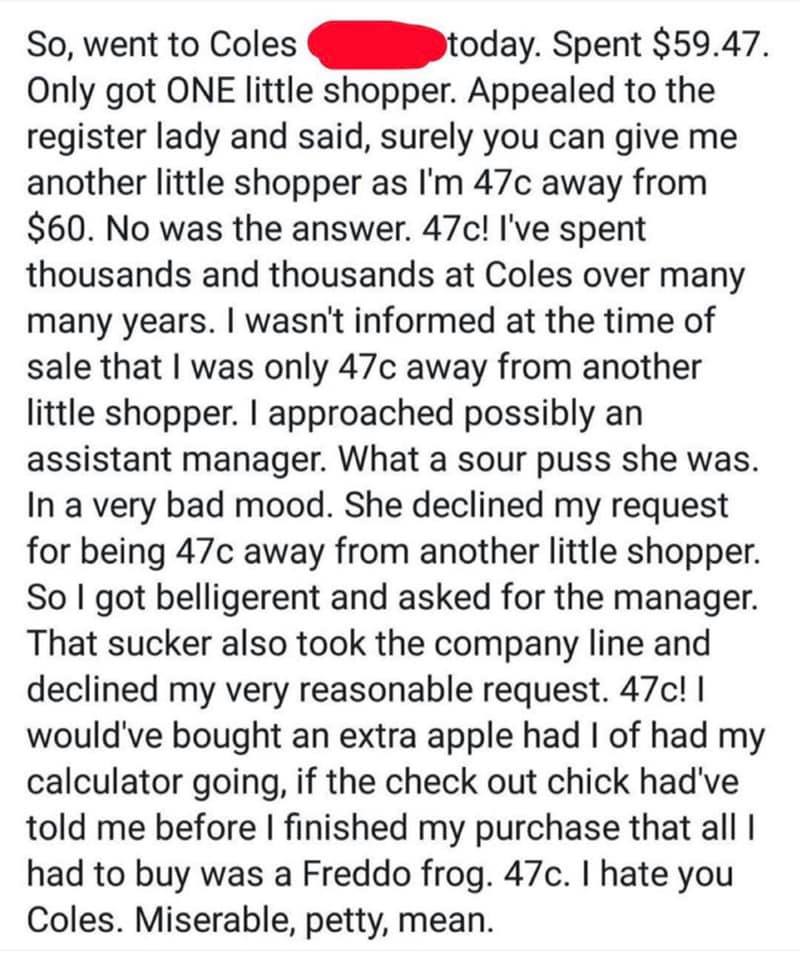 For starters, had she spent another 47c she would have still been 6c short of her $60 goal and still would not have received her second precious Little Shop 2 collectable. She needed at least 53 cents to score yet another tiny bag of frozen peas.
Secondly, seriously?? Who doesn't check their total before paying? Especially if they are that concerned about collecting Little Shoppers? Clearly, she was just after something for free without actually spending the money to earn it.
We are glad that her outburst didn't work and she didn't get her way. Supermarket staff have seen enough tantrums at their checkouts to know exactly how to handle them! You get what you get and you don't get upset, Karen. No matter how many managers you ask to speak to.
Source: Facebook and Coles