Win a $500 Voucher to Upgrade Your Home Entertainment System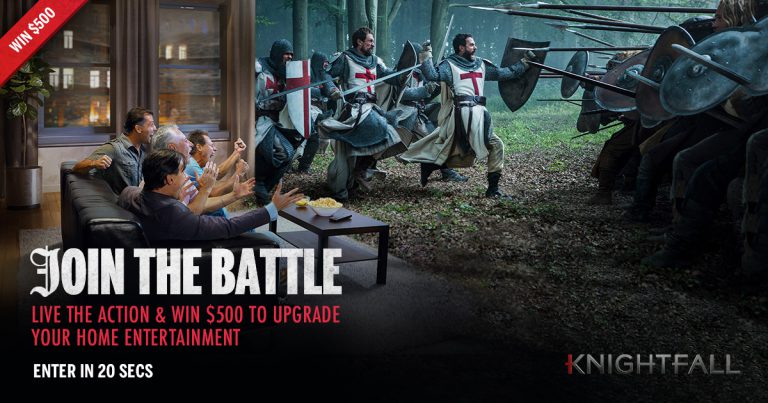 Win a $500 Voucher to Upgrade Your Home Entertainment System
Enter here in just 20 seconds!
How would you love to win a $500 voucher to upgrade your home entertainment system?
Of course, you'll need something equally epic to watch on it, and we know just the thing!
Knightfall: Brotherhood, blood, betrayal! This drama has it all!
The Knightfall series, has just been released on DVD and is packed with all the things you'd expect from a premium historical drama; blood, battles, sex, war and political intrigue. Created by the producers of Vikings, Knightfall is set during the Middle Ages and follows the decline of the Kings Templar as they track down the Holy Grail in France.
The Knights Templar were the most powerful, wealthy and mysterious military order of the Middle Ages, entrusted with protecting Christianity's most prized relic—the Holy Grail—and harboring secrets capable of great destruction.
KNIGHTFALL goes deep into the clandestine world of this legendary brotherhood of warrior monks. From their battles in the Holy Land, to their complex relationship with the King of France, to the betrayal that would ultimately lead to their tragic dissolution, the story of the Knights Templar has never been fully told until now. (History Channel)
Knightfall is available to purchase on DVD from JB Hi-Fi, Big W and Sanity from 4th April 2018.
Join the Battle – Win a $500 Voucher to Upgrade Your Home Entertainment System
It's your chance to win the battle for great entertainment!
Enter to WIN a $500 JB Hi-Fi voucher to upgrade your home entertainment system and live the action of Knightfall at home.
Entry to this epic giveaway takes just 20 seconds! ENTER NOW