WIN a New Crisp Ultima 4.8 Scooter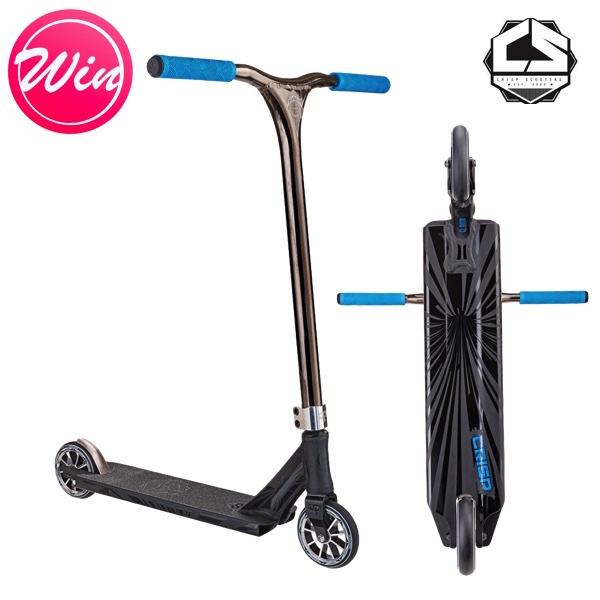 WIN a New Crisp Ultima 4.8 Scooter
As my kids get older their love for Scooters grows with them and they are constantly eyeing up the latest and greatest Scooters on the circuit. So it was no surprise that getting the opportunity to test out the awesome Crisp Ultima 4.8 Scooter created quite a hype of excitement in our house.
The Crisp Ultima comes in two sizes, 4.5 and 4.8, with the 4.8 version having a slightly wider deck giving more room for the riders feet, which is great for my little guys who are trying to land tricks giving them a larger target to land on but also perfect for the slightly older kids who need that extra space.
You know you are on to a good thing when a little circle of kids surrounds you when you arrive at the skate park wanting to examine your new shiny wheels! So before we hit the ramps, the Crips Ultima 4.8 got the once over on the design and appearance and much to my sons delight got the seal of approval from the kids at the skate park who commented that it was 'sick' had 'Nice mad handlebars' was 'lit', all roughly translated as being pretty awesome.
While my son, aged 7, loved riding up and down the ramps, practicing his jumps and cruising around, we felt that a scooter like this was just crying out for a more experienced rider who could really put it through its paces. Therefore we enlisted the help of Blake Astles, age 12 and Cayden Crouch, age 9 who picked up the pace and showed us how it is done!
There was plenty of action on the ramps, with jumps, tricks and grinding, putting the Crisp Ultima 4.8 through an intense work out. The concave triple channel deck, quadri-concave downtube, new alloy hive bars, hybrid alloy fork and sealed integrated headset makes this scooter really light yet immensely strong and robust ensuring that not only does it offer a super smooth ride but is also incredibly durable, withstanding everything the kids had to thrown at it. The wider super high rebound wheels provided great grip on the ramps, the soft firm grip on the handles offered great comfort, while the handle bars span smoothly and quickly allowing for some pretty impressive moves at the park.
When it comes to quality the Crisp Ultima 4.8 is top of range, with all of the great features you would expect or want for your kids offering; stability, smooth seemless control and endurance while featuring sleek fresh water transfer decal designs that are sure to make an impression at the skate park.
Thanks to our friends at Crisp Scooters  we are very excited to have a fantastic Crisp Ultima 4.8 Scooter to GIVE AWAY to one of our lucky readers in time for Christmas! If you know someone that would love to get their hands on one of these, simply enter below for your chance to WIN and good luck. X