WIN a 'Teamsterz Micro Motorz' PRIZE PACK worth over $150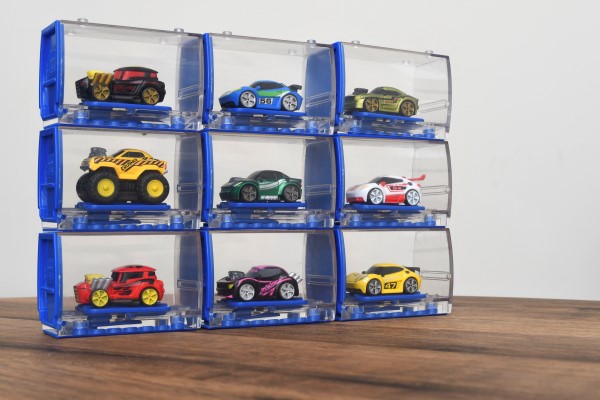 WIN a 'Teamsterz Micro Motorz' PRIZE PACK worth over $150
Hottest new collectible range: Tune – Launch – Drift
Get ready to drift and race your friends with Micro Motorz, the hottest new collectible range for little car enthusiasts.
Each Micro Motorz is a micro-size drifting car that comes with a cool unboxing experience.
Tear the wrapper off and find three inter-connected packs – kids then twist and snap off the first pack to find a tuning tool that works with the car.  Pack two reveals a tuning accessory, such as a big block engine or spoiler, plus the launching plate.
The final and biggest pack contains the car in a display case that converts to a launcher and converts back again so kids can show off their collection after playing.  Cases can click together to stack as well.
Series One, in store mid-May 2019, includes 21 cars across four different teams; Speed Demonz, Hot Rodz, Nitro Chargerz and Monster Treadz!
Packs also include a sticker to show which one of the teams the car belongs to.
The race cars you've always dreamed of have been micro sized!  Which vehicle will you discover?
This handy video explains all!
Each vehicle features customised graphics and tuning accessories which are interchangeable within the teams so kids can tune their Micro Motorz, customising their collection.
Monster Treadz are ultrarare models with an awesome monster truck look.
Micro Motorz are the smallest and coolest cars around, they are super-fast and super fun!
For 3 to 8-year olds, Micro Motorz are available for RRP $12.95 from mid-May 2019 from Big W, Toyworld, Toy Mate, Kidstuff, NewsXpress and other leading independent toy stores.
Thanks to our friends at Teamsterz Micro Motorz we have an amazing PRIZE PACK worth over $150 to GIVE AWAY to one of our lucky readers, containing 12 x Micro Motorz. If you know someone that would love the chance to WIN these, simply enter your details below and good luck.