Win a Nespresso Creatista Plus From Harvey Norman Worth $639 That Delivers 7 Velvety Brews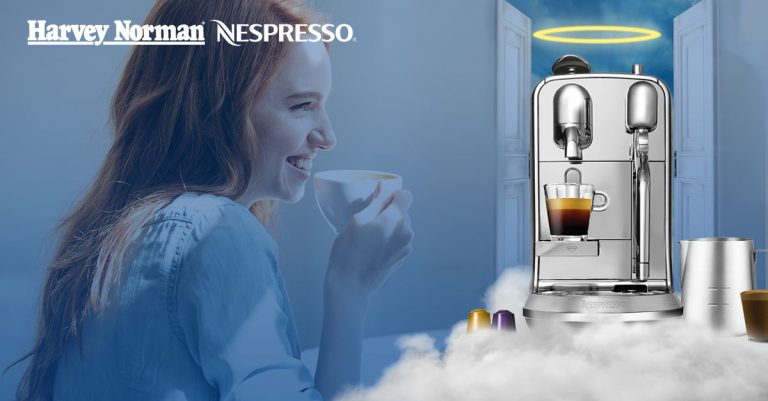 Win a Nespresso Creatista Plus worth $639, plus for this month only get 6 months of FREE coffee when you buy any $200 or more Breville coffee machine in-store at Harvey Norman!
Sponsored post
Parenting without coffee is like…just kidding! We've never met anyone brave enough to try it!
What if we told you that you don't need to go to your local café or coffee shop to get your perfect cup of coffee. It is possible to get real barista style coffee in the comfort of your own home…whatever time of the day (or early hours of the morning) you might need it!
With so many makes and models of domestic coffee machines available nowadays (capsules, manual and automatic) choosing the right one can be overwhelming.  Which is why every Harvey Norman store has at least one or more qualified baristas in-store who will make you coffee to help you find the taste and the machine that you love. They'll even customise the machine for you in-store to get the taste you love and show you how to get the most out of your new coffee machine. For those of you keen to take your at-home coffee making to the next level, Harvey Norman's baristas will be happy to help out with other related topics like getting the temperature of the milk right, and how to tamp & grind your coffee etc.
We have an amazing giveaway just for our Mums Lounge audience outlined below – and that's not all! Harvey Norman are also giving away 6 months of free coffee with any Breville Coffee machine purchase of $200 or more in-store at any Harvey Norman Nationally!
The Nespresso Creatista Plus Giveaway From Harvey Norman
The world's first drip coffee maker precise enough to deliver the craft of filter coffee brewing, automatically!
RRP $639
Stainless Steel
7 coffee recipes including espresso, latte, macchiato, or anything in between
Ideal milk levels – you can choose your desired milk texture from 8 available settings
Fast and flavourful – able to heat up in 3 seconds
Features an intuitive TFT interface that enables you to provide a wide range of recipes with just a touch
Equipped with a pop-out cup shelf
Easy to use
Box incudes 14 capsules
The Nespresso Creatista Plus Coffee Machine is available in store at Harvey Norman but you get the chance to win one now!
Click HERE to enter.
You can check out Harvey Normans entire range of Coffee Machines for yourself here and read their Coffee Machine Buying Guide.