10 Fabulous Homemade Christmas Gifts: Perfect Present for your Child's Teacher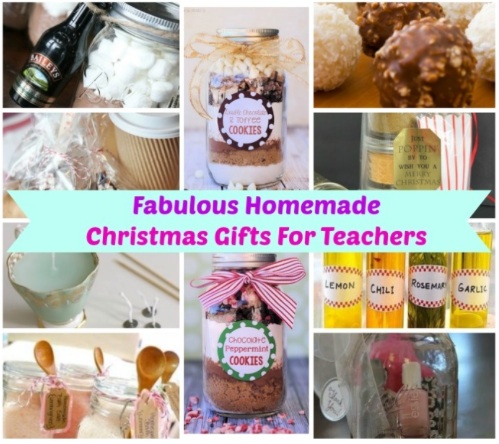 10 Fabulous Homemade Christmas Gifts: Perfect Present for your Child's Teacher
When it comes to Christmas time, one of the most difficult presents to buy is one for your child's teacher. These 10 homemade Christmas gifts are not only totally fabulous, but they are budget-friendly, thoughtful… and your child's teacher will love them!
Mani or Pedi in a Jar
By the end of the year, your child's teacher will well and truly be ready for some pampering. Why not pop some nail polish, nail file, clippers and a buffer into a mason jar for the perfect spoil-yourself gift.
Homemade Bath Salts
Keep the pampering going with some homemade bath salts. You can pick up these cute little wooden spoons at your local craft store or discount shop.
Homemade Candle in a Teacup
Teachers often receive lots of candles as presents, but this one is sure to stand out from the rest. Visit your local op shop and purchase a gorgeous vintage tea cup and then make your own candle to go inside.
Peppermint Hot Chocolate
Mason jars are so trendy right now, so why not pick up a few and fill them with the ingredients to make a peppermint hot chocolate. Pop a gorgeous ribbon on top and you have an inexpensive and festive present in a flash!
Baileys Hot Chocolate Kit
For something a little more naughty, why not pop some hot chocolate powder into the bottom of a jar, fill it with marshmallows and tie a little bottle of Baileys around the top!
Homemade Truffles
Teachers will receive box after box of chocolates at Christmas time, so take it up a notch by making your own homemade truffles. Pop them in a lovely craft box with a Christmas ribbon – perfect for the chocoholic teacher!
Cookies in a Jar
If you know that your child's teacher loves to cook, then why not whip up a jar with your favourite cookie ingredients. Handwrite the cooking instructions on a little label for an even more personal touch.
Chocolate Coated Spoons
For a present that your kids can help to make, chocolate spoons are perfect! Dip a few wooden spoons into melted chocolate, sprinkle with crushed up candy canes and wrap in cellophane. So simple (and yet totally delicious dipped in a glass of hot milk!)
Flavour Infused Oils
Make your own flavour infused oils and pop them into a little hamper for your child's teacher. Add a jar of dukkah and some gourmet crackers for something extra special.
Popcorn Pack
Now that the holidays have arrived, your child's teacher is probably ready to kick back and relax for a while. Make them an at-home popcorn pack that they can enjoy while watching a movie.
Do you love making homemade gifts at Christmas time too?