How to Make a Yarn Dolly and Woolly Zombie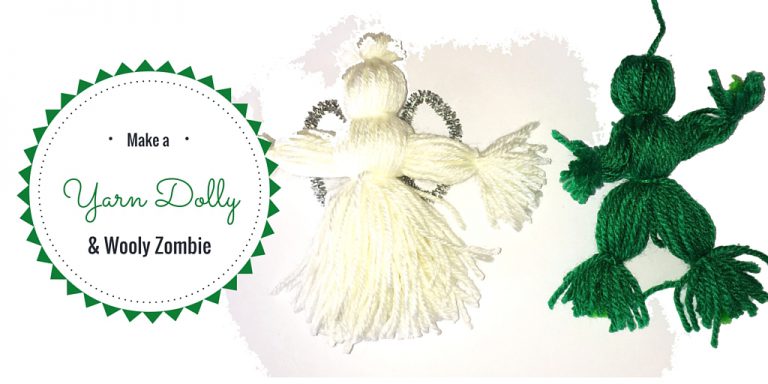 How to Make a Yarn Dolly and Woolly Zombie
Who can remember playing with these beauties? They have to be one of the easiest and oldest type of dolls in this world, the oldest type are still being made from corn husks today!
You can make these lovely dollies from any type of wool in any colour. I have made white angels and green zombies but you can turn them into any type of companion that you like! It looks lovely to turn these dollies into lovely bunting for your child's nursery or for a special birthday or Christmas party.
Step 1: Gather your wool and some scissors.
Step 2: Wind some wool around an offcut of cardboard, my piece was 15sm wide.
Step 3: When your wool is thick enough cut the hank at the bottom.
Step 4: Tie a length of string around the hank to form the head
Step 5: Wrap some more wool around the palm of your hand to make another hank for the arms
Step 6: Tie the ends of the arm hank to make the hands. You might wish to cut the ends and plait the arms.
Step 7: Insert the arms into the body of the doll.
Step 8: Tie another length of string below the arms to form the waist.
Step 9: Tie a length of string to give your doll a hair bun. Now your dolly is ready to play with or decorate!
Step 10: To make your doll into an angel insert a silver pipe cleaner into the dolls back
Step 11: Fold the pipe cleaner into wing shapes and twist to hold.
Step 12: Your angel doll is ready to decorate your home!
Step 13: To make a zombie doll use green wool. I have added a similar colour pipe cleaner (folded in half) so that the body and legs can hold their shape. Do the same with the arms.
Step 14: Tie and finish the body the same way as for the angel but after tying the waist separate the skirt into legs and tie off at the feet.
Step 15: You can tie a loop around the head to suspend the Zombie. Have fun!