Two Minute Microwave Chocolate Cake Recipe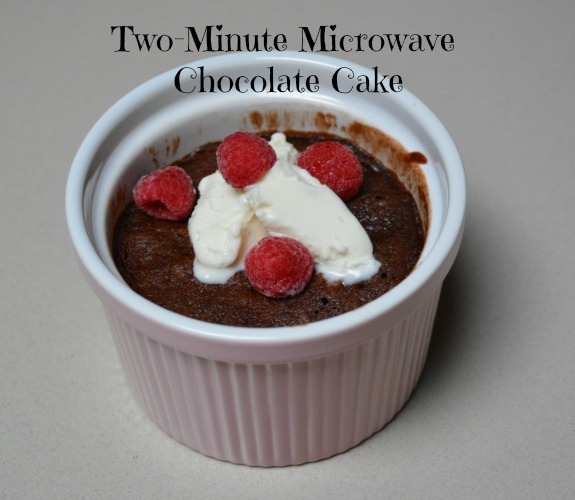 Two Minute Microwave Chocolate Cake Recipe
Picture this: you're home alone. OK, maybe the kids are home but let's just say they're fast asleep in bed. And you suddenly get an over-powering craving for chocolate cake. Warm chocolate cake. Warm chocolate cake with ice cream! You can't get the thought out of your head but you know there's no way you're going to drag your ass into the kitchen, find a recipe, drag out the electric mixer and bowls and line a cake-tin, wait for the oven to heat, cook the cake for 25 minutes, wait for it to cool, AND clean up a big mess. It's not going to happen because you're in the middle of Orange is the New Black on Netflix and you've already downed 3 chardonnays and you will probably mis-read the recipe and mess it up anyway.
Well, there is an alternative. I'm not going to lie – this will not the be the world's best chocolate cake. Nothing made in 55 seconds in a microwave could be. But…it's chocolate, it's warm, topped with some ice cream not only will it satisfy your craving, there is absolutely no mess and no fuss to it. Don't burn your tongue.
You can use coffee cups, mugs, small bowls, anything you like. This ramekin is around a cup capacity and was just the right size.
What's your favourite no-fuss winter warmer recipe? Have you given the mug cake a try? You've got to love a recipe with minimal washing up too, right?!
Two Minute Microwave Chocolate Cake Recipe
Ingredients
20g butter, melted
1 tbsp. cocoa powder
2 tbsp. brown sugar
2 tbsp. milk
2 tbsp. self raising flour
1 tbsp. chocolate chips
Instructions
In a small ramekin or microwave safe mug mix the melted butter with all the other ingredients until smooth.
Microwave for 45 to 55 seconds or until cake has risen and top is firm.
Serve immediately with ice cream, berries and or chocolate sauce.
https://mumslounge.com.au/lifestyle/food/two-minute-microwave-chocolate-cake/