How to Upstyle Your Winter Hats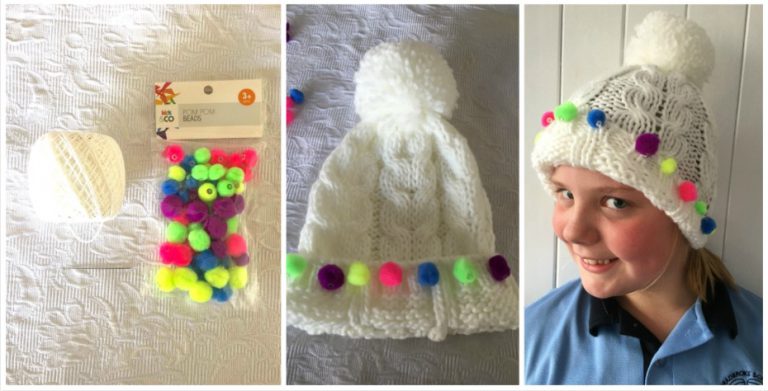 How to Upstyle Your Winter Hats
Like all young ladies, my girls like to blend in with their friends but still be individuals.
They are always flipping through Instagram and checking out the latest styles but they also like to up-cycle or up- style what they have.
We love to spend some time together thinking of new ways to make something a bit plain into something very special, something that no ne else will have but will want…sometimes that involved making something from scratch and sometimes that means thinking outside the box and making the most of what you can find.
So now its winter and we were looking around for a cool hat that wasn't the same as everyone else hat.. Not easy.
A quick trip to Kmart solved two problems, a unique hat and a rainy Sunday activity!
We managed to buy a plain white hat, on special for $5 and a packet of pom poms from the kids toy section for $3. All we needed was to play with the patterns and decide where the pom poms would go. That was a lot of fun!
It was simple to sew them on and off we went to play in the rain!
We could have used beads, sequins, coloured wooden pom poms, tassels, anything that will stand up to the rain is possible! ( I was tested my pom poms before we send them on to check that the colour didn't run.
It is a great way for the kids to practice their fine motor skills and practice their hand sewing and start developing their individual styles.
Why not try the same idea on a plain jumper or cardigan? How about a hoodie? Pom poms would look awesome around the hood.
Now we are going to make matching gloves and a scarf and maybe a few more to make for friends, not the same of course, that would never do!