Whats on January – NSW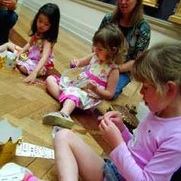 EVENT/ACTIVITY/DATE/TIME
URL / FACEBOOK PAGE

The superstars of T20 will step up the action when the exciting and fast paced KFC T20 International sweeps the nation in January and February 2013. Perfect for families, three KFC T20 International matches will be played across Sydney, Melbourne and Brisbane each of which is set to be a fun, exciting and action packed game of cricket.

This critically acclaimed outdoor theatre
production delivers music, songs and laughs. There is fun for young and
old as the Head Chief Rabbit transforms the audience into rabbits with a
waggle of the ears and a wiggle of the nose. The young 'rabbits' are
encouraged to get involved in the action, and are given every
opportunity to scream out loud, sing along and become part of the
adventure. With laughs and surprises for children and adults, this is
interactive theatre at its best.

Sydney Olympic Park Authority and Auburn City Council will present a
ripper of an event on Australia Day 2013 from 12noon – 9.00pm at
beautiful Bicentennial Park at Sydney Olympic Park.

More than 600 Sydneysiders will participate in the history-making '25'
human formation, to span 40m wide by 40m long. The commemorative
spectacle will be captured by an aerial photographer at 4.00pm and all
participants will receive a FREE cap as a memento of the special
occasion.

The FREE Australia Day Celebrations at Bicentennial Park will also
include a smorgasbord of food stalls from noon and an entertainment
program that is guaranteed to delight from 2.00pm.

Off-stage entertainment will feature sheep shearing, whip cracking,
sheep dog trial shows, an animal farm, kangaroo characters, pony and
amusement rides, face-painting, kids' acts, Indigenous dance and art
workshops, a community bazaar, craft stalls and much more.

The Australia Day Summer Playground in Hyde Park North, from 9am until
4pm, is the best place to soak up the family fun atmosphere as The new
Wiggles perform a free show accompanied by the Dorothy the Dinosaur
Show.

There will also be a morning fitness class, Colouring Zone, adorable
animals at the Animal Farm as well as a special "Garden Bar" zone for
parents. Jimmy Giggle will emcee the proceedings throughout the day. So
make the most of the Australia Day long weekend and visit Sydney to
experience some amazing events the whole family will enjoy.