31 Of The Funniest Product Instructions And Garment Tags on the Internet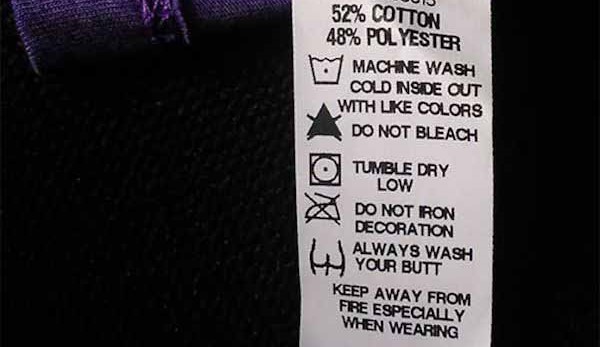 31 Of The Funniest Product Instructions And Garment Tags on the Internet
We don't know what's funnier — the fact that these hilarious product instructions and garment tags exist, or the fact that they exist for a reason! People will always do silly things, but gosh, you do have to wonder sometimes!
Here are the best product instructions and garment tags on the internet right now:
1. Do not put your bog catchers on your head

2. Do not abuse wild animals
3. Snacks are suggested
4. Instructions unclear
5. It's like they know us!
6. Well, if you insist.
7. For worst results…
 8. Be careful with your willy
9. We'd love to hear what inspired this warning
11. Do not drag thru puddle
12. Who knew?
13. There is something wrong with your face
14. Finally, instructions that are impossible to screw up!
15. Is this tag attached to a Gremlin?
16. Good advice for everyone, really.
17. *immediately looks for hidden cameras*
18. A more accurate update
19. Okay….
20. What sort of idiot inspired this warning?
21. We recommend anything by Starship
22. Do not do this.
23. Well, obviously
24. We did try though
25. Pet shampoo instructions offer some solid advice
26. It is always advised to follow all instructions, so here's cheers!
27. No shit?
28. Reddit Gold? Thanks kind stranger!
29. I read these directions in Ron Swanson's voice
30. Some sexy body wash advice we can all take on board
31. Don't be that guy
via Bored Panda