7 New LEGO® Sets That'll Make Staying Home Way More Fun This Winter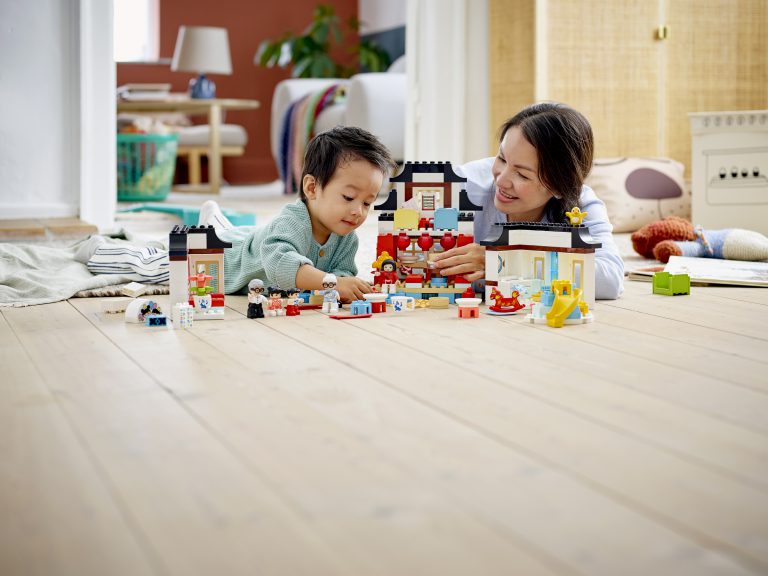 7 New LEGO® Sets That'll Make Staying Home Way More Fun This Winter
Whilst the idea of bunkering down at home during the cold weather may sound lovely at first, the reality is that when you have children (of any age) being confined to the same four walls, for any period of time, can start to get tiresome, really quickly! There's only so many hours you can snuggle up on the sofa watching movie's together, especially when it usually takes almost an hour to find something that everyone agrees on watching! And whilst devices can be a great distraction from boredom, they can also be huge time-suckers and most of us would like to see our children spend less time on them rather than more. In my experience, there is always one activity that I can suggest that is met with resounding enthusiasm by everyone(and I'm talking about the adults too), and that's all sitting around on the floor around the bucket of LEGO® bricks for a 'build-off' challenge!
If you and your family are looking to expand your current collection of LEGO® sets, we've discovered some new ones that will make staying home this winter much more fun, for the whole family.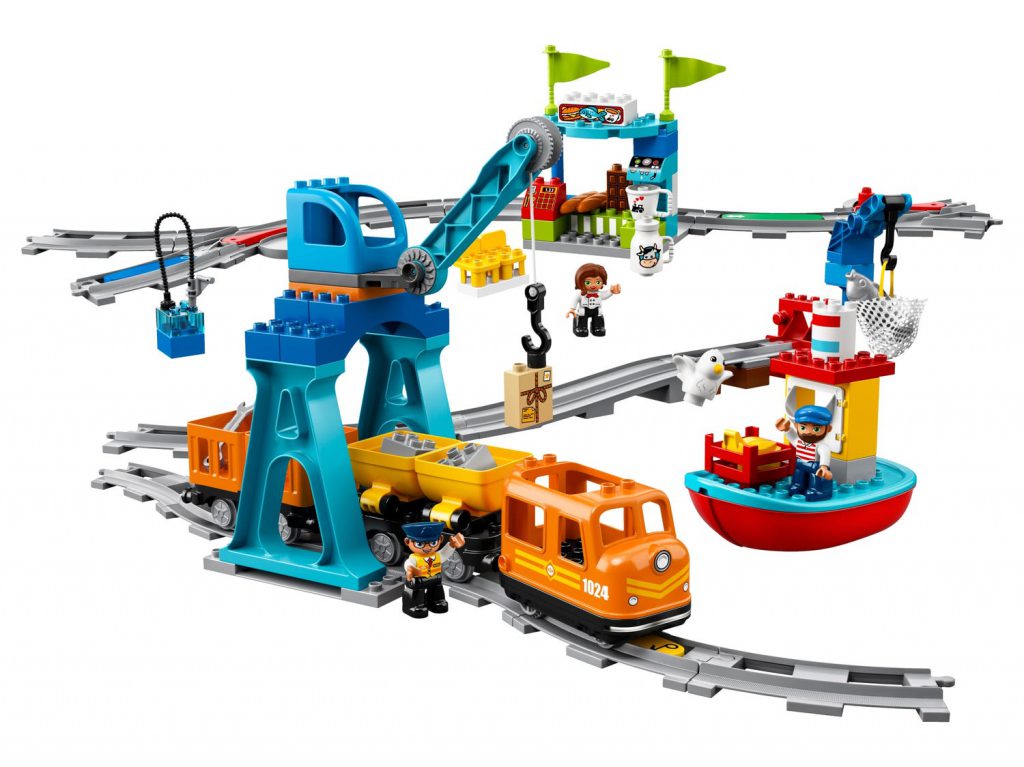 Cargo Train $179.99
Age group: 2-5 years
The LEGO® DUPLO® Cargo Train is now even easier for your toddler to control and interact with in multiple ways. Young children can become the train driver with the Push & Go motor — a gentle push either forwards or backwards sends the train on its way and a firm hold or lift off the tracks will make it stop. Help them place the 5 coloured action bricks along the track to sound the horn, turn the lights on and off, pause and refuel, change direction and stop the train wherever they like. With a harbour, boat, café, loading station, 2 cranes, 3 DUPLO figures plus an animal figure and lots of cool track pieces included in this LEGO DUPLO set, preschoolers can enjoy classic, fun train play. Download the optional app to unlock even more play possibilities, including remote-control function and fun activities to complete with your toddler!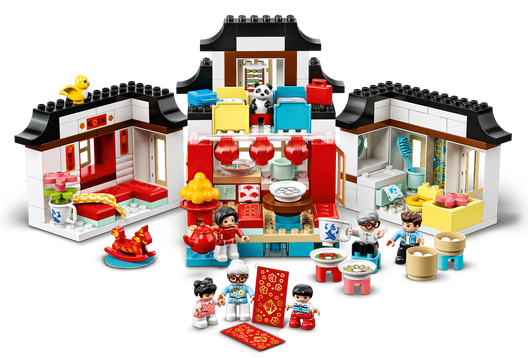 Happy Childhood Moments $169.99
Age group: 2+ years
LEGO® DUPLO® Town Happy Childhood Moments (10943) introduces preschoolers to 2 exciting events – Chinese New Year celebrations and the first day at kindergarten. With 2 alternative building designs, this educational toy provides toddlers with endless playful learning opportunities.
Play that prepares children and reassures parents
Parents and children can share precious developmental moments as they explore the set's 2 alternative arrangements. Kids play out Chinese New Year family traditions – including exchanging their red envelopes and eating dumplings – and practice and prepare for the daily routines of kindergarten. As they role-play these real-life events, kids acquire essential knowledge, build fine motor abilities, improve social skills and develop emotional intelligence – which will benefit them when they experience these events in real life.
Hands-on educational toys for toddlers
LEGO®  DUPLO®  playsets put open-ended fun, self-expression and joyful learning into preschoolers' hands.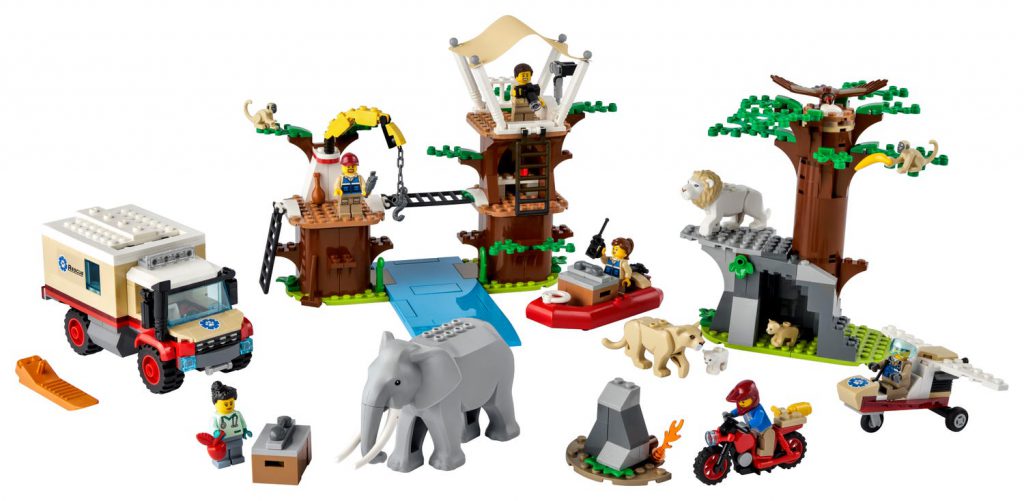 Wildlife Rescue Camp $159.99
Age group: 6+ years
This LEGO® City Wildlife Rescue Camp (60307) toy playset is packed with fun features. There's a well-equipped treehouse-camp with a watchtower, plus a floating dinghy, mobile research lab, motorbike and an ultralight. Kids also get 6 minifigures, including LEGO City TV character Sleet, plus elephant, lion, lioness, lion cub, eagle and monkey figures for fun-packed wildlife adventures.
A build-and-play experience for kids aged 6 and up
You'll find easy-to-follow building instructions for this LEGO® City playset in the box. Or you can download Instructions PLUS, part of the free LEGO Building Instructions app for smartphones and tablets. This interactive construction guide, with amazing zoom and rotate viewing tools, turns kids into master builders!
Toys that spark the imagination
LEGO® City Wildlife playsets put kids at the heart of the action, with iconic animals, realistic settings, cool vehicles and inspiring characters that stimulate imaginative role play based on real-life events.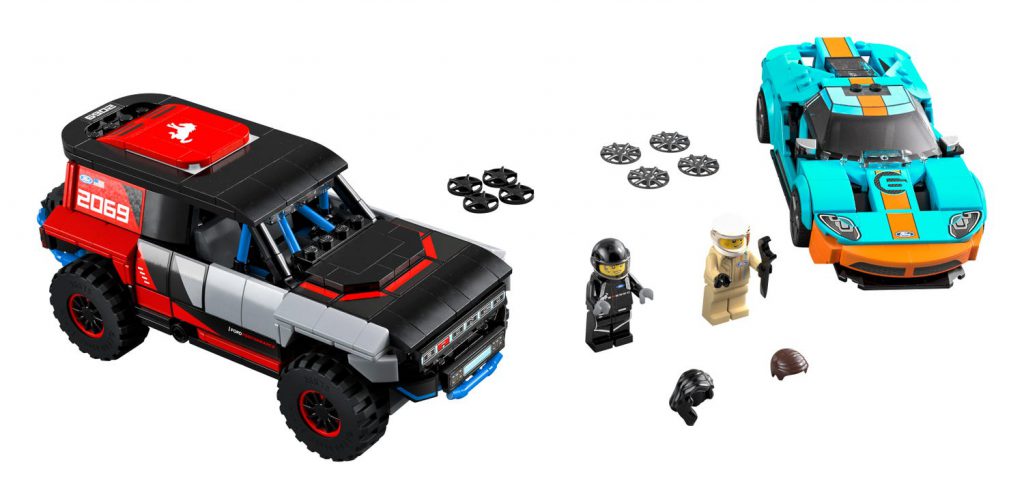 Ford GT Heritage Edition and Bronco R $89.99
Age group: 8+ years
Kids and car enthusiasts will love this LEGO® Speed Champions Ford GT Heritage Edition and Bronco R (76905) toy building set. Packed with realistic details, these amazing replica models deliver a rewarding building experience, look fantastic on display and are awesome for epic off-road and on-track race action!
Inspiringly detailed!
The vehicles in this playset come with a wide chassis, which allows room for a 2-seat cockpit and even more authentic detailing. And with 2 driver minifigures in Ford racing suits and helmets, there's plenty of adrenaline-filled drama on the horizon!
Scaled-down replicas for an upscaled LEGO experience
LEGO® Speed Champions sets deliver mini replicas of the world's best-known and fastest automobiles. Kids and car enthusiasts can collect, build and display their favourite vehicles or join friends for thrilling race action against other replica models from the Speed Champions range.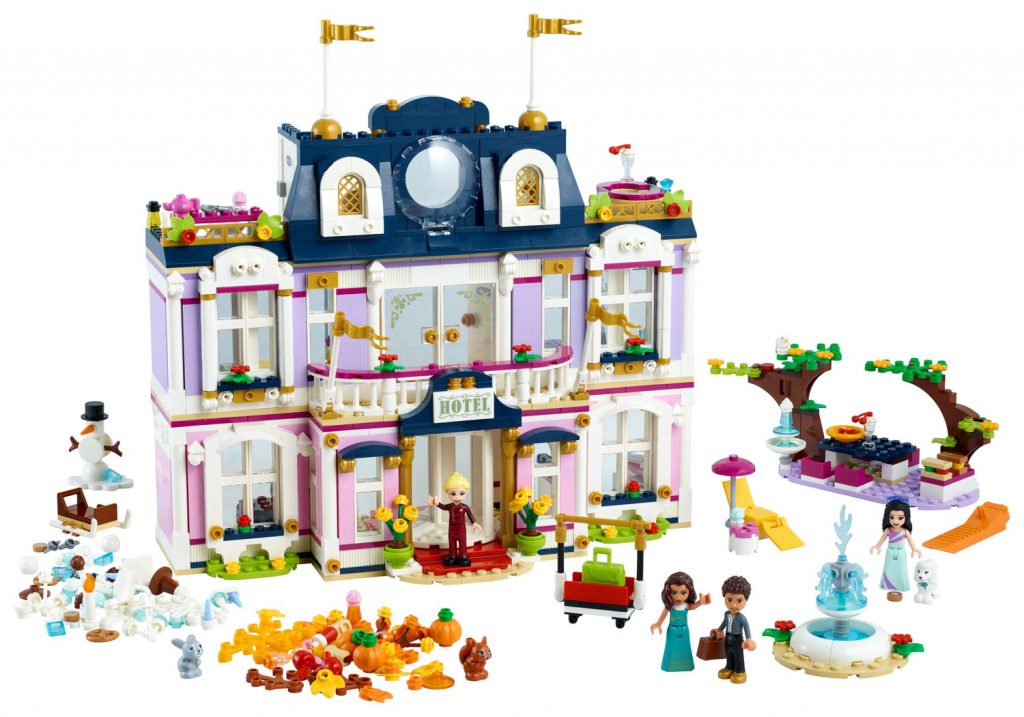 Heartlake City Grand Hotel $169.99
Age group: 8+ years
Looking for a glamorous gift to impress a creative kid? The Heartlake City Grand Hotel (41684) toy will surprise and delight from the moment they step through its revolving door. This beautiful 3-story set is filled with creative details to keep little builders entertained with hours of real-world play.
Five-star features
There's lots to explore, from the piano bar and reception, to the ensuite bedrooms and outdoor dining area, as well as ritzy features such as a spa and penthouse. The set also comes with mini-doll actress toy Amelia so kids can pretend play the A-list lifestyle. LEGO® Friends Stephanie, Emma and River are included to play the parts of the guests, receptionist or bellhop.
A set for all seasons
Included seasonal accessories give an added dimension to the play. As the seasons change, kids can dress their model in creative kit, keeping the play fresh. The trees' leaves can change colour in fall, there are snowballs, icicles and a snowman for winter, plus flowers for summer.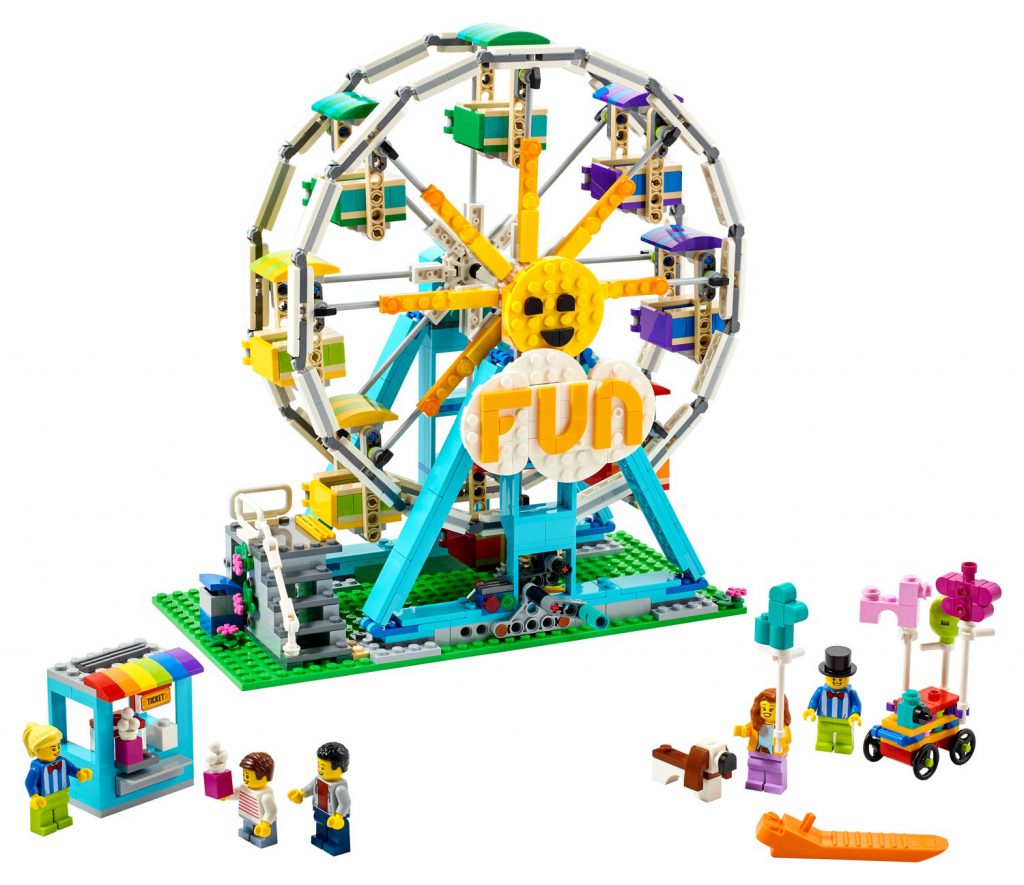 The Ferris Wheel $149.99
Age group: 9+ years
Kids can enjoy a fun-filled day out at the fairground with this brilliantly detailed LEGO® Creator 3in1 Ferris Wheel. This toy construction set features a rotating Ferris Wheel with 8 gondolas, a ticket booth, a balloon cart with balloon animals, 5 minifigures and a brick-built dog.
Awesome toys fuel kids' passions
The fun never stops as kids can build 3 different fairground rides with this supercool LEGO® Creator 3in1 set. They can assemble the Ferris Wheel, rebuild it into a bumper car playset, transform it into a swing boat ride, or use the bricks to create something completely new.
Cool toys for creative play
LEGO® Creator 3in1 sets let kids explore their creative side with 3 models to build in every box! The play possibilities never end because each model can be rebuilt into something new as often as kids want. Choose from an amazing range of 3in1 sets, including cars, animals and space rockets.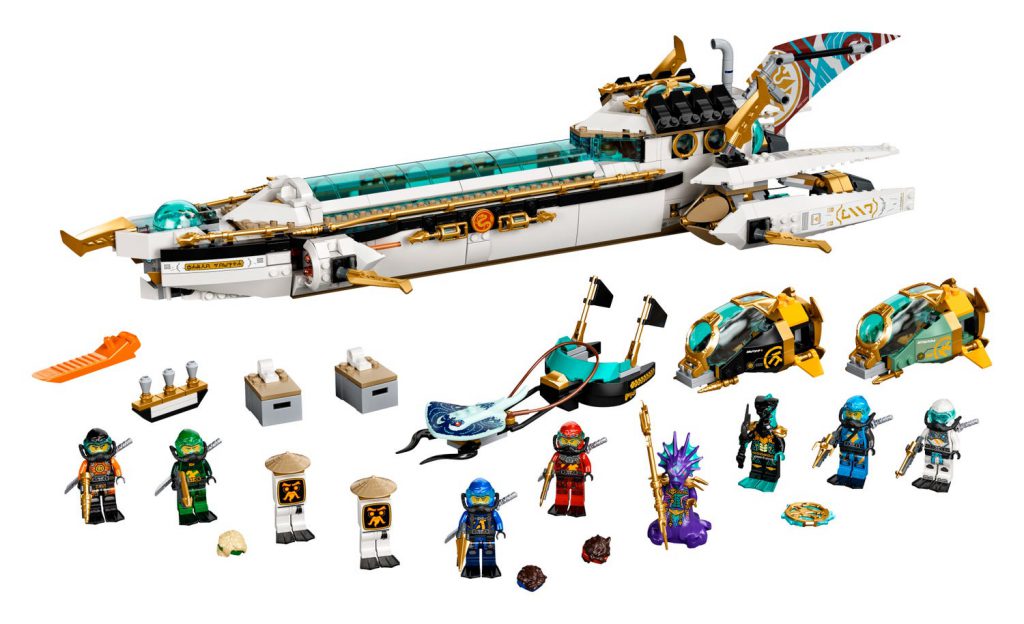 Hydro Bounty $229.99
Age Group: 9+ years
Kids can enjoy all-action battles at the bottom of the sea with this brilliantly detailed LEGO® NINJAGO® Hydro Bounty (71756) playset. The underwater vehicle comes with 10 minifigures and is crammed with cool features – 2 spring-loaded shooters, an opening cockpit, folding wings, a detachable mech and 2 mini submarines, all to fuel the imaginations of young ninja fans!
Premium NINJAGO playset
This underwater playset features an impressive 10 minifigures: Scuba Kai, Scuba Nya, Scuba Zane, Scuba Jay, Scuba Cole and Scuba Lloyd, all with flippers, diving gear and weapons to fight the villainous quartet of Prince Kalmaar, a Maaray Guard and 2 Wu Bots.
Imaginative and fun-filled building sets for kids
NINJAGO® toys transport kids to a world of immersive fantasy action. Young builders can enjoy assembling these unique toys before diving into awesome adventures with their ninja heroes as they battle a cast of their enemies while playing with an amazing collection of jets, dragons and mechs.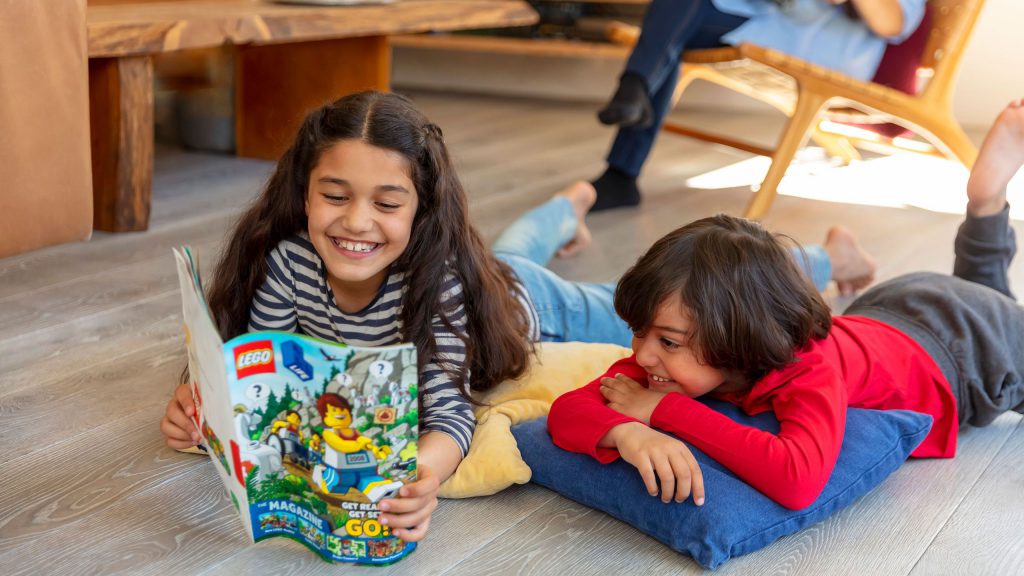 Get the Free LEGO® Life Magazine
Is your little LEGO® fan between the ages of 5 and 9 years old? Did you know that you can sign up for the free LEGO® Life magazine? It's full of fun activities from your child's favourite themes and delivered to your home 4 times a year – even the shipping is free! Don't miss out on the fun – sign up here.  
Disclosure: This article contains affiliate links. This means that if you make a purchase, we may receive a small commission, at no extra cost to you.