Don't Like My 'Saggy Belly?' Here's What You Can Do…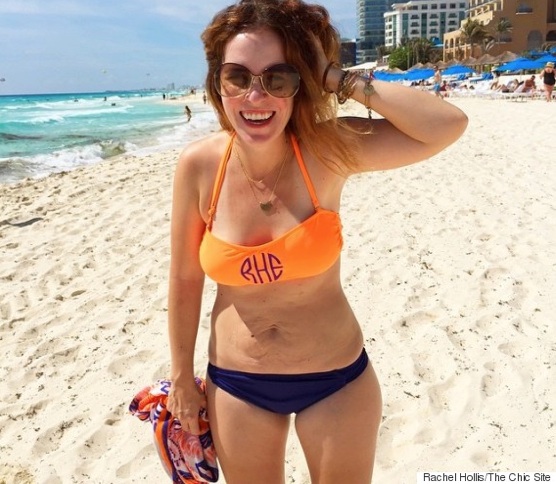 With Summer approaching, the idea of wearing a swim suit and hitting the beach is in the back of most women's minds.
Rachel Hollis, a 32 year old mother of three recently shared an image of herself on social media, which captured the heart of many like-minded females. Including that of my own.
On her own website  she was quoted as saying:
"I have stretch marks and I wear a bikini. I have a belly that's permanently flabby from carrying three giant babies and I wear a bikini. My belly button is saggy…(which is something I didn't even know was possible before!!) and I wear a bikini,"
"I wear a bikini because I'm proud of this body and every mark on it.
"Those marks prove that I was blessed enough to carry my babies and that flabby tummy means I worked hard to lose what weight I could.
"I wear a bikini because the only man who's opinion matters knows what I went through to look this way. That same man says he's never seen anything sexier than my body, marks and all. They aren't scars ladies, they're stripes and you've earned them. Flaunt that body with pride! #HollisHoliday"
As a woman who has always worn a bikini all of my life, the thought of wearing a one piece to cover up the evidence of having, you know, created life, stirs up the same controversial feelings as being forced to cover yourself while breastfeeding baby.
In context of course. I wouldn't wear a bikini while jogging with my baby, as showcased in a recent ad campaign. Although at the beach, why can't I wear a bikini after I've had five children?
Yes the evidence is there, but who cares?
Who actually cares?
After having five large children and all together gaining and losing 115kg over a 7 and a half year period does it really matter what I look like? Seriously? Shouldn't it just be enough that I've actually left the house?
Shouldn't I get a standing ovation, and free hot chips at the kiosk?
And who will dare tell me what I should and shouldn't be wearing while bathing on a hot day. Why is this even an issue?
I see hairy men in speedo's and it's a non-issue for me. If I don't like what I see, guess what I do. Go on guess. I look away. Not that hard.
I'd like to take this opportunity to say good on you Rachel Hollis. I completely agree with your attitude toward life, and as an act of solidarity and sisterhood I choose to also share my bikini body photo. Saggy belly and all.
I wear a bikini because I want my children to feel comfortable with imperfection. Normalise it. Not give it a second thought.
I wear a bikini because I don't like it when one pieces ride up my backside.
Whatever the reason, it's my choice and if you don't like what I look like, guess what you can do. Go on guess. Yes that's right, you can simply look away.