Salon Shampoos vs Supermarket Shampoos: Is it Worth Paying the Extra?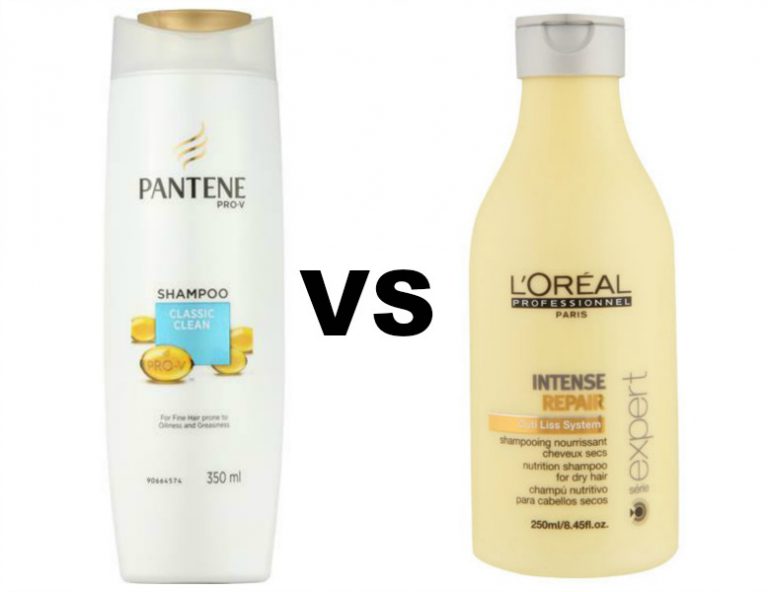 Salon Shampoos vs Supermarket Shampoos: Is it Worth Paying the Extra?
It's an age-old debate. Is it really worth the extra money to fork out for expensive salon shampoos, conditioners and treatments when you could just toss in the value 1 litre pump-pack bottle of Pantene into the trolley when you're doing your grocery shopping?
My hairdresser says yes. And I would have been sceptical that she was just trying to line her pockets with extra profits from selling these to me herself, BUT she now works from home and no longer sells products and she STILL swears that you get what you pay for.
So strongly does she believe in this that she once turned away a customer who had booked her long, brunette locks into her salon to be transformed into blonde just because she was using Pantene. Pantene contains silicone which can build-up on the hair with repeated use. She advised her client to go home and use an alternative shampoo for several weeks before she could attempt the colour change.
That being said, renowned author Paula Begoun who turned the beauty industry on its' head years ago when she wrote her first book Don't Go to the Cosmetics Counter Without Me (my bible for years) exposing the myths behind the make-up and haircare industry proving that you don't have to spend a fortune to look good had this to say about Pantene:
"Part of this myth got started because Pantene's shampoos contain a minute amount of the potent solvent ammonium xylenesulfonate. With repeated use, this ingredient can cause hair dryness and scalp irritation. However, it does not build up on hair in any way, so even if it might be drying, it doesn't interfere with hair dye or perms. Keep in mind that plenty of salon brands contain ingredients that can be more problematic for hair and scalp than ammonium xylenesulfonate, including sodium lauryl sulfate, TEA-lauryl sulfate, menthol, and peppermint oil. But if clients are concerned, go ahead and advise them to avoid Pantene's shampoos, just let them know there are plenty of well-formulated options at the drugstore other than Pantene that mimic or outshine the salon brands.
Where Pantene really excels is in its conditioners, including those in the Relaxed & Natural line. They are all excellent, affordable products that do not contain any ingredients capable of damaging hair or altering the outcome of a chemical service. The ingredients in these conditioners can build up with repeated use but, so can the same ingredients that are used in most salon brands. Silicone in some form is present in almost every conditioner sold, regardless of price. In fact, silicone technology as a way to condition hair was invented by Procter & Gamble, and is now used in 80% of all hair-care products."
OK, so that covers the Pantene debate but what about other supermarket brands?
If you spend a lot of money on your hair you should consider it an investment and you need to protect that investment by maintaining the colour and doing your utmost to keep your hair strong so here's some things you should look for when purchasing shampoo:
High quality ceramides: these strengthen the hair and extend the colour.
Things to avoid are sulphates which are harsh detergents that can strip the colour from your hair. Some salons use shampoos with a lot of sulphates to rectify colour disasters as it strips the colour faster. That great lather you're getting from your shampoo can be an indication of a lot of sulphates.
Sodium chloride is another harsh ingredient your hair doesn't need – it's basically salt and we all know swimming in the ocean is not great for your locks. Lastly avoid parabens which are a nasty preservative.
And you don't have to pair the same brand shampoo and conditioner together either. Often times a manufacturer will produce a cheap shampoo full of sulphates and then ramp up the ingredients on the conditioner to compensate which can cause that residue build-up. You know how a lot of times you feel like your loved shampoo and/or conditioner just isn't working anymore? This is why.
Other things to consider is what sort of treatments and/or damage you have done to your hair in the first instance. If you have never coloured or permed your hair it may be in fantastic condition and go happily bouncing along in glorious shine no matter what products you use. Conversely if you are bleaching your hair you need to be ultra careful in after-care and make sure you are using a gentle shampoo and conditioners designed to protect and strengthen.
So to answer the question in short: Yes there is a difference between salon and supermarket shampoos and conditioners but, if you do your research and read the labels and hunt on-line for bargains you may not have to spend as much as you think to get a great result. And again, if you haven't got any issues or damages in the first place well don't fix what isn't broken and do what works for you!