20 MORE Hilarious Tweets That Perfectly Capture What Marriage Is Like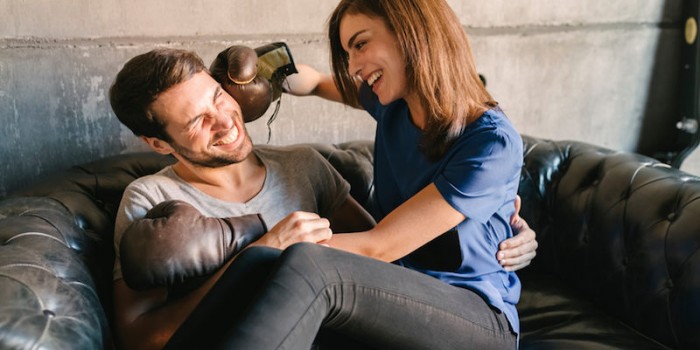 20 MORE Hilarious Tweets That Perfectly Capture What Marriage Is Like
It's always fun to read about other people's marriages. It makes our own seem a bit more normal. Even if we do only speak to each other in the ad breaks and fight over his incessant fucking whistling, I swear if he doesn't stop I'm going to take off one of his socks and shove it in his frigging mouth.
Marriage is fun. These Twitter users know the score.
1.
Marriage teaches you a lot about yourself. For instance, I've learned that I don't need to use so many paper towels, and they're expensive.

— Pete Lynch (@PJTLynch) March 25, 2013

2.
accountant: "youre basically broke"
wife: "he keeps spending money on stupid stuff"
me: "lets ask the dog if he thinks his jeans are stupid"

— k e e t 🐤🥔 (@KeetPotato) October 27, 2015
3.
Women who say getting married was the best day of their life have obviously never had 2 Kitkats fall out of a vending machine by mistake.

— Periwinkle Jones (@peachesanscream) June 10, 2014
4.
My wife said I need to grow up. I was speechless.

It's hard to say anything when you have 45 gummy bears in your mouth

— Josh (@iwearaonesie) October 10, 2014
5.

i'll have the chicken finger platter & my lovely wife will have
*hands over coupon
something of equal or lesser value

— Mr. Peel (@Rlpihl) November 19, 2015
6.

When my wife pisses me off, I get on her Pinterest and pin lots of mediocre shit, like cupcakes that just look like cupcakes.

— The Glad Stork (@TheGladStork) March 24, 2013
7.

Me: Look, I love you, But I made exactly the amount of cheese & crackers I want to eat right now.
Wife: But I only…
Me: EXACTLY the amount

— keith (@tchrquotes) November 4, 2014
8.

MARRIED SEXT

Her: Is it in?

Him: Not yet

Her: Put it In now!

Him: Ok it's in

Her: And set the timer! Im not eating burnt lasagna again!

— Will Rodgers (@WilliamRodgers) May 23, 2016
9.

"I was just about to do that chore that I see you're starting now"

– Marriage

— Zack (@Mr_Kapowski) May 10, 2016
10.

therapist: so why do you want to end your marriage?

wife: I hate the constant star wars puns

husband: divorce is strong with this one

— Andy H. (@AndyAsAdjective) May 18, 2015
11.

Before I got married I didn't even know there was a wrong way to put the milk back in the fridge

— Josh (@iwearaonesie) June 10, 2015
12.

I don't understand how God can have Ten Commandments for the whole world, and my wife can have 152 just for our house.

— Kent Graham (@KentWGraham) September 21, 2014
13.

Relationship status: My wife asked me what I wanted for dinner and then told me I was wrong.

— James Breakwell (@XplodingUnicorn) February 22, 2016
14.

My wife gives me the speaking treatment.

— Kent Graham (@KentWGraham) September 4, 2014
15.

wife: Why is your back all scratched up?
[flashback to me chasing a raccoon after she told me to leave it alone]
me: I'm having an affair

— Josh (@iwearaonesie) August 18, 2016
16.

My wife probably tells me that I never listen to her.

— Rodney Lacroix (@moooooog35) February 24, 2016
17.

ME: isn't this great??
WIFE: not really
ME: *looks down from the top bunk* what's wrong

— great, person (@hippieswordfish) November 3, 2015
18.

Her: we need to talk.
Me: unsubscribe

— Goats? (@Gooooats) September 23, 2015
19.

[runs to the door to greet wife]
I'm afraid there's been a terrible accident involving all the things you asked me to do today.

— David Hughes (@david8hughes) February 28, 2016
20.

I love when I leave work early to surprise my wife at home and she greets me with those three very special words… Were you fired??

— Boyd's Backyard™ (@TheBoydP) March 26, 2015
Love may be blind, but marriage is a real eye-opener! Read our first installment of hilarious marriage tweets here.
Source: Twitter