4 Year Old Adelaide Boy Jaxon Fights Form of Cancer so Rare, it is the Only Recorded Case Ever in Australia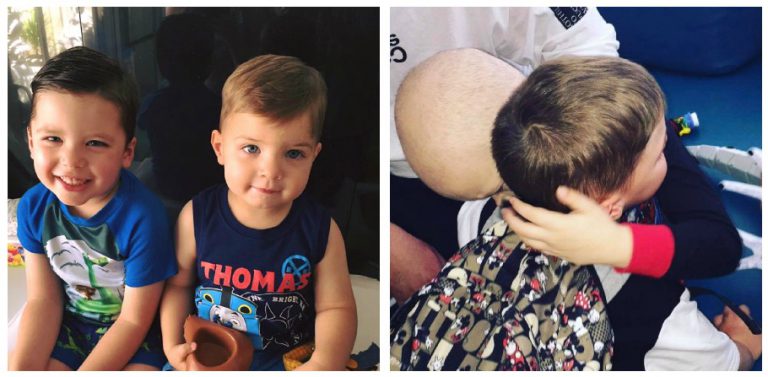 4 Year Old Adelaide Boy Jaxon Fights Form of Cancer so Rare, it is the Only Case Ever in Australia
When Adelaide Mother Tory Kaplatzis discovered a lump had appeared overnight on her then 3 year old son's groin area, she could never have imagined what was in store for her happy, lively and seemingly 'normal' little boy. After a visit to their GP, Jaxon was referred immediately to Adelaide's Women's and Children's hospital (WCH) where the pint-sized Port Power supporter underwent almost a fortnight of consults with doctors and specialists, ultrasounds, and antibiotics to treat a suspected bacterial infection. The next step, the paediatric surgeon decided, was to remove the enlarged lymph for biopsy.
On the 6th September, exactly 14 days after the lump was first discovered) Jaxon was at home with his family after a successful biopsy surgery when Tori received the call that would turn their whole world upside down. The paediatrician confirmed that the lymph node that they had removed from Jaxon looked certain to contain lymphoblast's consistent with lymphoma or leukaemia. The Kaplatzis family were told that they would need to take little Jaxon to the oncologist the very next day.
What followed for Jaxon after that first appointment with the oncologist was a gruelling ten days of invasive testing under anaesthetic. Parents Tory and Dimi watched on helplessly as their son endured a bone marrow transplant, CAT scan, PET scan, X-rays and lumbar punctures, feeling as though they were living a nightmare that they couldn't wake up from.
Visit Jaxon's Journey mycause page here
Although initially the Kaplatzis family had been told that it was likely that Jaxon had leukemia, this was later upgraded to stage 3 lymphoma when PET scan results confirmed that there were also enlarged cancerous lymph nodes in Jaxon's tummy and diaphragm regions. The protocol treatment plan was started shortly after and would include 6 months of aggressive chemo and approx. two and a half years of maintenance chemo. It would be a long hard three years for them all to get through, but the prognosis was hopeful, with an expected 80% chance of success.
However, the family were to receive a further blow just days into Jaxon's chemo treatment. The cytogenetic testing on the biopsied lymph node removed from Jaxon the month prior had been completed and revealed a rare form of blood cancer – Pre B Cell Acute Lymphoblastic Lymphoma.
So rare is his form of blood cancer in fact, there has never even been a case of it documented in Australia.
Jaxon's Pre B Cell Acute Lymphoblastic Lymphoma is so aggressive that his oncology team have put out a global search for a specific stem cell bone marrow donor. Jaxon must now under-go a life-saving stem cell treatment which involves intensive chemo therapy to rid Jaxon of his current stem cells and bone marrow, before new stem cells are filtered into his little body. Unfortunately, this treatment is not available in Adelaide so Tory and Dimi must leave their 2 year old son Loukas behind in Adelaide with extended family whilst they relocate to Sydney (living between the hospital and the Ronald McDonald House) for at least 5-7 months.
Tory's sister Jessica Machtoub has started a mycause fundraising campaign to help support the Kaplatzis family navigate the financial hardships which have inevitably arisen due to Tory and her husband Dimi being unable to work or only work sporadically depending on their son's health during this intensely difficult time.
If you would like to show your love and support for the Kaplatzis family you can follow Jaxon's progress on the Jaxon's Journey Facebook page, or make a much-appreciated donation here.