Could Your Child's Car Seat Be Harbouring Twice as Many Germs as a Toilet?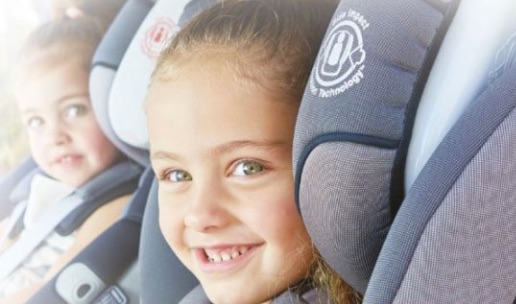 Could Your Child's Car Seat Be Harbouring Twice as Many Germs as a Toilet?
Well, you're probably not going to like it, but apparently, the answer is yes!
According to a study carried out by scientists at the University of Birmingham your child's car seat could indeed carry more germs than the average toilet seat. Up to twice as many germs, in fact! Swabs taken from 20 cars and homes revealed that child car seats had around 100 dangerous types of bacteria per sq m compared to 50 different bugs on the average household toilet. Amongst the bacteria found were E Coli and Salmonella, both of which can lead to nasty illnesses.
Maybe, when we think about how much time we spend cleaning our homes compared to the amount of time we spend cleaning our cars, we shouldn't really be all that surprised by these findings. Kids can spend a lot of time in their car seats on a weekly basis, inevitably snacking on the go, and leaving behind all sorts of mysterious debris. Add in a nappy explosion here and a dose of travel sickness there, some spilled juice and a generous sprinkling of biscuit crumbs, let it marinate on a warm day, and you've got a recipe for a pretty grotty car seat.
Keeping Your Child's Car Seat Clean Can Also Keep Them Safe
Cleaning your child's car seat periodically can not only keep the nasty bugs at bay, it can also help to keep your child safe. Sticky liquids, crumbs and the like can, if they fall into the harness buckle, make the buckle become sluggish. You know what we mean, right? It won't pop in properly, or it won't pop out without help or it doesn't make that satisfying click when you engage the harness tongue: these are all signs that your harness buckle is sluggish and needs to be cleaned.
Clean Your Child's Car Seat the Right Way
Of course, cleaning any part of your child's car seat requires you to follow the manufacturer's instructions to ensure that the safety of it isn't compromised in any way. For example, all Britax car seat covers are machine washable on a gentle wash with cold water only. They need to be rinsed well, and dried on a flat surface. Do not tumble dry, bleach or dry clean. Refer to your car seats cleaning instructions.
Similarly, there are rules for cleaning your car seat harness buckle correctly. For example, do not soak the buckle or use soap, household detergents, solvents or lubricants. The newly launched section of the Britax website called Safety Squad explains in easy straight forward steps how to safely and effectively clean your harness buckle. We highly recommend following these instructions.
As the number one brand in safety technology leading the way in innovative car seats, baby capsules and travel systems, Britax are inviting parents to join the conversation and learn more about how they can keep their child safe.  The Safety Squad section of the Britax website offers parents, guardians and grandparents a wealth of safety information and useful tips at their fingertips. Join the Safety Squad today and get exclusive news about new products, events and upcoming competitions first.