Chore Wars!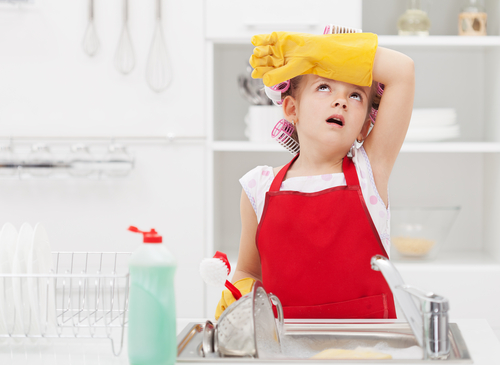 NO MORE CHORE WARS!
What an amazing world we live in! We can fly to the moon. We can Photoshop out a pesky double-chin or cheating ex. We can instantly lose 2 kg in some sweaty Spanx. Heck, we can even have 1000+ 'besties' online who we've never met!
So why on earth can't we cure the global epidemic of our children's pathological aversion to chores, cleaning and helping mum or dad around the house!?! Seriously!
Sadly, I don't have the cure. L But I do have 12 sure-fired ways to get your kids, tweens and teens helping out around the house with more ease and regularity and less nagging and bickering. Can I hear a hallelujah!?!
1.
    

REGULAR ROUTINE

If helping out with the cleaning, tidying and chores is a regular thing for the kids then it becomes the norm and means a lot less nagging, moaning and groaning.
2.
    

KNOW YOUR AUDIENCE

The chores that you assign your kids should be age-appropriate and realistic. A two year old with a vacuum is a tad ambitious (!) but they can pack away toys and help to make sort laundry like nobody's business!

Obviously you want to make sure that kids aren't using any chemicals or potentially hazardous devices.
3.
    

INCENTIVE &  DISINCENTIVE

Make sure that kids have an incentive for doing their chores such as verbal praise, a star on their star chart, free-time when finished; pocket money…whatever works for you and your family.

Similarly, it's important that that there are clear disincentives and consequences for kids if they don't pull their weight. Examples include: time-out, removal of a favourite toy or techno gadget, extra chores, reduced pocket-money and so on.
4.
    

PERFECTLY IMPERFECT

If you want the kids to help out more, you have to let go of your high standards. Kids are not going clean or organise like you do. They simply do not see or care about the dust, cobwebs, clothing piles or even rodents! Whilst you don't have to accept dodgy, lazy efforts, you do need to accept that good enough is good enough. Oh, and try to avoid the mistake that many of us perfectionists make of either doing the task for our kids or redoing it. This teaches the kids nothing and also undermines them. I know it's hard (!) but just take a deep breath and walk away.
5.
    

BE CLEAR

Be clear on what you expect and require for chores and cleaning. Go through each task with kids so they know exactly what is expected. This saves a lot of time and grief for all.
6.
    

COST / BENEFIT ANALYSIS

It's important for kids to know that they are a contributing member of the family and that for the house to smoothly you need their help. Teach them that by all chipping in the house is happier, calmer, less stressful, more pleasant and more fun!
7.
    

VALUE & RESPECT

Teach kids to value and respect their belongings and their home and they will be much more inclined to look after things and treat them well. If kids don't look after things, avoid simply replacing or fixing it. If every stepped on, lost or water-logged IPad or decapitated electronic superhero is immediately replaced, kids simply don't learn to value and look after things. Let them experience the loss and learn from it. Follow this principle and you'll have the kids on board in no time!
8.
    

A PLACE FOR EVERYTHING

"A place for everything and everything in its place". If everything has a place it is SO much easier for everyone to keep the place clean and organised.  It also helps to stop kids from simply shoving things everywhere and anywhere. Have a box dedicated to LEGO, a drawer for pencils and stationery, a container for hair accessories and so on.
9.
    

BRIGHT & EARLY

Wherever possible, get the tasks over and done with in the morning when everyone is fresh, free of distractions and keen to get on with the day.
10.
 

TIME LIMIT

During the week 15 minutes or so a day should generally be ample for kids to do their daily chores (not including homework). On weekends 30 minutes to an hour is reasonable as they might need to vacuum, wash windows, clean bathrooms etc.  Obviously you need to factor in your child's age and ability.
11.
 

MAKE IT FUN

Belt out some loud tunes, dance with the mop, laugh and be silly. Make it fun for young and all – the time will go faster and you might just create a few fun family memories!
12.
 

GOOGBYE GUILT

Some of us feel guilty when we get out kids to do things around the house, myself included. We might feel that kids shouldn't be burdened by chores or that we are being mean or that our kids will resent us. This is complete boloney and is 100% our issue and we need to let it go….It doesn't serve us or our kids.

Jen MacCulloch

Founder, Oh So Organised

https://www.facebook.com/ohsoorganised

At Oh So Organised you'll find practical advice, tips, inspiration, motivation & products to get your home & life simply and gorgeously oh so organised!