How One Email Changed This Couple's Life Forever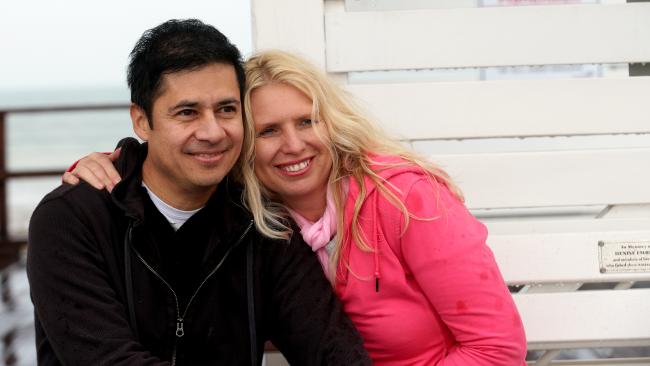 Carolyn Martinez and her husband Saul had just about given up hope of having a child of their own.
They both met in their 30's following long term relationships and immediately began trying for a baby.
"We both became single in our early-30s which is a tough time to be single because if you wanted a family, by the time you meet someone, decide you want to be with them, decide you want to have a family with them, suddenly you find yourself in your late-30s,'' she says.
Saul was 39 when they started trying and Carolyn was 37. After failing to conceive naturally they sought advice from their doctor who sent them straight to an IVF specialist. That's when the IVF roller coaster began with 16 unsuccessful cycles.
"That included 14 fresh cycles myself and two cycles with eggs donated from a close relative," Carolyn says.
As for anyone who goes through the gruelling process of IVF knows, it's hard to say when you're ready to stop trying. Each time you're aways thinking- maybe this time it will work.
Just as the couple were ready to give up they received an email from a total stranger. This woman had read about Carolyn's struggle in a local newspaper and was offering her some of the frozen embryos that were left over from her own successful IVF cycle. "When I first read it, I didn't believe it," Carolyn says.
"I called my husband straight away and just said, 'Guess what? Someone's offered us a baby'. I was so excited."
The law at the time stated that the couple had to have a 2 year friendship with the donor before an embryo transfer could take place. So that's what they did. What flourished was a beautiful friendship which cemented for all of them that this was the right thing to do. "When they decided we were the ones and donated their embryos to us we felt such elation," Carolyn recalls. "We had hope again."
It wasn't an easy road though. Carolyn miscarried six babies using the donated embryos, but on the seventh attempt — it worked!
They now have a beautiful one-year-old daughter Caterina who they stare at and admire "each and every day".
Carolyn and Saul keep in regular contact with her donor parents and see the family being like an aunt, uncle and cousins to their daughter. "For Caterina's first birthday her donor family sent her a stunning charm bracelet and their kids are going to add a new charm to it every year," Carolyn says.
Photos via Google images