Researchers are Using Google Glasses to Help Autistic Children Socialise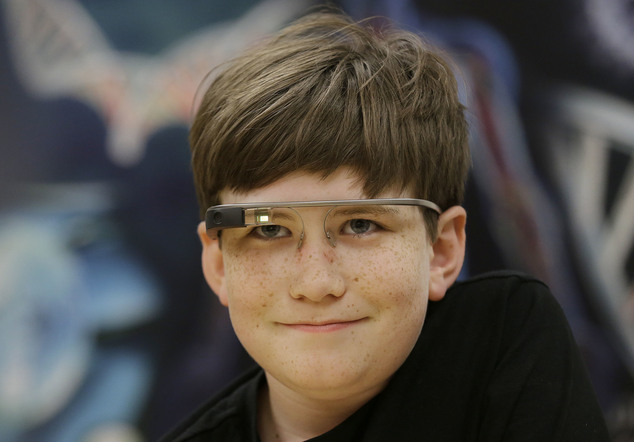 It's estimated that 1 in every 100 people in Australia have some form of Autism. Those on the spectrum will experience a range of challenges including unusual sensory interests, sound or texture sensitivities, intellectual impairment, learning difficulties and inability to read emotions and interact with people around them.
There are many aids and resources parents use to assist their child who is diagnosed on the spectrum. In most cases, parents avoid placing their child in a situation which will cause distress.
But medical researchers are finding ways to assist those on the spectrum to interact with those around them more easily.
The Stanford University has created a facial recognition software that runs on Google Glass. It is currently being used in a study to see if the 'autism glass' therapy can help an autistic child interpret facial expressions.
The program runs on a computerized headset, with a front facing camera and tiny display above the right eye.
The device is able to track faces, read facial expressions and detect emotions like happiness or sadness. It then shows this information on the glasses so the autistic child can socially engage with others.
Dennis Wall, who directs the Stanford School of Medicine's Wall Lab, which is running the study said, 'The autism glass program is meant to teach children with autism how to understand what a face is telling them. And we believe that when that happens they will become more socially engaged.'
Google haven't been part of the project, but they have donated 35 glasses to assist with the study which has currently 100 participants.
Google stopped producing their Google Glasses after it failed to gain traction with the public, but medical researchers have found new ways to use the device.
Autism advocates are excited about this new study and hope that new developing technologies like the autism glasses will help those with autism spectrum disorder.
Many autistic children learn to read facial expressions by working with a therapist who uses flashcards to display what different emotions look like.
Robert Ring, Chief Science Officer at Autism Speaks says, 'Glass and wearable technology are the future. They're going to play a pivotal role in how we understand, manage and diagnose disorders like autism.'
If the Stanford study provides positive results, the technology could be made available in a couple of years, which will provide convenient and affordable therapy for autistic children in the safety of their homes.