Oven Baked Tomato & Chorizo Risotto Recipe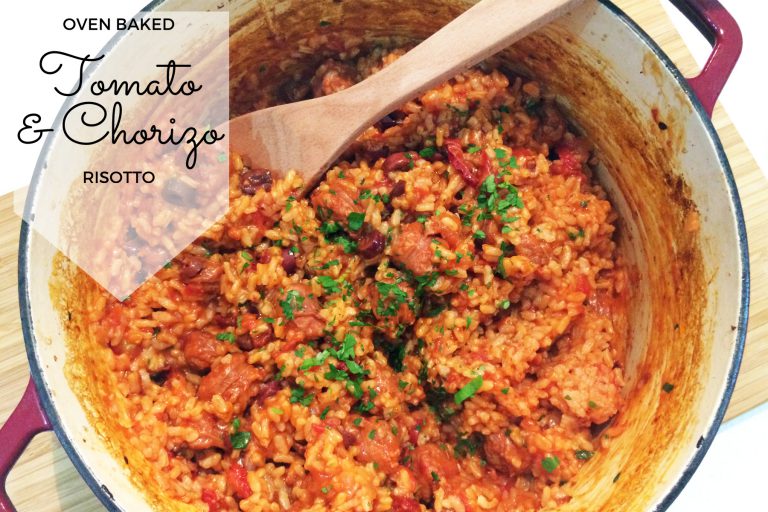 Oven Baked Tomato & Chorizo Risotto Recipe
If it's one thing my family love to eat, it's a risotto. And if there's one thing I love to cook, it's an oven baked risotto! You won't catch me standing over a hot stove ladling boiling stock and stirring madly like a fool. Just throw it in the oven and be done with it! This oven baked tomato and chorizo risotto is one of our favourites.
Nothing to out of the ordinary there – a packet of chorizo sausages, parsley, a red onion, some chicken oxos to make chicken stock, a tin of tomatoes, some arborio rice and some jars of sliced olives and sundried tomatoes. Oh, and olive oil. Always olive oil.
See the full list of ingredients in our handy printable recipe card below.
First, pop your big heavy based oven proof pan in the oven to get nice and hot. Then chop up your chorizos into bite sized pieces and fry them in another big frying pan until more or less cooked.
Then add the finely chopped onion and stir, then the rice, coating it in all the lovely fat flavour.
Stir through the stock and tomato paste, then pour the whole thing into the preheated casserole dish in the oven and pour yourself a glass of wine. You have 15 minutes to wait until you give it a good stir, then another 15 minutes until it's ready. Go put your feet up.
After the second 15 minutes in the oven, take it out and stir through the olives, sundried tomatoes and parsley. You can add some parmesan cheese too if you like, as well as cracked black pepper, entirely up to you.
Serve immediately with crusty bread and enjoy your flavoursome creation.
And don't tell anyone how easy it was to throw together!
Oven Baked Tomato & Chorizo Risotto Recipe
Ingredients
2 tablespoons olive oil
1 red onion, finely chopped
1 ½ cups arborio rice
3 cups chicken stock
1 packet Coles Finest Chorizo sausages, thinly sliced
1 tin diced tomatoes
½ cup sundried tomato strips
¼ cup sliced olives
¼ cup flat-leaf parsley, chopped
Instructions
Preheat oven to 170°C and place a 5-litre ovenproof dish in oven to heat.
In a large frying pan over medium heat, add the olive oil and chorizo sausages and cook for 5-8 minutes until they are browned
Add onion to the pan and cook for 2-3 minutes until soft. Add the rice and cook, stirring for 1 minute. Add the stock and tin of tomatoes and bring to the boil, then pour everything into the preheated dish. Cover tightly with a lid or foil and place in the oven for 15 minutes.
Remove and give everything a good stir, then cover again and return to the oven for a further 15 minutes. By this time all liquid should have been absorbed. If not, return to the oven uncovered for a further 5 minutes.
Remove and add the sundried tomato strips,olives and parsley, and season with salt and pepper. Stir well to combine and serve with crusty bread.
https://mumslounge.com.au/lifestyle/food/oven-baked-tomato-chorizo-risotto-recipe/