One-Pan Creamy Mushroom and Garlic Chicken Recipe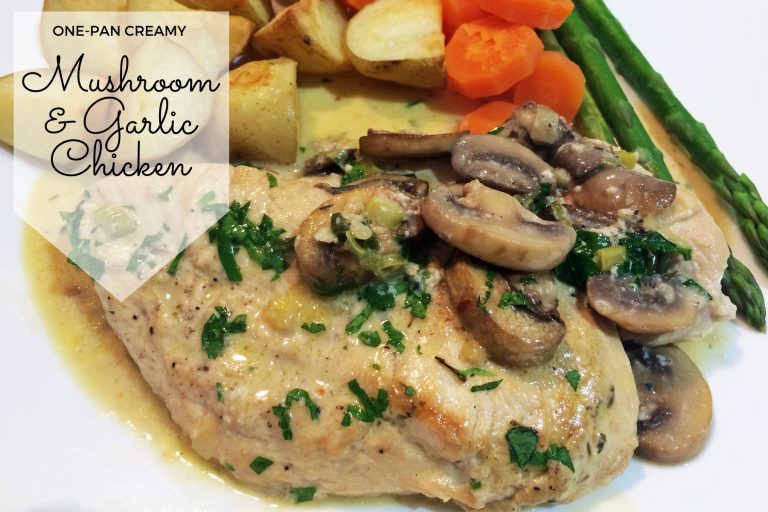 One-Pan Creamy Mushroom and Garlic Chicken Recipe
If there's anything us "home chefs" know to be true, it is that there are thousands of ways to cook using chicken breasts, sausages and beef mince. Trouble is, we are often searching for new recipes to make use of these cheap and cheerful family staples. Here's one to save – and it's another one-pan wonder too! Creamy mushroom and garlic chicken was a major hit in our household, and I will definitely be making it again and again.
First up, you need these ingredients. Nothing too fancy, I can assure you! There's a printable recipe card below.
Enough chicken breast fillets to feed everyone, 1 cup of chicken stock, butter, cream, mushrooms, garlic, shallots, parsley, salt and pepper, olive oil, chilli flakes and dried thyme.
I served this meal with roasted baby potatoes, asparagus and sliced carrots, so you'll need something similar to serve too.
First up, preheat your oven and saute your mushrooms on the stove top.
Then take them out and pop your seasoned chicken on to cook.
Take the chicken out and place them on a plate.
Don't worry if they're not fully cooked through, we'll be finishing them off in the oven.
Combine your herbs, spices and chicken stock in a jug, ready to go.
Then add it to the pan with the shallots and two tablespoons of butter and whisk to combine, deglazing the pan as you go. Reduce by two-thirds, about 10 minutes.
Then return the chicken to the pan and coat with the sauce.
Then pop the whole thing into the oven for 10 minutes to finish cooking while you prepare your veggies.
Sprinkle with some freshly chopped parsley and serve!
This meal is so delicious! The heat from the chilli was perfect – not too fiery but you could certainly taste it. The chilli and garlic flavours were strong enough to add loads of flavour to the creamy buttery sauce. Perfect for both adults and children alike.
One-Pan Creamy Mushroom and Garlic Chicken Recipe
Ingredients
4 chicken breast fillets
salt and pepper
1 cup chicken stock
3 cloves of minced garlic
½ teaspoon chilli flakes
½ teaspoon dried thyme
2 tablespoons olive oil
200gms button mushrooms, sliced
2 finely diced shallots
2 tablespoons butter
¼ cup heavy cream
2 tablespoons chopped parsley
Roast potatoes and steamed veggies to serve
Instructions
Slice the chicken breasts horizontally to form thinner steaks. Season with salt and pepper on both sides.
In a small jug combine the chicken stock, minced garlic, chilli flakes, and dried thyme.
Preheat the oven to 190°C Heat 1 tablespoon of the olive oil in an oven-safe frying pan over medium high heat.
Add the mushrooms and cook, stirring for 3 to 5 minutes. Remove to a plate and heat the remaining tablespoon of oil on medium high heat.
Add the chicken and allow to brown on both sides for 5 minutes per side. It will finish cooking in the oven. Remove the chicken to plate.
Add the shallots and stock mixture to the pan. Scrape the bottom of the pan to deglaze. Reduce the sauce by two thirds, about 8 to 10 minutes.
Add the butter and whisk until it melts completely, then add the cream and mushrooms, and stir.
Return the chicken and turn to coat in sauce.
Place the pan in the oven for 10 minutes or until the chicken is completely cooked through.
Top with chopped parsley and serve with roast potatoes and veggies.
https://mumslounge.com.au/lifestyle/food/one-pan-creamy-mushroom-garlic-chicken-recipe/