Simple But Ingenious! The 20 Parenting Hacks You'll Wish You'd Known Sooner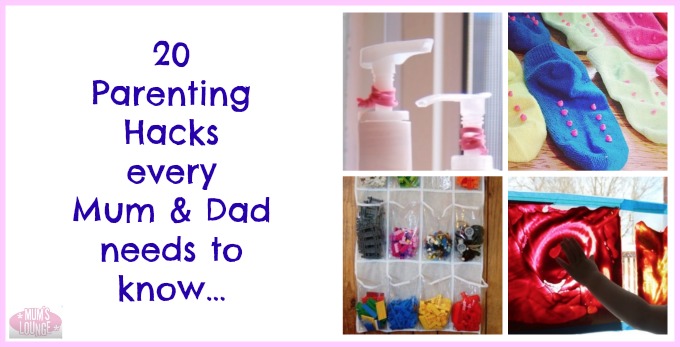 There is no doubt parenting can be a tough job, so if there is a way to make life easier of course we want to know about it!  To help out, we've put together 20 parenting hacks every Mum and Dad needs to know.
1.  Stop the kids from using too much soap by wrapping a thick rubber band around the base of the dispenser, this will limit the amount of soap they get with each pump.
2. Help your children learn how to put their shoes on the right feet by cutting a sticker in half and placing it inside their shoes.
3. Place a rubber band around the door handle of your child's bedroom door to stop it banging when you are leaving the room.
4. Place your baby or toddler inside a laundry basked in the bath, it will stop the inevitable tantrum when their toys float away.
5. Have the kids drawn over your walls or furniture with crayons and it just won't come off? Try WD-40 it's the ultimate in crayon removal.
6. To clean permanent marker off your wooden floors, try toothpaste. It really works!
7. Do you have a child who loves Lego?  To prevent them from tipping it all out EVERY SINGLE TIME why not try storing it in a clear hanging shoe rack so they can see the pieces they are looking for.
8. If you are heading out for the day to a crowded place, write your phone number on your child's arm in case you get separated.
9. Untangle your child's dolls hair using fabric softener.
10. Clear hanging shoe racks are also a great way to store craft supplies.
11. Clean your kids toys and lego in the dishwasher
12. Is your house being overrun with stuffed toys?  Secure a length of rope to a ceiling and then use clothes pegs to attach the toys.
13. Use an inflatable pool (empty of course!) as a safe play area for your little one.
14. Use those plastic links from your baby's play gym to attach their toys to the pram or highchair.
15. If you have a baby who insists on pulling their nappy off – even when they are wear a onesie! Try putting their onesie on backwards.
16. Keep your toddler entertained with a simple colander and some pipe cleaners. You will be amazed with how long they will play with these items for!
17. Have the kids spilled glitter everywhere? Use a lint roller to easily clean it up.
18. Stop your toddler from sliding around in their socks by painting on a few spots of fabric puffy paint.
19. Do you want to do some craft activities with the kids but hate the mess? Simply put a few dollops of paint inside a ziplock bag and let your toddlers have a ball 'painting' with it.  For extra protection you may want to cover the bag opening with a layer of tape too.
20. Make the removal of splinters easier and more importantly less painful by applying a paste of bicarb soda and water to the affected area. The bicarb soda will actually help push the splinter out of the skin.
Have you tried any of the parenting hacks before?
What is your favourite parenting hacks?