The Importance of Being Silly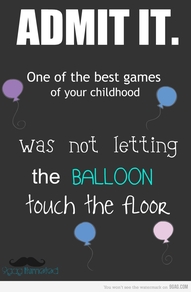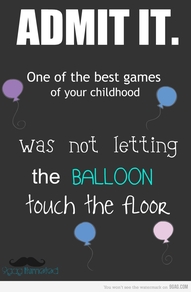 When you are young, you play silly games.
How many times can I throw this ball against the wall and catch it? Maybe when you were five years old you thought you were a dolphin named Rosie or had a button on your dress that turned you into Superwoman.
Whatever it was, there is one thing for sure – when you become an adult, there's less and less time to be a dolphin called Rosie anymore – and that's kind of sad.
Your kids will remember you not for the size of the house you work so hard for, or the flash car you drive the family around in, but for the time you spend being silly with them. Play is one of the most fundamental aspects behind healthy development of both the body and mind during a child's formative years.
Two months ago, I went to see my friends and their little boy, Benji. Benji likes to play with his toys, but soon enough he gets bored and looks for something more interesting. For Benji, what he finds far more interesting than his toys is…drumroll please… adults acting like complete fools.
All the usual suspects come out to play, in no particular order:
Peekaboo,
Pretending to be a variety of animals
Making sounds so high pitched it's surprising anyone other than dogs can hear them
Impersonating a helicopter
Making a teddy come to life by hiding behind it and giving it a voice
After a serious amount of the cutest giggling in the history of cute giggling – Benji was suitably rosy cheeked and just about out of laughter – and that's just after the peekaboo!
So, a couple of evenings ago, I went to my friend's house again for a coffee and a chat. No sooner had I stepped out of my car and Benji had already spotted me coming up the driveway. "Mummy, Mummy, Bec's here" I could hear from behind the lounge room window – it was barely muffled by the double glazing – that's how excited he was!
Now, while I would like to think I make this kind of impression on everyone, I am a realist.
The reason he was so excited to see me was because of my repertoire of ridiculousness! As his mother opened the door, the screams of "peekaboo" and "moo cow" were so audible I'm surprised the whole neighbourhood didn't start looking out for a farm yard animal grazing on their lawn.
This really hits home my point. I hadn't seen Benji for two months, yet he remembered instantly who I was and what I could offer him – and that was laughter with a healthy dose of silliness!
It is so important to spend time being ridiculous, care free and in just plain old silly with kids. Had I come round 2 months previously and made no effort to play with him, or simply given him a hug and then carried on talking to his mother, Benji would most certainly not have greeted me with such exuberance that day.
Sure, kids are always happy to see people they like, but they are truly excited and develop lasting memories and positive associations with people that have no fear about showing off their silly side.
So next time you get an opportunity, be silly and have fun – it will create ever lasting memories for your child and hey, it's also great fun – Rosie the dolphin has been forgotten about for too long : )
This article was supplied by the team at Babysitter Search, a website that provides childcare solutions.
BabysitterSearch.com.au is a community of nannies, babysitters and nanny agencies, all driven by the same goal – to give parents easy access to child care they can rely on.
For babysitters looking for their next job, to parents searching for the perfect babysitter in their area, or a nanny agency wanting to attract the cream of the crop – BabysitterSearch.com.au has all the tools they need.
BabysitterSearch.com.au also hosts a parenting blog with tips to help visitors travel seamlessly through the journey of parenthood.
Parents can also search our comprehensive Nanny Agency Directory for a Nanny Agency in their area.
For more information and to speak to a member of our team, please email: [email protected]