A Winter Maternity Capsule Wardrobe for 2015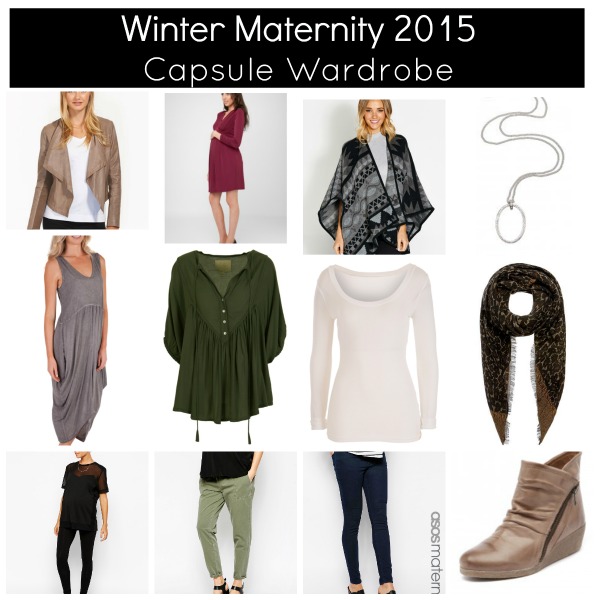 Dressing stylishly through your pregnancy can easily be done if you have a capsule wardrobe to work with. Even though pregnancy lasts 9 months, some of the pieces in this capsule wardrobe can be worn post baby and allows easy access for breastfeeding.
Don't feel you have to shop exclusively at maternity shops for your fashion needs. Look at the cut and style to see if the item will fit around your bust and bump. Buttons and cross over necklines make it easy for nursing once your baby is born. I remember when I had my first baby and I bought a maternity wardrobe, not taking into account if the tops could be breastfeeding friendly. Purchasing pieces right at the start means you will save money and you will be prepared when your baby is born.
When looking for a  jacket to wear in winter, find jackets with a  waterfall drape that can allow your bump to comfortably protrude. Add interest to outfits with the use of simple jewellery and a scarf.
When it comes to choosing footwear during a winter pregnancy, always opt for a flat shoe or a shallow wedge. The ankle boots chosen here are versatile and can be worn with jeans and leggings.
Team khaki and beige with jeans for a neutral look. The Boho Bird Prairie top has enough give to allow for your bump and the buttons make it breastfeeding friendly.
For pieces that will work for you during pregnancy and beyond, look for stretchy materials and dresses that have an empire line. This Alexa Tank Dress from Metalicus will grow with your bump and be breastfeeding friendly in Summer.
Add interest to an outfit using a scarf. The utility pants are a nod to the khaki trend that is prominent this season.
A maternity dress that crosses over at the bust will make access for breastfeeding a breeze. Layer tunics and dresses over leggings to cover over varicose veins and fluid retention.
Capes and serapes are very bump friendly and are usually a one size fits all. Wear with your skinny jeans and you will be good to go.
What items do you need to add to your maternity wardrobe this winter? Do you work with a capsule wardrobe?
Disclosure: This post includes affiliate links. Should you choose to purchase something on this post, we will receive a small commission at no extra cost to yourself.