Mum Teaches Her 5 Year Old Daughter About the Value of Money by Making Her Pay Rent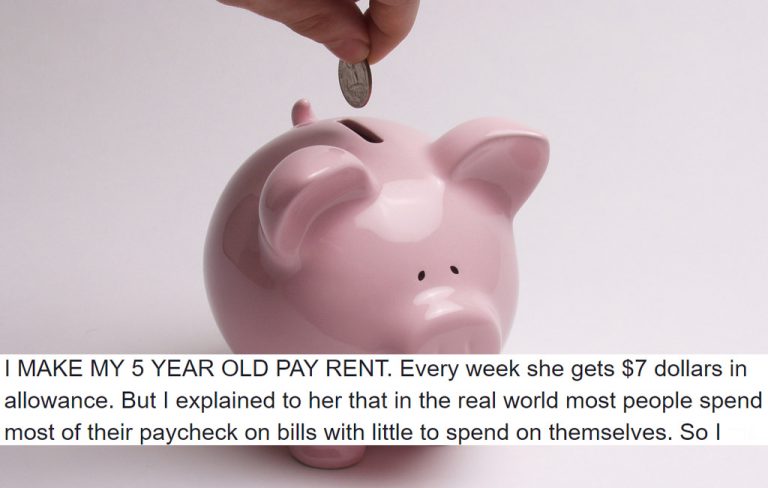 Mum Teaches Her 5 Year Old Daughter About the Value of Money by Making Her Pay Rent
Being financially responsible for yourself is an important lesson to teach your children, but how early is too early to start charging them rent and board?
One mum has divided opinions with a Facebook post that is rapidly going viral.
Essence Evans explained the details of her five-year-old daughter's rent payments and what she is teaching her:
That is kinda genius, to be honest!
Might as well throw a good life lesson in with the age-appropriate weekly pocket money payment of $2!
But other parents on the internet didn't take to Essence's little pocket money/rent set up as positively as we did.
"I see your point, but she is too young to have to worry about finances," posted one parent.
"Good way to stress kids out," wrote another. "Let kids be kids for a while. Grownup issues are for grownups. Period. She is five."
"Yes, teaching to save is a good idea, but making her give you her money so you can give her $3,380 when she turns 18? Really?"
What's the worst that can happen here? The child gets weekly pocket money, a great life lesson and a lump sum of a few grand when she turns 18.
This mum could just as easily hand her daughter $2 each week and quietly save the $5 in a bank account for her with no conversation about fiscal responsibility. Is that really better than explaining that things cost money and that everyone must contribute in life?
I don't think so. And I think five is a great age to introduce the concept of paying your way. If Essence's daughter is anything like mine, she will be wobbling her baby teeth like mad trying to score an extra couple of dollars from the tooth fairy to spend at the school canteen without a second thought. They understand money at this age, but not the importance of it.
This is a brilliant way to teach children the value of money. And certainly a good way to combat the sense of entitlement that is seeping into our children's lives by not having them till the fields all day long.
Source: Facebook/Essence Evans