3 Amazing Dessert Milkshake Recipes You'll Want to Make Right Away!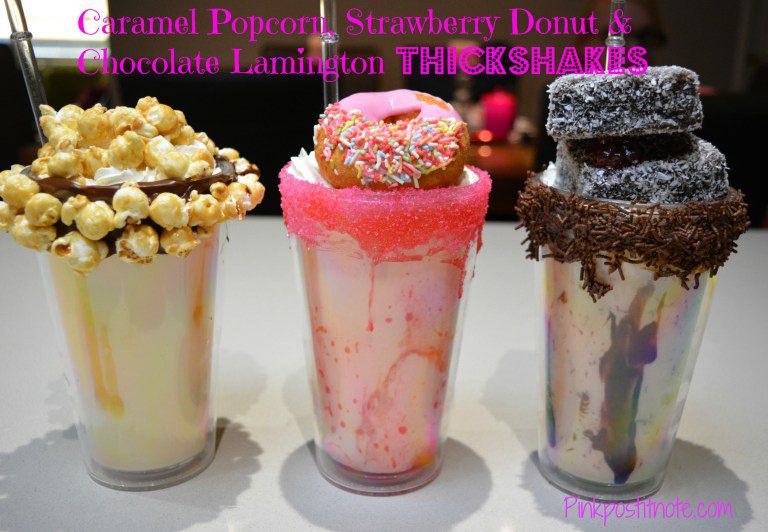 3 Amazing Dessert Shakes Recipe
Apparently, these crazy, over-the-top, insane shakes are all the rage at the moment. Ice cream, flavouring and whipped cream clearly are just not enough. Luckily, I'm a bit of an expert when it comes to ice cream and all things milkshake related because I used to own an ice cream parlor quite a few years ago. We quickly became the only place in town to buy a milkshake or a thickshake from because we actually put FLAVOUR in them and we actually made thickshakes thick. Whoever thought that a milkshake was just frothed milk and a squirt of topping was and is clearly and very sadly mistaken.
Anyway, these three shakes could shake up your next kid's party OR do like I did and just serve them for dessert. Be prepared for arguments though over who gets which one!
Caramel Popcorn Dessert Milkshake
50g dark chocolate, melted
caramel popcorn
4 scoops vanilla ice cream
1/2 cup milk
caramel topping
whipped cream
Strawberry Donut Dessert Milkshake
50g white chocolate, melted
pink sprinkles
pink iced donut
4 scoops vanilla ice cream
1/2 cup milk
strawberry topping
whipped cream
Chocolate Lamington Dessert Milkshake

50g dark chocolate, melted
chocolate sprinkles
2 lamingtons
raspberry jam
4 scoops vanilla ice cream
1/2 cup milk
chocolate topping
whipped cream
Method
For any or all of the shakes, drizzle the chocolate around the outside of the top of the glass. Make sure the chocolate isn't too hot or it will run down the sides. Pop into the fridge upside down for 30 seconds to allow it to half-set, then dip into the sprinkles or attach the popcorn. Place back into the fridge to set completely.
In a blender, mix the ice cream, milk and topping (to taste) and pour into the glasses. If you wanted to make all three flavours without washing the blender, use 3 medium bowls and add the topping of your choice to each one and stir with a spoon before adding to the glasses. Top each with whipped cream and then more popcorn, or the donut or the lamingtons (with a spoonful of jam between each lamington).
You may also like Milkshakes Guaranteed to Bring EVERYONE to Your Yard!



Carolyn started her blog Pinkpostitnote.com just over a year ago as a way to deal with her obsession of trying new recipes from the copious collection of cookbooks that she owns (and continues to buy). She is particularly fond of "man" food, both cooking it and eating it. She will happily elbow people out of the road at the sight, sound and smell of a pulled pork burger. When she's not lying awake at 5am wondering if she should buy chooks and a cow to deal with the constant need for eggs and butter, she's dealing with all the paperwork associated with owning a bunch of tip trucks and her favorite time of the day is wine five o-clock.