30 Minute Chicken & Vegetable Pasta Bake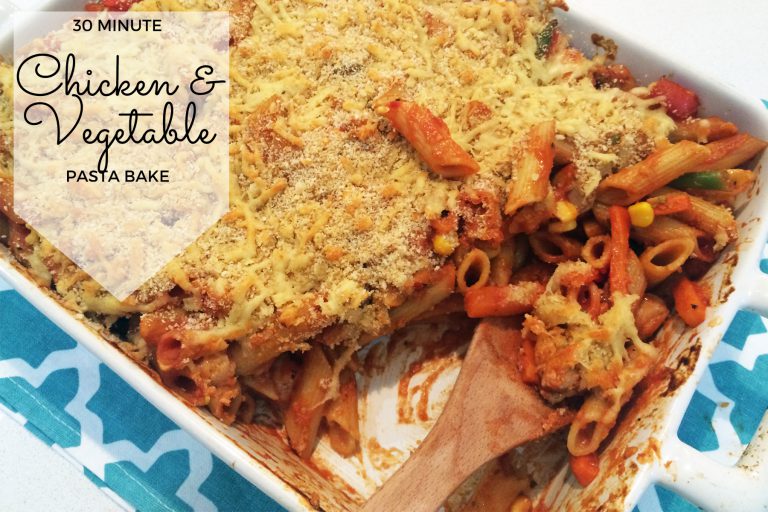 30 Minute Chicken & Vegetable Pasta Bake
Here's one for your Pinterest "Weekday Meals" boards, ladies! Have dinner prepped, cooked and on the table within 30 minutes with this incredibly easy chicken and vegetable pasta bake.
This meal reminds me of the ones my mother and grandmother used to make, in that it calls for a tin of soup as one of the main ingredients. Back in the day they didn't have half an aisle full of simmer sauces and recipe bases, they used tins of soup as a base for their meals.
This pasta bake requires one tin of condensed tomato soup, and it tastes amazing!
Here is everything you'll need to throw this dinner together in a hurry.
You'll need three chicken thigh fillets (or one big chicken breast fillet if preferred, I used what I had on hand), a packet of penne pasta, tomato paste, breadcrumbs, a small tin of corn (or about half a cup of frozen corn), a tin of condensed tomato soup, garlic powder, dried Italian herbs, mixed frozen vegetables and grated tasty cheese.
I always grate my own cheese from a block because it's cheaper. I'd love to say it's because there are less additives or that it's healthier or melts better or whatever, but it's not. It works out to be about half the price of pre-prepackaged grated cheese. Leaving me more money for wine. 😉
You cook the pasta and then throw the veggies in with the pasta with two minutes to go. The frozen veggies will make the water stop boiling but that's fine, just wait for it to return to the boil and then drain them and return to the pot.
Add the soup, tomato paste, garlic powder, chicken and herbs to the pot and mix thoroughly. Then pop it all in a lasagne-sized baking dish.
Sprinkle your cheese and breadcrumbs mixture over the top…
And bake in the oven for 15 minutes. Dinner = sorted!
30 Minute Chicken & Vegetable Pasta Bake
Ingredients
3 chicken thigh fillets, chopped
500g dried penne
3 cups frozen carrot, cauliflower, capsicum and broccoli
1/3 cup frozen corn kernels
2/3 cup breadcrumbs
1 ¼ cups grated tasty cheese
420g can condensed tomato soup
2 tablespoons tomato paste
1 teaspoon garlic powder
1 teaspoon dried mixed herbs
Instructions
Preheat oven to 180°C
Cook the pasta following the packet directions, adding the frozen carrot, cauliflower, capsicum and broccoli mix and corn in the last 2 minutes of cooking. Let it return to the boil, then take off the heat and drain.
Meanwhile, heat a little oil in a frying pan and cook chicken until browned slightly. Combine breadcrumbs and cheese in a bowl.
Drain pasta and vegetables. Return to pan. Add tomato soup, tomato paste, garlic powder, chicken and mixed herbs. Season well with salt and pepper. Toss to combine.
Transfer mixture to an 8-cup-capacity baking dish. Sprinkle with breadcrumb mixture. Bake for 15 minutes or until top is golden and heated through.
https://mumslounge.com.au/lifestyle/food/30-minute-chicken-vegetable-pasta-bake/