5 Awesome Ways to Use Aeroplane Toppings You've Probably Never Thought Of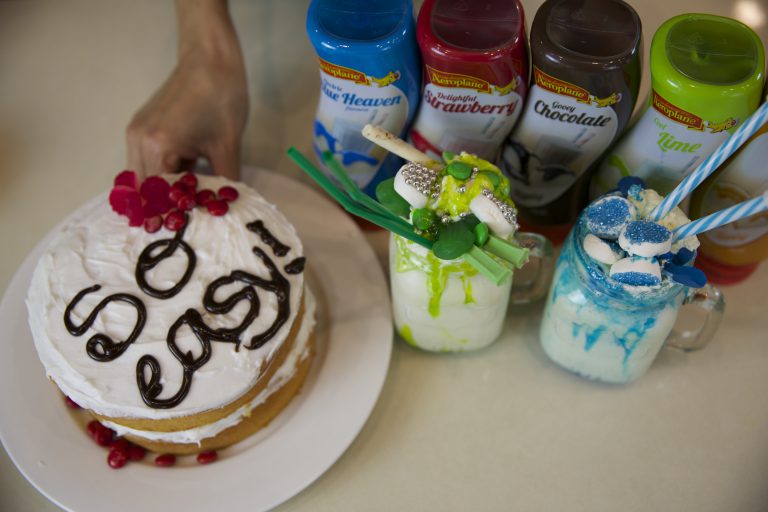 Sponsored post
5 Ways to Use Aeroplane Toppings
All Aussie kids, both young and old, know and love Aeroplane jelly…but Aeroplane toppings are just as much a part of childhood, aren't they? Who doesn't remember squeezing rich, thick chocolate topping over a giant scoop of ice-cream as a child? Or maybe lime was your favourite?
What ever your personal go-to flavour, you'll love these 5 awesome ways to use aeroplane toppings that you may not have thought of yet.
Aeroplane Crazy Milkshake
Ingredients:
Your favourite Milkshake glass or Mason Jar
Vanilla Icecream
Milk (full cream or skim)
Whipped Cream – we've used bought cream in a can as it gives impressive height to your creation!
Your favourite Aeroplane topping. We've used Electric Blue Heaven and Cool Lime.
An assortment of marshmallows, blue and green lollies and edible sparkles.
Method:
Putting your Crazy Shake together!
Dribble your Aeroplane Electric Blue Heaven topping around the inside of your milkshake glass
On a small plate, squeeze on some of the Aeroplane Electric Blue Heaven topping.
Dip the opening of your glass in the topping.
Sprinkle blue sparkles onto the opening
Add 3 large scoops of vanilla icecream to your glass
Fill your glass nearly to the brim with milk
Cover your milkshake with whipped cream
Add a selection of blue lollies, sparkles, marshmallows until you can't fit any more on!
Add two blue straws and ENJOY!
Repeat the process in another Mason Jar but with Aeroplane Cool Lime topping and your green lollies.
Easy Cake Decorating
For quick edible cake decorating, pour Aeroplane Toppings into a piping bag with a small writing nozzle and get creative!
Click on the images right to check out these other Aeroplane  dessert recipes
Give Butter Icing a Flavour Make Over
Give your cupcakes that delicious Aeroplane touch.  Make a flavoured butter icing by mixing any Aeroplane Topping with butter and icing sugar. So simple yet so tasty!
Add Flavour to Cheesecakes
Adding flavour to cheesecakes has never been easier! Simply mix softened cream cheese with your favourite Aeroplane Topping and voila!  Genius, right?
Chocolate Fillings
Use Aeroplane Toppings to fill the centres of homemade chocolates. Yum!
Relive your childhood Aeroplane topping memories and make some new ones with your own family by making these with your kids this Summer.
Share these wonderful Aeroplane treats with your friends and family!
Win an Aeroplane Summer Fun Pack
Keep the kids entertained these summer holidays with this amazing summer fun pack from Hot Wheels and Aeroplane. The prize includes the Hot Wheel Ultimate Garage – the biggest Hot Wheels garage EVER! With 36 spots to park, kids can store all of their favourite cars and take them on a variety of wild adventures. This garage serves up a world of Hot Wheels excitement and hours of fun all in one epic play set. Includes five Hot Wheels vehicles plus a helicopter to get the action started right away. Also included in the prize is the NEW Split Speeders Blade Raid trackset and assortment of Split Speeder vehicles, Hot Wheels Trackbuilder Spiral Stack Up Trackset, Hot Wheels Monster Jam Dragon Blast Playset, Hot Wheels Colour Shifters Splash Lab Playset.
And once the kids have worked up an appetite from playing for hours on end, they can help you in the kitchen and whip up a favourite Aeroplane dessert. The prize also includes Aeroplane Jelly's favourite jelly crystals, mousses, toppings and ready to eat jelly tubs – great for snacks on the go and lunch boxes.
Prize includes:
Hot Wheels Ultimate Garage RRP $200
Hot Wheels Trackbuilder Spiral Stack Up trackset RRP $40
Hot Wheels Monster Jam Dragon Blast Playset RRP $40
Hot Wheels Colour Shifters Splash Lab Playset RRP $40
Hot Wheels Blade Raid Track Set RRP $40
Assortment (10) of Hot Wheels Split Speeder Vehicles RRP $100
Range of Aeroplane Deserts including Aeroplane Jelly Original Crystals, Aeroplane Ready To Eat Jelly, Aeroplane toppings and Aeroplane Mousse. (value $50)
Total value: $510.
To enter, coplete the entry form below. Good luck!
a Rafflecopter giveaway